Leaving Records to issue M. Geddes Gengras LP
The stalwart of LA's experimental scene delves into mystical drone on the forthcoming Ishi.
Cast a look at the Discogs page of M. Geddes Gengras and it's easy to get lost amidst a sea of releases under a multiplicity of guises, as part of various projects and across numerous formats. Perhaps most renowned for his collaboration with fellow LA knob twiddler Sun Araw and iconic reggae outfit The Congos for RVNG Intl's FRKWYS series, the fact that Gengras counts labels such as Digitalis, Opal Tapes, Peak Oil and Not Not Fun among his extensive discography should offer a hint as to his pedigree.
Last year saw Gengras dig through his personal archives of improvised recordings on the Moog Rogue and MG-1 synthesizers for a collection on Umor Rex, whilst his involvement in the "spice hunting collective" The Celebrate Music Synthesizer Group resulted in a wonderful collection of haywire electronics for Drag City. The Los Angelean's next release will see him join similarly minded local label Leaving Records for Ishi, a three track 'album' that finds him "diving headlong into beautiful, sprawling ambient explorations and deep, mystical drone". As the below artwork might suggest, Ishi finds Gengras in new-age form and apparently takes its name from "the last wild Indian" in North America, who emerged in 1911 at the age of 49 after having spent the majority of his life unexposed to the modern world. A detailed press release has Gengras expanding on the evidently personal themes behind Ishi:
"The record is about the schism that exists between the world we live in and those stuck on the margins of it – perpetual outsiders and their quest to understand the torrent of information they are constantly subjected to. I was directly inspired to these pieces by two people in my orbit who died this year, one accidentally and one not, both of whom suffered this affliction and eventually lost their lives to it. The music was a reaction to these losses and a sort of offering of something peaceful but at the same time respectful of the conflict and dissonance of life, with movement always in the distance."
Leaving Records will release Ishi by M. Geddes Gengras on June 24.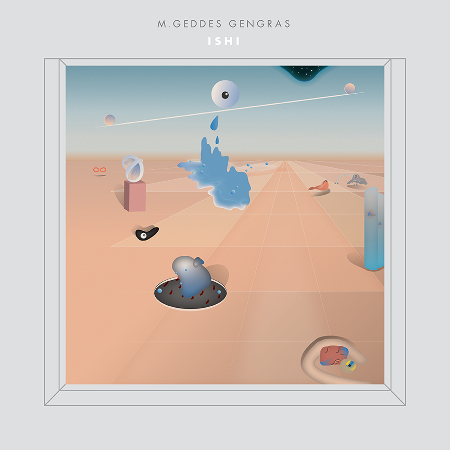 Tracklisting:
1. Ishi
2. Passage
3. Threshold
4. Vigil [CD/Digital-Only]