Scratching the Surface: Sonic recipes with Joane Skyler, Kloke and Vril

Scott Wilson looks at the strangely alluring mixture of texture and rhythm to be found in the music of Joane Skyler, Sendai, Kloke, Vril and Nico Motte in this month's column.

Recently I was kindly asked to appear as a guest of the excellent Radio Debonair show on NTS Radio in order to represent this column. As someone who writes about other people's music for a living, it was both flattering and deeply unnerving, leading to all manner of soul-searching about just what the column is meant to represent, and exactly how I should explain it live on air. If you want to listen to me clanging Holly Herndon's "Chorus" due to a sleeve stacking mishap, playing tracks from Itinerant Dub, Samantha Vacation, Pender Street Steppers and several others, as well as talking about this column, the podcast is available here.
After arriving home, the question of just what this column is meant to be about continued to plague me, and so it seemed that the introduction for this month's edition should try to address that. When Scratching the Surface originally started two years ago it was a general editorial effort in which myself, current Juno Plus editor Tony Poland and former Juno Plus editor Aaron Coultate discussed records we had enjoyed but didn't have the time to write full reviews on. Although this column has since fallen under my full stewardship for no real reason other than the fact that I had the most time to do it, it probably represents exactly the same thing as it did then – a chance to look at stuff that slips through the net because it doesn't have the weight of the PR machine behind it, or because it's just too odd to fit anywhere else.
Having said that, I still feel like it should have some kind of point beyond simply picking some music, fearing it becoming a Seinfeld-style "column about nothing" in which I adopt a George Costanza stance, shouting into the void with frustration at life's futility. People might think that working in such close proximity to a warehouse full of records is a blessing, but in reality it can have the effect akin to being a greedy child in a sweet shop; you want everything, so you end up with a pick and mix bag filled with 100 different flavours and textures that leave you feeling a bit giddy. It's something reflected in the way I choose records for mixes as well, trying to navigate the tension between wanting to make that perfectly beatmatched club set and something that's actually interesting to listen to.
There's certainly a case to be made for focused columns like Kristan Caryl's new monthly house and techno column at FACT, or The Quietus' dedicated metal column, Columnus Metallicus, but if there's one thing that writing this column over nearly two years has taught me, my brain just refuses to have enough attention to specialise. Besides, as anyone who has experimented with a Jelly Belly recipe card will know, sometimes putting Blueberry and Buttered Popcorn together gives you a delicious (but admittedly artificial) Blueberry Muffin.
In short, that's probably what this column is about. I certainly wouldn't call this an experimental column, and I certainly wouldn't claim to be doing anything wildly different to columns written by excellent writers at Spin, Electronic Beats, FACT, The Quietus and countless others. Music criticism has reached a point in which diversity is no longer particularly unique, but for me at least, I'd hope anyone reading might be encouraged to combine some of this month's five wildly different flavours and see what they get.
Joane Skyler – Ssssssss (Boomkat Editions)
If there's one thing the increasing prevalence of cassette labels seems to have given us, it's a new category of release that exists in an undefined hinterland between EP, album, and LP – itself a nebulous descriptor that sometimes means an album, and sometimes just seems to mean a bunch of spare tracks thrown together. Although Opal Tapes and Astro:Dynamics are prime examples of labels putting out this kind of release, No Corner seems to be the master of this; recent tapes from Filter Dread and Lily have been comprised of seamless mixes of the artists' own material, existing in a category somewhere between mixtape and album. It's becoming one of my favourite ways to digest electronic music; these releases are often more willing to take risks than a formal album, creating a listening experience which can often be stylistically quite divergent. However, as the latest record from Boomkat's Editions series shows, this is by no means limited to the cassette.
I'm not entirely sure if Joane Skyler is a female pseudonym for a male artist; although pictures of a female Joane Skyler exist, Boomkat and Discogs claim it may be an alias for graphic designer Jason Kerley (which, as it happens, is an anagram of Joane Skyler). I'm not going to discuss the slightly contentious issue of men adopting female aliases, mainly because I can't verify the truth in reference to Skyler, and it has already been done much better by Lauren Martin at THUMP, but will say that the Sssssssss LP is a very good record indeed. In many ways Joane Skyler seems to represent a logical conclusion for the increasing cross pollination of electronic music, an artist who flits between styles at will, but can't really be defined by one at all even across a single release. While many artists would do this from one EP to the next, Skyler does it from track to track across the Sssssssss LP for Boomkat Editions. This perhaps has something to do with Skyler's regular show on NTS Radio, adopting the approach of radio DJ within their releases, something also done on last year's orz cassette for Reckno.
No sooner has the monolithic synth blast of "Fingerbang" finished we're thrust into the weirdly swung garage beats and downtrodden mood of "Swoon", segued like a particularly wild radio set you'd hear in the small hours of the morning. In the hands of Skyler, even queasy variants on library music and grime make sense placed next to one another, the square waves bass of "Langweilig" showing up just how weirdly abstract the signifiers of the hardcore continuum actually are. Like most similar artists working in the cassette realm, Skyler's music has that feeling of something that's gone off a bit, but not in that self-consciously dusty way that much tape music does; Skyler's strength is the way in which the producer subverts the structure of their music, especially "Crush Rush", which sounds like a facsimile of a '90s house track made in a strange time signature that puts it into Actress territory. With the aesthetic of dried-out, tape warped house and techno becoming increasingly well-defined, Skyler's willingness to embrace colour and humour makes Sssssssss very refreshing indeed.
Nico Motte – Rheologia (Antinote)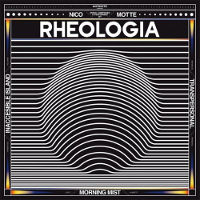 Anyone who has been following France's Antinote label over the past few years will know that the imprint's strong visual aesthetic is as important to the label as the music itself. All the label's design is overseen by the Check Morris design duo (comprised of Matthias Pol and Nicolas Motte), and it's easy to get a sense of the distinct sonic identities of each artist in the imagery at play: Iueke's labyrinthine hardware techno improvisations on Tapes and Alecot are reflected in the impossibly detailed illustrated sleeves, the Afrobeat influences of Albinos is clearly visible in the imagery of both Ritual House volumes, while Geena's bold, almost childlike take on house music reflected in the strong primary colours and simple typography of the Surowych Utworow EP.
In an interesting twist, Check Morris' Nico Motte himself is responsible not just for the sleeve design of the label's latest release, Rheologia, but the music as well. I've held a lot of sleeves in my hands over the past decade, but this really is is something else, as the pictures here demonstrate. Conceptually it feels similar to a Ghost Box record; the strong typographical focus and stylised waveform suggests a forgotten educational text rather than a record, but while Ghost Box art can feel like a bit of a pastiche, there's something a bit more intangible at play on the sleeve of Rheologia. It could be a forgotten piece of academic music from the '70s, but it feels distinctly displaced from history as well, and the quasi-vintage sleeve reflects the strange music inside. The blend of electro-acoustic tones and pulsing kosmische of bass "Inaccessible Island" for instance has distinct elements of early European prog-synth experiments from Germany, France and Greece all rolled into one, but it also feels wildly modern; "Morning Mist" bumps like a classic Moroder production with a half-time rhythm, while on the dramatic "Necroville" the spectre of John Carpenter looms large, but imbued with a similar sprightly Gallic charm as that of Joakim and Zombie Zombie.
While it would be very easy to add tags like "cosmic" to Rheologia, the most pertinent comparison would be L.I.E.S. and Italians Do It Better artist Jorge Velez, a producer who has been melding the primitive and the futuristic to create uncanny forms for several years. The quality of each Antinote release has been consistently high, but even still, Rheologia feels like a landmark release for the label just because it's so wildly different from all the others.
Kloke – Sea Levels (Styles Upon Styles)
I've been increasingly impressed with Brooklyn's Styles Upon Styles label over its growing discography, which I'm increasingly inclined to think is like a US counterpart to London's Astro:Dynamics and Italy's Gang of Ducks, all three of which have a similar approach to A&R, which pulls from producers of misshapen techno and exponents of ambient music and dub-inspired beat constructions (Portland's Best Available Technology for example has featured on all three labels). Styles Uopn Styles is perhaps best encapsulated by its Bangers & Ash series, in which producers release a record of more forthright "bangers", and more sedate "ash" tracks, something which provides an interesting metaphor for the label as a whole.
The label's next release comes from British native turned Melbourne resident Andy Donnelly, a graduate of the recent New York edition of the Red Bull Music Academy who makes music under the name Kloke. While Donnelly's last release in 2012 saw him creating a pleasant variant on the kind of post-dubstep bass-house template of the time with nods to Mount Kimbie, the Sea Levels EP is something altogether more interesting, suggesting his time at the RBMA was a fruitful one.
The topography of the ocean, real or imagined, is a theme well explored in techno – particularly in the music of Drexciya and Porter Ricks – but it's fair to say that Donnelly creates his own vision of the sea, set aside from his more experienced peers. The six tracks on Sea Levels are split fairly evenly between downtempo beat constructions and more ambient interludes, and it's the latter of the two categories in which the watery influence is most obvious; the serene synthetic flutters of "Room With A View" feel like ripples on the water's surface, while in "Mayfield" the muffled sound of running H2O intermingles with crystalline organ tones. It's most impressive on the rhythmic tracks however, where his vision of water is more abstract and conceptualised. "Deep City" is like what you might get if Kassem Mosse tried to make a waterlogged kind of hip hop, while "Ritual" is reminiscent of Andy Stott's hazy jungle rhythms on 2012's Luxury Problems – broken, tumbing, an mired in a thick soup of plankton. "Unlearning" could almost be described as "aquatic grime" at a push, a broken combination of square waves, angry rhythms and light refracting at different angles through its shifting liquid mass.
Sendai – A Smaller Divide (Archives Intérieures)
With the categories defining a musical release becoming ever more broad, the idea of an album of 11 tracks, released solely on CD with not even a digital release seems almost quaint. I'm not sure what the reasoning is behind Yves De Mey and Peter Van Hoesen choosing to exclusively release the material on their Archives Intérieures label so far on CD, but it gives the enterprise the feeling of experimental labels like Entr'acte, for whom the limited CD release is a normal method of delivery.
The duo have said themselves that it is intended as an outlet for their more experimental music, which comes across as the direct mid-point between Van Hoesen's abstract yet functional techno, and De Mey's much more structurally unbalanced productions. Although Van Hoesen is something of a household name in techno, De Mey is perhaps the more interesting figure; his recent Double Slit EP for Semantica bobs and weaves with a nonchalant precision quite unlike anyone else working with such stark sonics, and it's easy to forget De Mey put out an EP on Sandwell District back in 2011, such was the way it stood apart from the likes of Rrose and Silent Servant's records that year.
It would be easy to describe their work as Sendai as fitting into the tradition of precise, glitchy techno as that of Raster-Noton, but there's something much organic and rougher around the edges. While their first album was undeniably abstract, it still felt as if structural patterns could be distinguished which more or less signified their music as techno. Their second album, A Smaller Divide, feels infinitely more chaotic; rhythmically it's something present in the jackhammer glitches of "Capstan", but it's something just as present in the unexpected waves of disharmony which emerge in "Fringe Morals", the strange rippling porcelain tones in "Triptiek" or the scrambled drones of "Self-ADJoint". This chaotic element is something no doubt brought about the duo's differing approach – De Mey utilises an analogue modular while Van Hoesen uses digital techniques. In "Kanton3" this creates a tension that seems to build like the energy collected in a bottle of beer shaken up with the cap on. You'd probably feel similarly experiencing the track in a club, but that lack of resolution is part of the album's appeal.
Vril – Torus (Forum)
It's difficult to place exactly just what it is that makes Vril's productions so alluring. Listening to them with a purely objective ear, there's not really much about his music that's all that distinct, but listening to his debut album Torus for Giegling's Forum sub-label, and looking back through his productions over the past few years for the Weimar label, Delsin and Ostgut Ton, it becomes obvious that his strength is his use of timbre. Vril is undeniably influenced by dub techno, but his take on the sound is crisp and spectrographically vivid, keeping his delay trails just tight enough to stop his music drifting off into endless infinity.
It's probably not a coincidence that the pixellated artwork for Torus is depicted in such vividly flourescent colours, because it's just the kind of thing his textures deliver. "Prolog" may give us the obligatory ambient intro, but rather than drifting aimlessly it chirps with the sound of digital flora and fauna, while the lead for "Torus IV" pulses with a crisp energy that sounds like it's leaping from an angry Tesla Coil. Even in the album's more pensive moments, such as the warm, enveloping chords of "Taurus" and the deep techno comedown of "Taurus XXXII", that tangible sense of shape remains tantalisingly out of reach.
One track that really stands out is "Torus VIII". Vril apparently used to produce hip hop, and it's something most evident here, where an 808 kit and lysergic synth textures intermingle to create something streaked with a shocking pink energy. If there was any way to describe Vril's music, it would be that it almost seems to be techno from the early virtual realm; like an underpowered PC pushing the limits of its graphics card to create a polygonal landscape out of a black void, the music of Torus seems to emerge with an almost mathematical precision. Vril's techno may not shatter your brain in the way that some of the recent noise variants or experimentally-inclined tracks do, but there's a purity of style here that's invigorating. I personally find a lot of Giegling's work a little too serious for my tastes, and while it would be wrong to say Vril's productions aren't straight faced in their own way, they buzz with so much character it's hard not to be drawn in.
Scott Wilson