Elijah & Skilliam to mix Fabriclive 75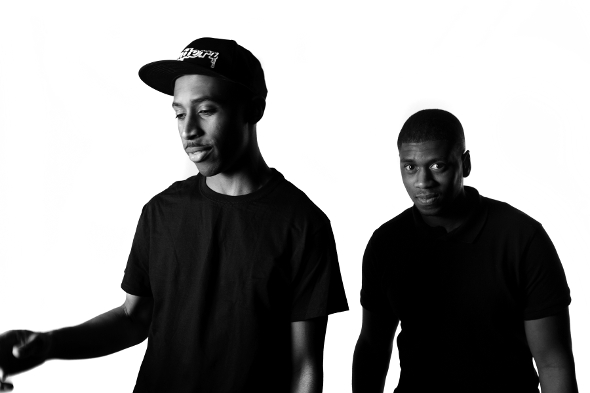 Full details regarding the forthcoming entry into the Fabriclive canon from the Butterz pair have emerged.
Through their Rinse FM residency and curation of their Butterz label and associated parties, Elijah & Skilliam have become some of the most foremost champions of London's instrumental grime scene, releasing music from the likes of Terror Danjah, Flava D, Champion and Royal T over the label's four year lifespan. With the pair holding down a Butterz residency at Fabric, the duo's appearance on the club's mix series – originally revealed via Elijah's Twitter last month – is long overdue.
The mix itself looks to be more of an exploration of the current scene rather than a club set. "The mix doesn't necessarily represent how we would play in the club, but it does feature many of the people that you would hear and see playing at a Butterz night at fabric," the pair explain. "It was more focused on making a great mix. If you want to hear how we play in a club, come to fabric." Expectedly, the tracklisting draws heavily from the Butterz family, with tracks from P Jam, Royal T and D Double E all featuring, though the likes of Fade To Mind's Kelela, Local Action's DJ Q, Darq E Freaker and Kowton all feature.
Fabriclive 75 will have the obligatory launch party at the Farringdon institution on Friday May 16, with the duo playing alongside Skepta, Newham Generals, Flow Dan, Riko, Spooky and Uncle Dugs, with Soul:ution in Room 2 and Keysound in Room 3. Full details and tickets can be found at the Fabric website.
Fabric will release Fabriclive 75 on CD and digital formats on May 19.
Tracklisting:
1. Royal-T – Intro [Butterz]
2. Four Tet & Terror Danjah – Killer [Text]
3. Terror Danjah & Champion – Stone Island [Hyperdub]
4. Flava D – Hold On VIP 3 [Butterz]
5. Lil Silva – Venture [LS Whites]
6. D Double E – Sickman VIP Dubplate [Butterz]
7. Royal-T & Champion – Mufasa [unreleased]
8. Swindle – Good Stay Bad [unreleased]
9. Royal-T – I Know You Want Me [Rinse]
10. P Money – Roll Call [Rinse]
Kowton – H-Street (138 Mix) [Pale Fire]
11. Preditah feat. JME – Jack Up The Tune [Whoa]
12. Darq E Freaker – 666 Sauna [unreleased]
13. P Jam – Disturbed 2.0 [Butterz]
14. Murlo – Into Mist [unreleased]
15. Footsie – Hit Him (Butterz Dubplate) [Braindead]
16. JME – Integrity [Boy Better Know]
17. 040 – Let It Be Known [Butterz / Kapsize]
18. Swindle & Silkie – Twinkle [Swindle Productions]
19. Wiley feat. Andreena Mill – Born In The Cold [Big Dada]
20. Kelela – Keep It Cool [Fade To Mind]
21. DJ Q – Two Faced [Local Action]
22. Sir Spyro feat. JME & Alahna – Pull It Up [Dragon Punch]
23. Flava D – Home VIP (Moony Remix) [Butterz]
24. Swindle – Outro [Swindle Productions]
Header image by Jimmy Mould