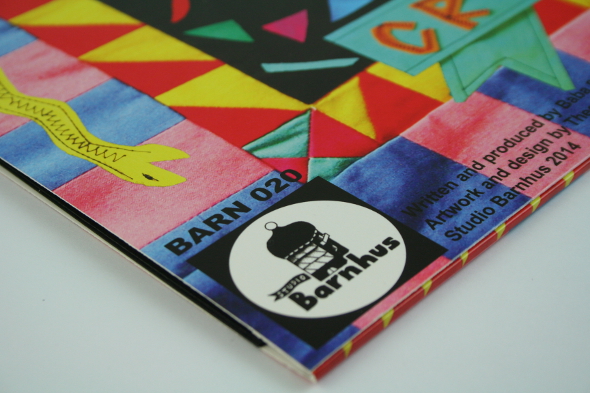 You only need to listen to the clips of "Palats" online to know Baba Stiltz's latest for Studio Barnhus is a big track, but 90 seconds of low bitrate-play doesn't reveal nearly enough. And besides, what's either side of that giant sine wave blowhorn anyway? Tech house beats? Satanic field recordings? Rhythm and dub? When it comes to Studio Barnhus (or fellow Nordic crew Sex Tags Mania for that matter) it could be anything. So that's why the inside of a record store will always reveal more of the music than the online alternative, but not everyone has access to a warehouse full of vinyl to pluck from the shelves at will.
As suspected there's a lot that goes on either side of that beastly grandstand. And leading into it there's a pinging, DJ-friendly beat, similar to the introduction of Son.Sine's "Upekah" that was re-released by Delsin last year. Synth notes distanced apart from each other are next, giving the track its first sign of musicality, with progressions of cosy pads slowing entering the mix like the aural equivalent of being covered by a warm blanket in an empty room. While all this is happening there's also a vocal sample that intermittently interjects with what sounds like the 'C' word, (I could be wrong…) adding a speck of cheekiness that swats away the chance for this track to fall too far down the deep house rabbit hole.
Then, finally, the horn. In fact it's just a fat monophonic bassline; a subtly modulating SH-101 key that's played to sound like an evacuation siren. It's comparable to the one Lakker used in the Killekill production "Spider Silk" a few years ago. But unlike that track, "Palats" is straddled by happy and melodic keys, rhythmically delayed rim-shots and very Studio Barnhus-sounding glass jar percussion. It's a secret weapon for the house and techno DJ and a production that's likely to get a similar reaction on the dancefloor as Breaker 1 2's "DMT".
On the flip there's the dreamy "Crypt". And if you were to combine the track's lo-fi keys, sweet melodies, subtle Italo arpeggios, all of which float on top of a wish-washy bed of soothing white noise, it's like Baba Stitlz's has fused the hallmarks of producers like CV313 and Pan•American with a school of thought shared by the likes of, say, Terekke or Galcher Lustwerk. That's the thing with online record shopping; sometimes a bar of music is all you'll need to make the purchase, while other choices are unfortunately only worth their minute and a half of online audio. That's definitely not the case here.
James Manning
Tracklisting: 
A1. Palats
B1. Crypt