Akai announces a host of new products
A new APC40 controller and an analogue drum machine and bass synthesiser are among the announcements.
With the music tech world gearing up for the Musikmesse conference in Frankfurt later this week, Akai have revealed a clutch of exciting new products which will be shown at this year's show. Chief among these announcements is the Rhythm Wolf (pictured above), an analogue drum machine and bass synthesizer module with a built-in sequencer. Featuring six MPC-style pads, the host of knobs allow full shaping of the five drum sounds which include kick, snare, open & closed hi-hat and metallic percussion, and at $199.99, ties neatly into the current trend for affordable analogue hardware.
The other big announcement is the APC40 MkII. Released in 2009, the original APC40 took inspiration from Akai's famed MPC units, and was one of the first dedicated controllers for Ableton Live. Since it was released, its relevance has waned somewhat due to the introduction of the Ableton Push controller, but the APC40 MkII looks to bring the unit up to date. Given the fact that Akai had a hand in designing Ableton's Push, its unsurprising that the two controllers have a fair bit in common, with a 5×8 clip-launch matrix with RGB feedback, eight channel faders, one master fader, and eight device controls map to Ableton directly included. As well as the APC40MkII, which is slated to cost around $400, Akai will be extending the APC range with the APC Mini, which offers a condensed version of its older sibling that resembles Novation's popular Launchpad controller, and the APC Key 25, which adds the 5×8 clip-launch matrix to a unit including eight knobs and 25 mini keys.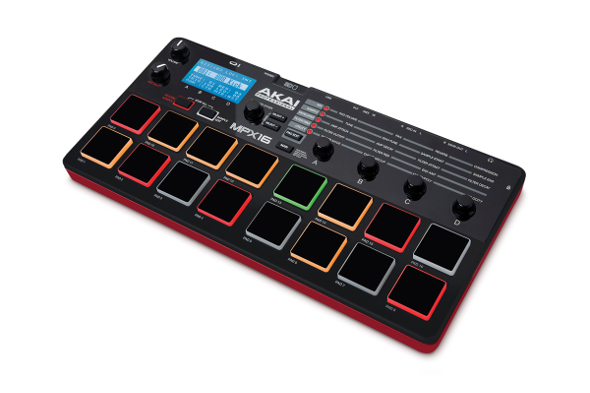 Finally, Akai have announced the MPX16 sample player/recorder, which does pretty much what it says on the tin. The compact unit, which is set to cost around $200, features 16 velocity sensitive backlit trigger pads, and allows the user to record and play back stereo samples in WAV format using any SD card. As well as featuring inputs, the unit features an internal mic for sampling, while the unit also features onboard sound processing allowing the tuning of samples, and the adjustment of ADSR envelopes and filters.
Full details on the new additions, which are due to arrive in the summer, can be found at the Akai website.