Soma Holiday reissue due on Minimal Wave
The cult Shake Your Molecules from the Franco-American pairing will be the subject of an expanded reissue from Veronica Vasicka's label.
Having broken speaker cones across the globe with the first in a series of Cititrax releases from Doug Lee's An-i project, Veronica Vasicka will now switch attentions back to her celebrated archival endeavour with the long awaited remastered issue of Soma Holiday's mid '80s cult classic Shake Your Molecules. Formed of Frenchman Jean-Marc Vallod and American Jane Honicker, Soma Holiday were essentially the archetype for the Brooklyn hipster; based in Williamsburg, the pair were renowned for their wild parties and cut the one record together in 1984. Shake Your Molecules (The Neutron Dance) was recorded at Manhattan's Unique Studios – a storied studio also used by Madonna, Run DMC and Kanye West – and issued through the Cachalot Records label. Given the period in which it surfaced, it's little surprise that Soma Holiday's music straddled the line between flamboyant New Wave and nascent electro, a fact no doubt enhanced by the duo's work with Arthur Baker protege Jay Burnett.
First alluded to by Vasicka in conversation with Tim Sweeney on Beats In Space last June, Shake Your Molecules is finally set for expanded release through Minimal Wave next month. Along with a remastered version of the title track, the Minimal Wave issue features an unreleased dub version of "Shake Your Molecules" and unreleased alternate takes on "Too Many People" and "Art Dimension", the two other tracks that featured on the original 1984 pressing. This being a MW release, there is plenty of attention paid to presentation, with the EP pressed on 180 gram ox blood vinyl and housed in a full colour gloss sleeve with a two-sided insert featuring photograph of Soma Holiday in front of their Brooklyn home, and full liner notes with text by Jean-Marc Vallod. Those unfamiliar with the title track can watch the gloriously '80s official video below.
Minimal Wave will release the Shake Your Molecules EP by Soma Holiday on April 30.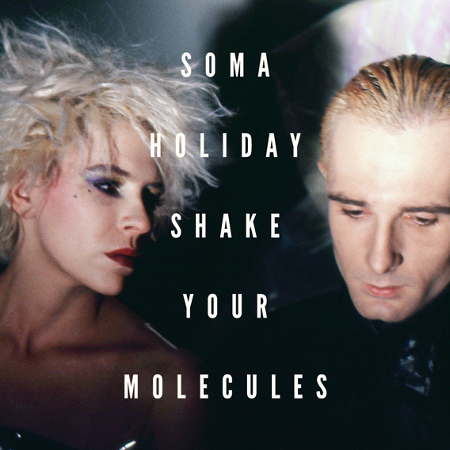 Tracklisting:
A1. Shake Your Molecules (Original)
A2. Shake Your Molecules (Dub)
B1. Too Many People (Alt)
B2. Art Dimension (Alt)