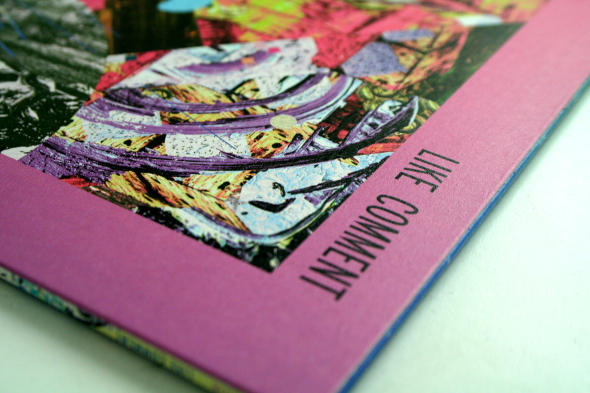 If Meakusma had already positioned itself as a leftfield proposition with its output including material from Terrence Dixon and Madteo, this new album from Georgia confirms it as an experimental outpost of note. The duo, comprised of Brian Close and Justin Tripp, have previously only released one collection of sound recordings, Asemic Club on their own Georgia Sounds imprint, although their accomplishments stretch back to high brow audio-visual collaborations with David Byrne and Lee Perry amongst others.
Like Comment is a dizzying experience from the off, as the frenetic pace of "Brain Flash In The Dirt" deconstructs juke and rebuilds it with all the angles skewed enough to make Autechre smile. The synth work is equally mangled as erratic bass notes flit around impulsive keys and chords, the sonic equivalent of a claustrophobe trying to find their way out of a room with no door. It's a startling beginning; if a little jagged to fully warm to.
Things round out just enough with "Abstract High", which lets the soothing sound of live bass wrap itself around carefully triggered ethnic percussion. Once the warm tones start to call out atop some heavily processed speech a strange atmosphere starts to form in the track, alien and utterly personable in the same breath. While the occasional trumpet lines help with the more optimistic lilt to the track, it's really the interplay between one hopeful synth and one oddball one that creates this marvelously duplicitous concoction.
Indeed the album seems to build itself around pushing in opposite directions at once.Georgia can be found fusing live instrumentation with pure machine sounds as demonstrated with the searching guitar lines that embed themselves in the scratchy electronics of "Haya", while the production standards straddle distorted, unprocessed grit and complex, finely balanced arrangements constantly. "A Loving Grit" stands out in this regard with its primal bleeps, string scrapes and off kilter percussion falling into what should be an absolute mess but actually comes through beautifully rendered, putting paid to any suspicions of lo-fi chancers striking lucky with their sound. The whole album is in fact a meticulous construction that makes the innate wonkiness even more alluring.
In terms of concept "Orbit Yer Hips" provides one of the more measured moments on the album, burying the cadaver of electro under an earthen mulch of sonic crud and plotting a linear arc that lets a more focused choice in synths ring out for the duration. It's less immediate in the ears due to the submerged nature of so much of the material, but represents a careful channeling of an idea where so many tracks feel like a wild flinging of sounds at a blank canvas.
Lets' be clear though, neither approach is better than the other, and from start to finish it's the weirdness that binds Like Comment together. Where everything else about their music is straining at the leash to head in opposite directions, Close and Tripp's achievement is in knowing how to take their creative whims to the edge without losing their way.
Oli Warwick 
Tracklisting:
A1 Brain Flash In The Dirt
A2 Abstract High
A3 Way Heat
A4. A4 Haya
B1 Orbit Yer Hip
B2 A Loving Grit
B3 Spirit House
B4 Mahbunzi Nahgo Pihndi Goes To The Market