Details on debut Todd Terje LP surface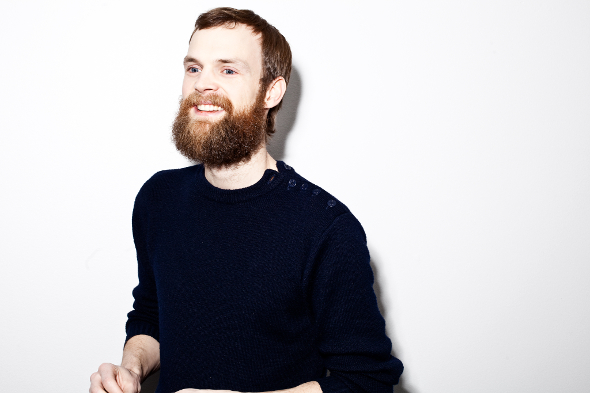 The Norwegian will release It's Album Time through his own Olsen label in April. 
Anyone with a passing interest in contemporary Norse disco should be familiar with Todd Terje, the most universally known handle of Terje Olsen, whose vast array of edits and remixes accrued over the years has gradually been nudged aside as the Scandinavian embraced original productions. Having scored perhaps one of the best Running Back releases in Ragysh, Terje founded his own Olsen label in late 2011 and delivered one of 2012's most ubiquitous tracks in "Inspector Norse". Hints that Terje was working on a debut album have accompanied subsequent releases on Olsen, and now details on the wittily titled It's Album Time have surfaced.
Due in April brandishing some distinctive illustrated artwork from Bendik Kaltenborn, the 12-track set ends on the aforementioned "Inspector Norse" and also features the previously released "Strandbar" and "String Star Part 1" & "String Star Part 2", with the remainder of It's Album Time made up of unreleased material. Intriguingly, there is a cover version of Robert Palmer's "Johnny and Mary" included that features vocals from veteran crooner Bryan Ferry – a man Terje has previous with, having been commissioned to remix Roxy Music's "Love Is The Drug" in 2012.
Olsen Records will release It's Album Time by Todd Terje on April 7. It will be preceded by a short European tour – dates for those below.
Tracklisting:
1. Intro (It's Album Time)
2. Leisure Suit Preben
3. Preben Goes To Acapulco
4. Svensk Sås
5. Strandbar
6. Delorean Dynamite
7. Johnny and Mary (feat. Bryan Ferry)
8. Alfonso Muskedunder
9. Swing Star part I
10. Swing Star part II
11. Oh Joy
12. Inspector Norse
It's Album Time release tour:
Feb 28: Nitsa Club, Barcelona.
March 1: Panorama Bar, Berlin.
March 7: Southport Festival, England
March 8: Feel My Bicep, London.
March 9: Trow, Amsterdam.
April 10: Elita festival, Milano.
April 11: Palais de Tokyo, Paris.
April 12: Le Sucre, Lyon.
Header image courtesy of Christian Belgaux