Blackest Ever Black relive the Weekend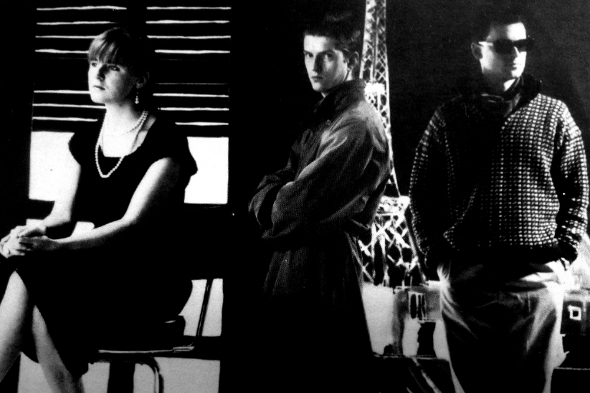 Kiran Sande's label will issue the Weekend's 'legendary' The '81 Demos on vinyl for the first time.
Originally released on Rough Trade in 1995, The '81 Demos was a post-scripted transmission the Welsh band had made prior to officially splitting up in 1983. Before the Grammy Award-nominated Simon Booth (founder of the group Afro Celt Sound System) and Larry Stabbins parted ways with Young Marble Giants' Alison Statton to form the jazz orientated group Working Week, the three along with Alun 'Spike' Williams made up the very short lived Weekend, recording one studio album, La Variete, and three accompanying EPs. Weekend's music, it's suggested, was at the time a bold new departure from the prevailing post-punk ethos and is said to have significantly inspired other influential groups Saint Etienne, The Sundays and Belle & Sebastian.
The four demos were released as a stand-alone CD by the London-based Vinyl Japan in 1995, as well as being included as bonus tracks on the Cherry Red label's most recent CD reissue of La Varieté. Blackest Ever Black will now be the first to commit these recordings to vinyl, providing new artwork, tailored packaging and liner notes. An extended press release offers more insight into the DIY, freeform and experimental nature of Weekend, with Statton quoted saying, "it's a curious experience revisiting the '81 demos, which now seem, in retrospect, naive and relatively unburdened musically, however the emotion contained within them is still penetrating through, after 32 years." Williams adds, "the drum machine sounds like a compromise rather than a conscious choice; we didn't really know how to program it and I remember I really struggled to get the big explosive bass drum sound I wanted on 'Red Planes'". You can take a listen to "Red Planes" below and for more information on the release visit Blackest Ever Black.
Blackest Ever Black will release The '81 Demos by Weekend on March 3.

Tracklisting:
A1. Drumbeat
A2. Red Planes
B1. Nostalgia
B2. Summerdays Instrumental