Rush Hour shine the light on Vincent Floyd

A reissued early '90s Dance Mania record from the Chicago-based producer to precede further unreleased material on Rush Hour.
The retrospective side to the Rush Hour empire is a well oiled machine, with artist-focused reissues of Daniel Wang, Kenny Larkin, Recloose, Virgo Four and Dream 2 Science among their finest work in this area. The Spuistraat-based emporium will next focus their attentions on Vincent Floyd, a producer with a small clutch of 12″ releases in the mid-90s for Dance Mania, Relief and Gherkin Records offshoot Resound Records. In an interview posted on the Rush Hour Music site earlier this month (which also revealed plans for a Xosar LP), label manager Antal Heitlager apparently met Vincent Floyd last March in Chicago, and stated that "since we are longtime fans of his work we asked for unreleased music." Beyond his recorded output, there's a dearth of information on Floyd so it will be interesting to see his story documented by Rush Hour over the coming months.
Whilst the exact details of what form this unreleased music will take are yet to be revealed, Rush Hour will introduce Vincent Floyd's work with a forthcoming reissue of Your Eyes, the producer's debut for Dance Mania. Released back in 1990, the five-track 12″ brandished a title track that was pretty much a perfect example of vocal deep house from the era, which stood apart from the label's trademark sound. The forthcoming reissued edition from Rush Hour pares the record down to just three tracks, with the Chan-featuring title cut complemented by an instrumental and "I'm So Deep," described by the label as a "sinister haunting instrumental jackin track".
Rush Hour will release Your Eyes by Vincent Floyd on February 10.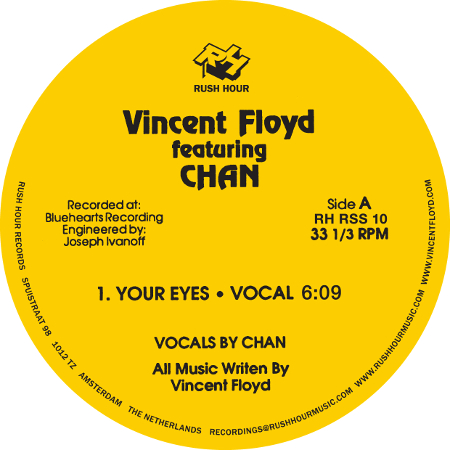 Tracklisting:
A1. Your Eyes (Vocal)
B1. Your Eyes (Instrumental)
B2. I'm So Deep