Talent heavy compilation commemorates ten years of Phonica Records

Phonica Records celebrate a decade in the music industry with a three-part compilation featuring Kassem Mosse, Juju & Jordash, Trevor Jackson and a whole host more.
In 2003 Phonica Records opened its doors for business in Soho, London, quickly becoming a recognised retail hub for electronic music and specialising in vinyl records. Six years later they launched their own record label along with sub-label Phonica White, with the former primarily supporting once up and coming British house producers such as Matt Tolfrey and Midland, while Paul Woolford chipped in with the Can't Do Without / Bareback 12″ in 2011. The latter, Phonica White, has been spearheaded by Japanese deep techno producer Iori who's so far provided every other release for the sub-label, while Phonica Special Editions was created in 2012, so far releasing three 12″s from DFA artist Sinkane, Canadian electronic-rock musician Sandro Perri, and Glaswegian producer Sad City.
Now well and truly established as a London institution, Phonica Records present 10 Years Of Phonica, a 3xLP, three-CD and digital release of new, previously released and unreleased material provided by artists close to the Phonica community. Beginning in reverse order, part three of the compilation is described as highlighting the last five years of Phonica Records with previously released Phonica tracks from Midland, North Lake, Lord Of The Isles and Four Tet's remix of Bob Holroyd "African Drug", while two new productions come from current employee, The Draughtsman.
Other inclusions to note on part three include Kassem Mosse & Mix Mup's remix to Special Request's "Deflowered", originally released on the Special Request label in 2012, while Skudge and Steve Moore remix Iori; the latter especially commissioned for this release. Across the compilations' other two parts, new music comes from established names like Henrik Schwarz, Roman Flugel, I:Cube and Legowelt, while other artists include Oliver Ho's Raudive alias, In Flagranti, Joakim, Juju & Jordash, and Trevor Jackson with the track "RGBPM" taken from a live audio visual performance that took place in 2007 at BFI IMAX. German recluse STL also provides a rare outing from his usual labels Something and Perlon, Psychemagik deliver their first ever original production, "Triumph Of The Gods", while Red Rack'em and Medlar debut their new project, Redlar, with "Morning Light".
Phonica Records will release 10 Years Of Phonica on vinyl February 17 while the CD and digital versions will be released a week later.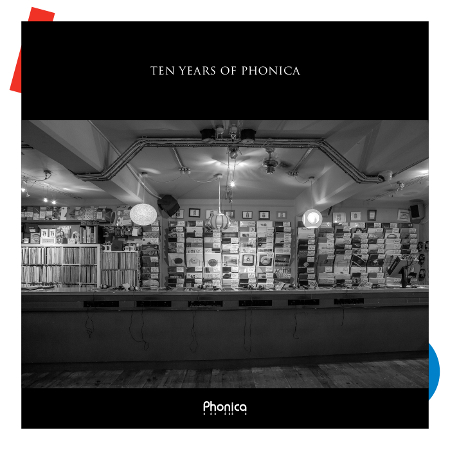 Tracklisting:
CD1
1. Joe Claussell – Them Days Are Gone
2. Henrik Schwarz – Synthphonica
3. John Morales – Sitting In The Dark
4. In Flagranti – Outsider House
5. Raudive – Health
6. Trevor Jackson – RGBPM 3
7. Redlar – Morning Light
8. Loshea – Home
9. Moire – Solar Signs
10. STL – Freaky Fingers
11. Roman Flugel – Giant Talking Vegetable
CD 2
1. I:Cube – Chemise Africaine
2. Juju & Jordash – Quneitra
3. Joakim – Eahr
4. Massimiliano Pagliara – It's A Lately Thing
5. Legowelt – Lovecraftiannature
6. Discodromo – Boi
7. DJ Kaos – Bufflo Dub
8. Mr G – My Thursdayz
9. OL – AMC Edite
10. Lady Blacktronika – Gods And Planets
11. Panoram – Alpha Marmara
12. Psychemagik – Triumph Of The Gods
CD 3
1. Iori – Moon (Steve Moore Remix)
2. Polymath – Sad City
3. North Lake – Marlborol Noir
4. Midland – Play The Game
5. Special Request – Deflowered (Kassem Mosse & Mix Mup Remix)
6. Bob Holroyd – African Drug (Four Tet Remix)
7. Iori – Grit (Skudge Remix)
8. Lord Of The Isles – Forkx
9. The Draughtsman – Fade To Green
10. Sandro Perri – Love And Light (Tom Croose Remix)