Juno Plus Podcast 76: Ital
Our final podcast of 2013 sees Ital throw down an hour's worth of techno old and new – tracks from NWAQ, Drexciya, Regis, Iueke, Hunee and more all feature.
We are excited to round out a third year of podcasts at Juno Plus with a mix from Ital, the Brooklyn-based musician whose name in recent years should be familiar to anyone with an interest in contemporary electronic music. Daniel Martin-McCormick has been one of the most notable artists to cross from an art-rock background into the world of club music, first with 100% Silk in 2011, and then with several releases on Planet Mu last year. Queasy synth lines, unstable rhythms and an occasionally bold approach to sampling, characterised Ital's pair of LPs in particular, though his most recent material has demonstrated an evolution in sound, and it seems, approach.
A collaborative release with Jamal Moss under the name Interplanetary Prophets was perhaps the most high profile project Martin-McCormick has been involved in this year. The Zero Hour EP arrived on Planet Mu over the summer and was the first Interplanetary Prophets material committed to vinyl after the pair were invited to perform at last year's Unsound festival in Krakow. Subsequent to this, Martin-McCormick made an appearance on the Workshop label and also revived the dormant Lovers Rock label with the two-track Throbbing 12" – both offering a hint that the Ital sound is expanding its remit. It's nice to see this approach seep into Martin-McCormick's DJing too, with a wonderfully wide ranging mix for us where tracks tend to consume one another.
Looking forward to next year, it seems the Lovers Rock label is taking a more prominent role in Ital's life, with a fourth release from long-term collaborator Jacob Long pending under his Earthen Sea alias. This forms part of the discussion we had over email to accompany the mix, along with some questions on preferred attire when executing a DJ mix and how to make the perfect burger.
Hello Daniel how are things in New York?
Things are great. I just woke up after working a 16 hour shift lugging speakers around in the cold so I'm happy to be done with that. Gonna take the day to relax, work on tunes and warm up for tomorrow's party at Bossa Nova Civic Club.
What have been some of your personal highlights over the past twelve months? Releasing with Jamal on Planet Mu and that Workshop 12" tend to stick out from an outside perspective.
Musically, yeah those two 12″s were definite highlights. Working with Jamal was such an inspiration, even when we were at odds with each other. Music seems to just be flowing out of him all the time, you gotta let yourself go and just dive into it if you want to keep up. Other musical highlights… Playing Berghain for the first time, going to China with Magic Touch, touring stateside with Container, living in and touring Europe for seven weeks with Aurora Halal, and restarting my label Lovers Rock. It's been a really special year.
Beyond that, I feel that I had a subtle but significant shift in musical thinking this year, partly due to moving deeper into hardware production and partly from just evolving as an artist. I started taking the live set away from a full-throttle pummel and exploring more lushness and beauty within a palette of melting / raw textures. This came from within, processing and ruminating on a lot of long talks with close friends about music, and also from seeing some of the most incredible sets of my life… Function, Sprinkles, Andres, Morphosis DJing with a 707, Kassem Mosse, Shake Shakir, Terekke and so many others. Really got my head turned around.
Oh and also mostly quitting drinking / trying acid for the first time was huge. Made me listen to music ("My War" especially) so differently.
Let's discuss Lovers Rock. You've recently switched your focus back to the label with a 12" from yourself, so what can we expect from it over the coming months?
The test pressings for Lovers Rock number four are getting sent over as I type. It's a 12″ from my former collaborator Jacob Long under his long-time solo alias Earthen Sea, and it's a truly incredible record. It's titled Mirage and that's what it sounds like: elusive, meditative, crackling soundscapes that are so personal and mysterious. The music seems to come directly from his soul. There are a couple beatless tracks of his on this mix, one from the record and one that will be made available digitally. But most of the EP has a hypnotic kick going that kills me every time. After that, Lovers Rock will be releasing a collaboration between Aurora and myself, and then I've got some more stuff cooking with other artists. I really like self-releasing but don't want to just run a vanity label, so getting friends involved is high on my priorities.
What other Ital related projects are on the boil? Some more Interplanetary Prophets material perhaps?
Some Prophets stuff may be forthcoming. Jamal and I played together right around Halloween and it was an amazing experience, fully improvised and we recorded it, but I hadn't properly gone through it yet and my computer just died… So hopefully I can recover the file. We've talked semi-seriously about doing an album, which would be a logistical nightmare given our schedules and different home bases, but of course, great.
I'm working on a lot of new material, and for the first time in a long time I don't have a fixed goal for it. For the last few years I've always written albums, 12″s and EPs, even live sets with their specific forms in mind, and usually a label I was in touch with. But now I'm just recording, trying new ideas and giving the music room to breathe. I don't have any live shows planned until February so I'm free to borrow gear or switch up my setup and not worry about a run of gigs I've got to get ready for new week or whatever.
There's one track on this mix that's a favourite from these sessions. I borrowed my friend Greg's 909 and Aurora's Juno-1; holed up for an evening with some of my usual suspects (DX200, Effectron II, MPC1000), and went at it. I just kept recording and feeling out the loop, trying different tempos and approaches. I'm looking forward to a couple more weeks like that, and then writing a new live set for the spring.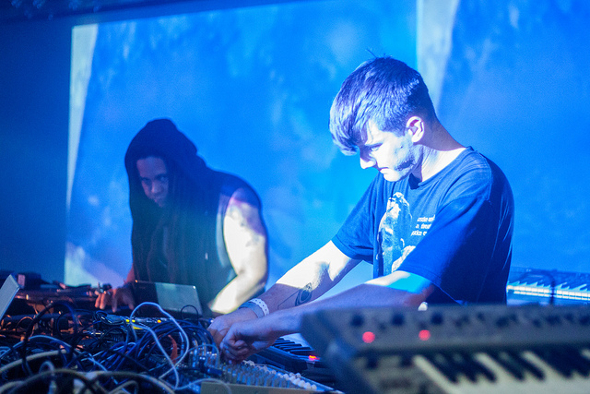 I know you recently played at Hamburg's Golden Pudel which has had quite a bit of press for its open minded crowd. How did you find the night?
I loved this show. I'd played the Pudel once before with Mi Ami and had a great time, but this was even better. I was listening to my Zoom recording of the set and at one point you can hear this guy in the crowd screaming "SEXY!!!….LOUDER!!!" through the needle. The people were so open and everyone who set up the show seemed absolutely devoted to their mission. I feel like the Pudel is a true haven for music, more for than (just) partying or clubbing. You just feel the music flowing, oozing out of the walls. You can see it in people's eyes.
Did you catch the preceding set from f#x? He posted it briefly on Soundcloud and it's an immense exercise in the art of the warm up.
I saw the bulk of it, yeah it was great. I was particularly inspired by the semi-screwed acid he had towards the end… Heavy.
Thanks a lot for doing this mix, there's a nice way the tracks seem to consume one another as opposed to joining hands, so to speak. Was there a specific idea you had when approaching it?
Since I first started DJing I've been fascinated with long mixes. Something about one track gradually dawning over another draws me in more than raw and dirty quick cuts. The other thing that's been on my mind from the start is using choice ambient / spoken word tracks over more minimal loops. I like the phrasing of the tracks 'consuming' each other. I definitely desire a certain degree of physicality and aggression in live performance, and there's little that bores me as much as a professional DJ professionally mixing professionally-produced DJ tools. I like letting the ambient songs unspool over mixes, it gives the whole thing a more vibrant, breathing quality to my ears, (it) lets the mood modulate more gradually. Also speaking of consuming, I recently re-watched Videodrome and was struck by how much that movie has influenced me. The disgust and scepticism and drooling machinery feels very present to me when I'm working.
I gather that you recorded the mix whilst garmed up in a dressing gown? Is this the preferred Ital attire for recording a mix?
I've recorded in all sorts of clothes, but comfort is a must.
What are the other elements that make up your perfect environment for executing a DJ mix?
I've noticed that when I'm practicing I'm about 50 per cent worse than when I actually play in front of people. Something about the higher stakes rivets my attention and the mixes flow much more easily and gracefully. So I warmed up for this mix with my room mates and a friend or two hanging out. They didn't have to pay attention to me or dance around or whatever, they were mostly chatting and checking emails and I'm not sure if they knew or cared what I was up to, but it gave me that push to keep things tight and exciting. On the same tip, for the last mix I posted I went to Bossa Nova and used their gear during happy hour with a few people were hanging around. That worked really well too.
When I recorded it, I did it late at night and all on headphones, which I'd never tried before. The night-time solitude and knowing no one could hear me was quite transportative. The opening of the mix definitely seems to have some of this shadowy, slightly paranoid, heightened-sensations and nocturnal energy.
From recent Huerco S social network manoeuvres it seems you are something of a skilled Burger chef? What goes into the trademark Ital burger?
As with anything good, you take it slow. Control the flame, keep the top on, let it stir in its own juices for a while, get the cheese to melt into the patty, throw a fried egg on top. Mustard. Mayo. No ketchup. To be honest, the burgers I served that night were masterpieces.
Tracklisting:
1. Lil' Louis – The Phone Call (& other selections from D.J. Essentials Inc. Acapella Anonymous Volume 4)
2. Sandwell District – 7″ B Untitled
3. Vainqueur – Lyot
4. Aurora Halal – Hazy G
5. Hunee – The Lowest Animal
6. Billy D'Alessandro – Come With Me
7. DJ Sprinkles – Grand Central, Pt. I (Deep Into the Bowel of House)
8. Function – Psychic Warfare
9. Robert Hood – The Black Technician (UR Mad Mike Remix)
10. Ital – Floridian Void (Acapella)
11. Regis – B2
12. Earthen Sea – Venus
13. Maurizio – Domina
14. Lisa Stansfield – Never Gonna Give You Up (Hani's Vocal Reprise)
15. Newworldaquarium – Avon Sparkle
16. Ital – Dancing
17. Levon Vincent – Deeper
18. Drexciya – Black Sea
19. Surgeon – Dialogue (Mick Harris Remake)
20. Iueke – Tape 1
21. Earthen Sea – Floating
22. C'hantal – The Realm (Acapella)
23. Balinese Gamelan from Musique du Monde 11