Juno Plus Podcast 74: John Heckle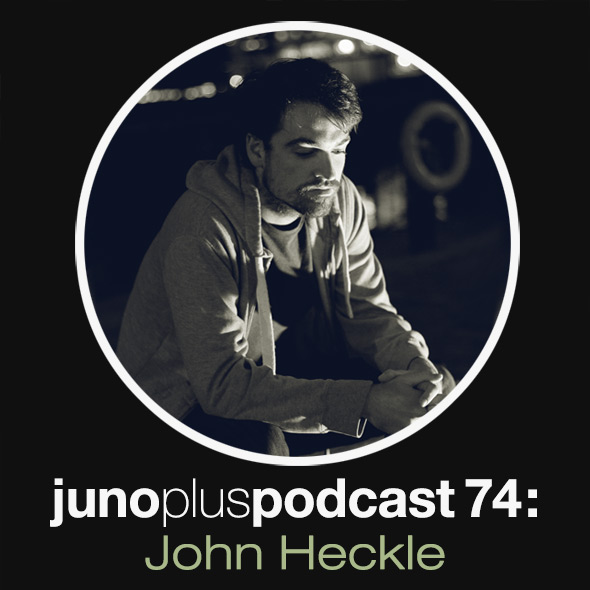 Merseyside's John Heckle runs through 30 tracks in just over an hour for our latest podcast.
Handed his debut release at the tender age of 16 with the amusingly named Poppadom Preach 12″ under the Hek alias, John Heckle seemingly found his production voice some years later having been inspired by the music released by Mathematics Recordings, particularly that of label boss Jamal Moss. Debuting on the Chicago based co-op with the Life On Titan EP in 2010, Heckle and Moss subsequently struck up a working relationship that has resulted in numerous further releases on Mathematics including a superb debut album in The Second Son.
Heckle has used this affiliation with Mathematics – a label renowned for promoting young talent – as a springboard to wider acclaim, with his aforementioned debut release getting recognition in the Discovery category of last year's Qwartz Awards in Paris. Heckle's weighty take on hardware-driven techno has graced a number of fine underground labels in one shape or another, with Crème Organization, Signals, Apartment and Tabernacle Records among them. This latter Scottish label seems to be on the same wavelength as Heckle, not only granting him a platform for his own productions but also those of his fellow unsung Liverpudlian producers Mark Forshaw and Binny, who have released together as Phantom Planet Outlaws.
This week saw Tabernacle Records issue John Heckle's second album, the intense listening experience that is Desolate Figures, a nine track collection that perhaps best represents the jackhammer nature of his widely acclaimed live sets. Heckle is an equally accomplished DJ as his mix for us demonstrates, cramming in all manner of Mathematics goodness into the 30 tracks – look out for The Sun God into Dave Clarke via Telex transition. He was also good enough to answer some questions on the new album, the inspiration behind his upcoming debut on M>O>S Recordings and his favourite record shops.
Hi John, how's going?
Good thanks, keeping busy.
A few years ago you had your record bag stolen and lost a lot of rare vinyl. That must have been gut wrenching. Quite a few people got behind you to help you recuperate some of what you lost. Did you manage to find any of those records again?
The records actually got recovered a few months later. They'd been taken off the train en route home and found by maintenance. God knows why they took so long to end up with the train operator's lost property, but the girl who I'd hounded all those months earlier was great to remember the bag's description and fish my details out. I couldn't believe my ears when she rang. I'm still eternally grateful for the online response when it happened, it was unbelievable.
Thanks for doing this mix, how was it put together?
Just what I felt like putting together on the day. I guess there's a lot of the more mind-bending material in there than usual. I think I'd just received a couple of Hieroglyphic Being CDRs in the post that morning, so I dusted off my CDJ for the first time in a few years. Mostly I just stuck together a bunch of records I've been playing recently.
How much is record shopping a part of your weekly routine?
I wouldn't say it's a part of my weekly routine. If I hear something I like then I'll try and get hold of it when I can. I'll not buy records for the sake of it, it's an expensive hobby ultimately! I'll rarely go a month without adding to the collection though.
Do you find yourself buying more second hand/older records than newer ones?
Yeah I'd say so. Though I do try and keep on top of the new releases. It's difficult with so much out there however. Last few records I bought were some old DJ Rush, Regis and Mills records, filling the gaps in my techno collection. And some old stuff from Klein & MBO and Mike Dunn. The list could go on I guess.
What's the best record shop you've been to whilst on your gigging travels?
That's hard to say. A couple of the more recent ones were Clone in Rotterdam and Kristina in London. I'm sure I'm forgetting a few here as well.
How much time do you find yourself in the studio these days?
Well my gear is set up where I live, so I try and keep as active as possible, whether it be working on new material or playing around on the keyboard.
Is your studio growing? Any new pieces of kit?
Yeah I got a Polysix recently, it's unreal. I'd been drooling over videos of that synth online for a while, so it's nice to finally get my hands on it.

You named your debut EP for M>O>S after a mountain range near Chinese city Ghuangzhou called Baiyun Mountain. Have you been there?
Yeah I have actually! I was over there with friends in 2010 visiting my brother who was a teacher over there (I followed suit and did a month of teaching while I was there). Baiyun Mountain itself is pretty touristy, but it has some brilliant views from the top. We cut off the tourist trail and climbed up through the trees. Pretty steep and treacherous at parts! When we got to the top we came across a hut where a few men were practicing some form of martial arts, I wish I could remember which. Great experience.
How often do you get to travel outside of DJing?
Well that was the biggest trip I've been on, but I try to get around when I can in and around the gigs.
Moving on to your album for Tabernacle, did you approach them with the idea of an LP or was it the other way around?
I think it came about through a conversation with Andrew (of Tabernacle) in Paris. We were over for the Qwartz Awards last March, and the idea came up over a pint. At the time I was competing a bunch of other projects, so it was then over a year before I could dedicate the necessary time to it. So it's been on my mind for a while.
How challenging is it to write an album? Or was Desolate Figures a case of compiling tracks you had previously made? Or a bit of both?
Only as challenging as writing an EP. I don't go about it any differently. All bar one of the tracks were recorded over a period of a few weeks, so it isn't a compilation of pre-recorded material: they were all made with the album specifically in mind. It wasn't a linear process however, more of a case of recording until there was enough material there to fit the project.
It's a very intense listen, could you sense this when you were in the recording process?
Yeah I think so. A few of the recordings on there I went with the intention of creating an intense listening experience. But I'd say there's also pockets in there that alleviate that tension.
Desolate Figures is your second LP. How does it feel to complete 'the difficult second album' and any idea what you'd like to start working on next? Perhaps you already have something on the go?
It feels good! It feels great boxing off any project but this one more than most, though I didn't think too much about the 'difficult second album' tag. I'm constantly working so there's more in the pipeline yeah, but I won't talk about them until they're completed.
Tracklisting:
1. Francesco Clemente – Suoni Dalle Ombre Oltre
2. Cabaret Voltaire – Keep On (Sweet Exorcist Mix)
3. John Heckle – Baiyun Mountain
4. Marcus Mixx – Psychoustic
5. Innerspace Halflife – Plastique Acid
6. Hieroglyphic Being – The Man With The Red Drum 2
7. Africans With Mainframes – Watusi (Steve Poindexter Ritual Acid Reprise)
8. Steve Poindexter – Maniac (Original 1988 extended Replay Version)
9. Hieroglyphic Being – The Man With The Red Drum 6
10 .Mark Forshaw – Dirt On The Trax
11. Hieroglyphic Being – Somewhere Else 4
12. Gregory Kitt – Off & Off
13. Jellybean – Twilight Drone
14. Mark Forshaw – Tools Of The Unexpected 4
15. Jeff Mills – See This Way
16. Paul Mitchell – Light
17. John Heckle – Back Alley Terminator
18. Surgeon – Force & Form Remake 2
19. Hieroglyphic Being – The Man With The Red Drum 3
20. John Heckle – On The Fields
21. Terrence Dixon – Links
22. John Heckle – Untitled
23. The Sun God – Root Frequencies
24. Members Only 14 B
25. Members Only 13 B2
26. The Sun God – Scene 5/Discussions & Dialogue 1
27. Telex – Moskow Diskow (1985 Version)
28. Dave Clarke – Protective Custody
29. Hieroglyphic Being – Somewhere Else 9
30. Ghecko – Firelight (Instrumental)
Desolate Figures by John Heckle is out on Tabernacle Records now.
Header image adapted from photo by Rachael Goodrick.