Building Peaks: An interview with Ø [Phase]
Arguably Britain's most underrated techno producer, Token mainstay Ø [Phase] speaks to James Manning about his forthcoming debut album Frames Of Reference.
Ever since watching the music video for The Chemical Brothers' "Star Guitar", train rides and repetitive music have become a playfully synchronistic combination for me. Known for visually tricking film clips for artists like Daft Punk (and Stardust), Björk, The White Stripes and Kylie Minogue, French director Michel Gondry's photoplay for The Chemical Brothers' ode to David Bowie's "Starman" takes place from the window seat of a speeding train. As the song progresses, arpeggios, breakdowns and repeated sounds are matched with recurring images of the outside, like other passing trains and pylons, bridges, mounds of gravel and a small village.
En-route to meet Ashley Burchett, aka Ø [Phase], in the small English town Epsom, about 40 minutes south of London by train, I found myself reliving Gondry's video listening to Burchett's debut album, Frames Of Reference. It made for the perfect soundtrack as my 11:17am train departed Victoria shooting south past a looming Battersea Power Station, residential tower blocks and smoke stacks that poked above intermittent tree lines.
Travelling further from the capital and into greener suburbia, unsurprisingly things got less techno. Tracksuits and Staffordshire Bull Terriers exited the train and golfers stepped on, while graffiti-scarred estates made way for cute cottages and organised backyards. Meeting Burchett in Sutton, a few stops before Epsom, he drives me in his family wagon to Epsom Downs Racecourse, home of both The Derby and The Oaks race days, telling me along the way this is where he's lived his entire life;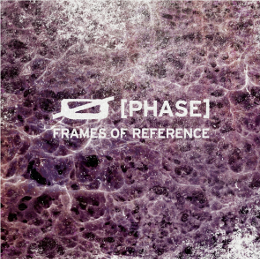 close enough to London without ever having to move there. We pull into the car park of the Derby Arms hotel located next to the racecourse, which presented us a panoramic view of the city that's inspired Burchett and his music, with the vantage point opposite to what a holiday-maker would experience atop of the London Eye.
Ø [Phase] is arguably Britain's most underrated techno producer – but he's big in Europe. This is largely due to his fixed relationship with Belgian label Token, but more on that later. Prior to becoming Token's marquee artist – alongside fellow unsung Brit, Inigo Kennedy – releases on Ben Sims' (now defunct) Latin and samba-influenced Ingoma imprint, Richard Polson and Nick Dunton's Inceptive label – at the time geared toward showcasing newer talent which included Spaniard Reeko – all stemmed from Burchett's first two EPs released on Steve Bicknell's Cosmic and Cosmic ID.
"A whole generation of people spawned off that dance floor," Burchett says of Bicknell's now folklorish Lost parties – you know, the ones with Jeff Mills DJing on the floor. "Going there and hearing my track played (by Steve Bicknell) was quite a surreal experience," says Burchett. "You imagine before you have ever released a record that it's going to feel great. It doesn't actually feel that great, it actually feels quite frightening, you feel quite exposed, you know, putting your piece of expression out there."
No matter how many times we hear it, stories of a techno era, pre-internet, are always nostalgic; midnight faxes, DAT tapes sent in the post, demos cut to acetate and so on. The latter is what led to Burchett's debut proper, the Module Overload EP on Cosmic. At the time of Burchett's first release he was working in a Soho studio as an engineer's assistant which allowed him access to a cutting lathe. Thinking back to the night Burchett handed Bicknell a freshly cut demo over the decks at Lost, Burchett remembers, "It gave him something tangible to play out," adding, "back then you would just send your demo out as a cassette, so instantly he had a copy he could play out – even CDs weren't used that much then."
"In a way it's been a tenacious journey of feeling (like) I wanted to do something – I felt I had music in me," Burchett explains of his younger self. "I bought some synths and bits and bobs and started to learn how to make music," he adds. "It wasn't a question of, 'I'm going to make a record and bang it out,' it was more about: I want to learn about making music."
Cosmic was the ideal choice for a first release, "because obviously I was going to Lost," Burchett explains. "I'm still not really sure if it got to him" he says, "but later I called him and said, 'I've got all of this stuff, can I send it to you?'" Which Bicknell, as described by Burchett, replied, 'yep, yep, yep'. The original acetate had "four tracks on it and he particularly liked one which was on the first side," Burchett continues. "He rang me back a week or two later and said, 'I like that', but felt 'the others weren't quite what I was looking for', so I spent another few months (back in the studio), pulled a few other bits together and developed those (remaining tracks on Module Overload).
So what does the Burchett of now think of the Ø [Phase] then? "When I look at my first release, I didn't have a sampler, and I was desperate for a sampler because I was always making these tribal snatches and that was kind of a good sound back then," he says, adding with mirth that the thought of a sample-less production, "didn't sound dirty and horrible enough."
"I put that Module Overload EP together using just a little sound canvas; one synth that was like a car stereo and some guitar effects pedals all my friends had, and I put it together with that… But now I listen to it and think, well thank God (I didn't use a sampler)."
"There was just too much of it," Burchett then says of the loopy, faster techno of the time that eventually pattered-out for slower, house-like BPMs. "Like now," he adds, "I'm quite happy to stick a tribal loop (in a DJ set) somewhere, but you don't need a whole damn set of it, that misses the point, it's about trying new things, and (if) everyone leaps on one style it's just going to get boring really quickly."
"It wasn't a question of, I'm going to make a record and bang it out, it was more about: I want to learn about making music."
It's a potent comment to come from such a producer, who admittedly doesn't make the same loopy 'snatches' he used to, but there's no denying the music of Ø [Phase] is still derived from a distinctly linear framework, that, combines the evolving textures of muscular European techno with the drive-time and Minimal Nation mechanics of Detroit.
Onwards from 2002, Burchett began working with Inceptive, a label he essentially ran with Nick Dunton and the late Richard Polson. The connection was made after Oliver Ho – an artist quoted in 2011 saying, "Lost is the reason I make techno, period" – visited the studio where Burchett was working at the time. "He came in to do some cuts, some dubs and stuff," tells Burchett. "He ascertained that I was this guy that had done this stuff (EPs on Cosmic and Cosmic ID) – this new artist they were talking about or whatever. So I met him there and we were chatting quite a bit, he came in a few times, we were talking about other places and records and he said something about Rich and Nick and that's when they called me," explains Burchett .
"I did the cutting and the artwork, so I kind of felt like part of the whole idea," Burchett remembers. "There was a bit more internet going on, and they started sending me these jpegs of this artwork – and I was like, I don't like any of it, can I have a go at it? So I sent them some ideas and they were like, 'okay, but that means you have to do the rest of the artwork for the label' and I was like, 'okay'."
Leading up to 2007, Burchett's work as a studio assistant eventually led to a role in mastering at Whitfield Studios and Curvepusher in Hackney. "I was just into music, you know, going out and DJing and all of that stuff – buying records," Burchett says. "People I knew and met were working in the music industry and a friend of mine had a space open up for him at Sony Music Studios, and he started working there, and six months later another opening came up."
After several years mastering, time in the studio for Burchett was something he wanted for his own productions, not polishing those of others. "I was mastering, but I was never entirely 100 percent on it," he admits. "I have different percentages of my focus taken up with some of my music… I've been mastering for a long time, but only at a very sort of leisurely rate, and because I was doing that for a bit (mastering) and that for a bit (producing), it probably wasn't the best way of working."
In 2007 Burchett began to liaise with Kr!z from Token, a label known for its speedier tackle and an imprint Ø [Phase] has loyally helped define. Token was launched in 2007 by Inigo Kennedy's Identify Yourself after a long line of releases for battle hardened labels such as ZET, Molecular Recordings, Missile and his own Asymmetric. Not long afterwards Ø [Phase] debuted on Token with Mass, a peak time three-track EP of tough, Hawtin-esque rhythms. Both English producers are now Token's pillars of strength with their releases plotted through the label's five year catalogue like pile-driven star droppers.
"I always end up crediting Kr!z, who's such a good motivator for me," Burchett explains, saying, "he always kicks me up the arse." When the idea of an album was mooted by Kr!z, Burchett "definitely, definitely, definitely," wanted to do one, but it was just a question of "getting it done". Frames Of Reference is an album that features new material – brand new material such as "On The Edge" – and rearranged riffs that have been mixed slightly differently – like the LP's opening track "Binary Opposition (process 3)".
Last year's Binary Opposition EP proved to be a watershed release for the Englishman, and Token, with the label commissioning a star-studded cast of remixers not seen since CLR's pasting of Traversable Wormhole. Ben Klock, Peter Van Hoesen, Planetary Assault Systems, Sigha and Token stalwarts Inigo Kennedy and Ctrls all took turns in re-processing "Binary Opposition" for what was the biggest packaged techno release of 2012.
"You'll hear me credit him over and over because I totally admire his energy and dedication," says Burchett of Kr!z and his business acumen, directing our conversation toward an anecdote of how the two first came in contact. "He took a trip over to London to meet us, me and Inigo," explains Burchett. "It wasn't: 'I'm doing a label, rah-rah-rah', he wanted to build and develop something and I totally respect that and we've built that relationship – and subsequently Inigo and I are now friends."
"That, to me, makes it a much nicer way of doing things, and I'm often asked more than once why I've stayed with Token the whole time – and it's as simple as that: it's a nice relationship and it's building something."
Interview by James Manning
Frames Of Reference by Ø [Phase] is released by Token on October 21.