Minimal Wave announce reissue of Blancmange debut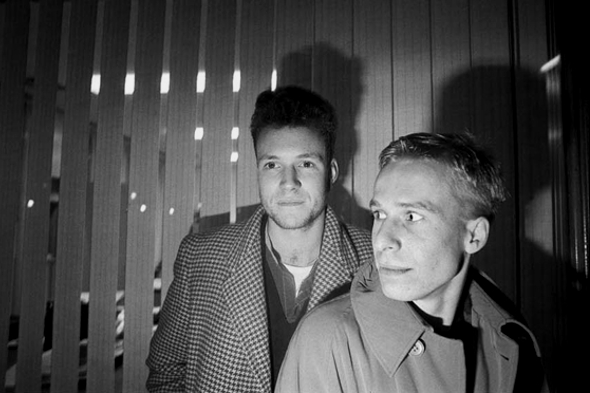 Super rare Irene & Mavis EP from UK synth poppers is label's 50th reissue, due for release in November.
Those with a keen knowledge of UK synth pop will no doubt be familiar with the still active and recording Blancmange pairing of Neil Arthur & Stephen Luscombe, whose string of '80s hits typify the faintly ridiculous nature of music videos at the time (check Arthur's high trousered antics in "Living On The Ceiling" and the nautically themed "Waves"). Yet before the duo embarked on a path towards chart success, Blancmange's early recordings were marked out by a willingness to experiment with DIY electronics, something that led Mute founder Daniel Miller to proclaim them "maiden aunts of electronic music," and thus more than suited as a subject of focus from the Minimal Wave label.
Their debut EP Irene & Mavis was recorded and self-released back in 1980 with Arthur and Luscombe fresh out of art school and features six tracks of primitive, spiralling, freeform electronics. There's definite similarities between this nascent stage of Blancmange and the output of Cabaret Voltaire from the same era, particularly in the masked and disembodied nature of the vocals, whilst "Holiday Camp" and "Just Another Spectre" are wonderful examples of instrumental synth music. Despite originally being released in 7" format, the six newly remastered tracks will be presented in 10" format by Minimal Wave with the distinctive artwork retained for what is the label's 50th release.
Minimal Wave will release the Irene & Mavis EP by Blancmange in November.
Tracklisting:
A1. Disco-A-Bomb-Bomb
A2. Holiday Camp
A3. Overspreading Art Genius
B1. Concentration Baby
B2. Just Another Spectre
B3. Modichy In Aneration