Black Devil Disco Club returns with new album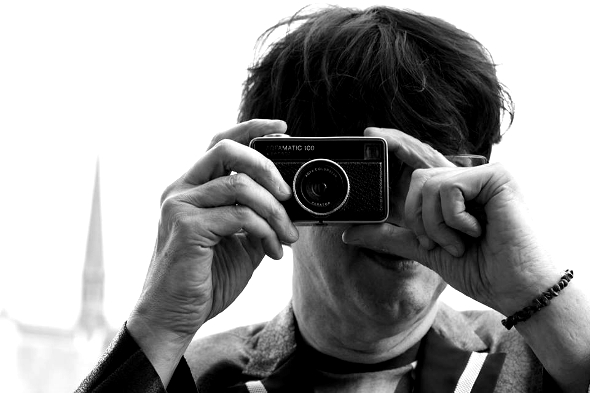 Black Moon White Sun due on regular hub Lo Recordings in October.
Black Devil Disco Club is of course the current musical focus of "60-something Gauloise chain smoking Parisian" Bernard Fevre, whose musical career across numerous aliases and styles dates back to the mid seventies. His 1978 album Disco Club as Black Devil was a disco diggers delight which was granted a new lease of life when Rephlex reissued material from it over a series of releases. Since then, Fevre's work as Black Devil Disco Club has been released primarily through the Lo Recordings label, with no less than five full artist albums released over six years from 2006 onwards (2009's The Strange New World Of Bernard Fevre being a particular favourite here).
Whilst Fevre's last album as Black Devil Disco Club, 2011's Circus, was something of a collaborative affair featuring Afrika Bambaataa, Nancy Fortune and angular dandy Faris Badwan, the newly announced Black Moon White Sun is being described as a return to the Parisian's roots. With Giorgio Moroder currently under the spell of the EDM overlords (cheers Daft Punk) the time might be ripe for Fevre to gain wider recognition for his own brand "voodoo trance and alchemical disco".
Speaking on the album in a rather verbose press release, Fevre describes the forthcoming eight-track set as an "invitation to join me on a journey that is disturbing, shocking and disconcerting but also more colorful than ever before, more generous, full of love, this is an invitation to a pagan festival." The album will be preceded in September by the release of "Maymallow" as a single whilst a short visual introduction can be viewed here.
Lo Recordings will release Black Moon White Sun by Black Devil Disco Club on October 31.
Tracklisting:
1. Sun Dance Totem
2. Bee Boop
3. T.hoo
4. Maymallow
5. Star Dot Com
6. The Kid In Mee
7. Three Notes
8. Mexo Mambo