Svengalisghost: Prepared to jump into the abyss
Matthew Kent chats to Marquis Cooper – the L.I.E.S. artist better known as Svengalisghost – about his dark and distinctive take on Chicago's underground dance heritage.
For all the love Long Island Electrical Systems is afforded at this point, an overwhelming majority of the artists on the roster continue to exist in half-shadows. Svengalisghost is one of the quietest of the bunch, the nom-de-guerre of one Marquis Cooper. His music sure talks though; productions that offer some of the toughest and most rewarding ideas from the label, tracks slow-releasing a darkly meditative examination of underground Chicago dance culture. The clue to the project's ambition is in the name; manipulation – and ultimately control – over another through subversive means. Svengali of the dancefloor.
Arriving in the middle of last year, the nervy, off-kilter array of texture on Mind Control took a distinct look at styles of acid, house and techno in a way that felt paranoid without falling into tropes. It's difficult to convey precisely what made the works so odd and devastating – the production leaning toward a use of analogue gear that twisted sound into deft and artfully surreal forms. Certainly it walks a similar line to that of fellow Chicagoan Jamal Moss and his output as Hieroglyphic Being, whose squeezed acid box and outer-reaching concept/implementation shares a sense of nuanced personality etched directly into the machine.
As Scott Wilson noted in a recent review, Cooper's live tours this year, and accompanying 12" release Vicious Circle, have now upped the ante in this regard extensively. The intensity of that freakiness has been dramatically scaled up – to the extent that tracks have become savage quantities more readily reminiscent of industrial, or the harsher end of acid. It's a shift that outlines Cooper's aim with Svengalisghost to continually challenge himself and the audience as well as entertain. Sets are generally delivered in an 'off-the-cuff' style, and more recently have made increasing use of free-form vocals as a vital part of tracks.
Other improv-inspired projects – some featuring friends and colleagues made through the community spirit of the L.I.E.S. label – have also begun to pop up on the realm of Soundcloud (with more concrete plans for records afoot as Cooper increasingly establishes multiple footholds for particular ideas and realms of output).  Catching up with him, Matthew Kent find he's got plenty of ideas on the boil, and that there's a fascinating personality behind it all.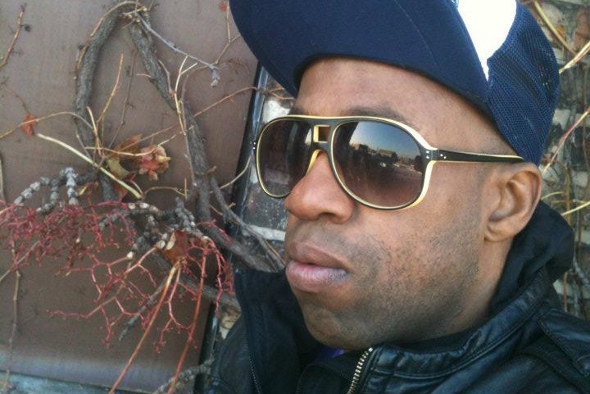 You grew up in Chicago yeah? How was/is the scene there from your perspective?
Born & raised. Growing up it was quite open. There were a lot more similarities between Chicago and Europe in regard to the current clubbing & partying atmosphere than there is now. It was at a point in Chicago when there were several loft/underground parties during the weekend. I remember being too young to go but seeing posters to the box advertising the Marathon party, which went from Friday to Monday morning. Now due to zoning laws & gentrification that is no longer the case. There seems to be some sort of renaissance happening, but it still sucks that it you wanna make a living doing this music it's not gonna happen in the States or Chicago.
So when did you start producing and what got you into it?
Around four or five years ago. It's just the way it comes out. I am a product of the city. It's something that I feel strangely drawn to. I also feel it's a definite cultural connection, similar to someone who grows up hearing Cumbia or Batucada. You just have it in your blood if you grow up hearing these sounds.
From what I gather you've just come back from a tour?
Yeah I was in Europe for 3 months.
How'd it go?
Amazzzzzinggg. It was my second tour so I took a little of what I learned on the first and applied it to the performances and the afterparty – ha! Europe definitely parties harrrrdddd. It was so crazy to do a live set at 3.30 or so in the morning. I got in a lot of trouble because I had to be there most of the time from sound check to the time I played. And you know what happens when you are sitting around in a party waiting: certain activities become quite tempting. Plus it was good to do these showcases where we (Ron, Delroy Edwards, Steve Summers and I) would just rock the whole night. And of course the exposure to different cities and culture is always on the top of my list.
Any particularly memorable moments?
Yeah the party in Bristol was soooo cool. We played a show in a basement with maybe 100 person capacity. Also the Distortion festival was cool. I wound up taking some acid with Xosar and then getting on a plane to play Concrete in Paris with no sleep. A truly freaky experience flying while tripping. Ha.
What does your live set consist of? I think I found a set of yours online from a Mutual Dreaming party about a year ago and it was nuts – the use of vocals in particular. 
I am currently using a Korg ESX, Evolver, Mopho, DX200, Mackie 1202VLZ compact mixer & an Electric Mo-FX mainly for delay/chorus/distortion on the vocals & the Mopho. That Mutual Dreaming party was really special. It was only my third live PA and after the sound check I didn't really set the patches in any order that would allow me to switch between them in any kind of order, as I had jumped off the stage to meet Lili S. for the first time and was just so ensconced in our conversation that I forgot. Plus I was fucking stoned. Basically when I stepped on stage I pretty much had no idea if the shit would crash and burn, but I was prepared to jump into the abyss. So when I hit play and heard a pretty sick patch on the Evolver kick in I said fuck it and started singing "Invisible Eyes" (Which I had just written the day before) and brought the kick in. On top of all this my Mopho didn't even work for some reason. Black Hole Magic. With the live PA anything can happen and you have to know how to keep rocking. I really dig the feeling of uncertainty. I mean it's like being deep behind enemy lines with no air support. You still have to blow the bridge up.
How'd you get to know Ron?
Well, Ron was DJing with my best friend Jon Nicholson AKA SSPS a few years ago when I returned to Chicago. Around this time I had just begun to start producing but wasn't really able to DJ out in Chicago that much due to the work I was doing – which required me to work weekend nights and weird hours in general. Also at the time I found the lack of any underground scene in Chicago extremely frustrating.
So I started sending Jon my tracks to spin out during his DJ sets so he could give me some feedback as to their effect on the dancefloor. During this time he was doing a lot of gigs with Ron. So Ron would hear Jon playing my tracks and started to ask for copies for himself (at the time this was all unbeknownst to me). This went on for about 3 years, and during the time I also had become frustrated with my own music and had abandoned production. One day Jon called me and told me this guy was starting a label and wanted to put some of my tracks out.
I was reluctant as releasing music had never been my reason for producing; I was more into the more meditative aspects of creating sound. But after I talked to Ron a few times I felt really connected with him. It was like two months later that we finally met face to face when he came to Chicago to DJ. It was a real Polaroid connection. I was like this dude is just as dystopic as I am! Plus I snapped when he broke out with a track from Moodymann's Silent Introduction album.
Any thoughts on the ascent of L.I.E.S. stuff? Do you listen to the work on the label?
Well, I think the time is ripe for the punk DIY vibe. And Ron isn't a poser; this dude is from that world and has been in the trenches. And that's what resonates. It's like the soldiers who have been in battle, they have a certain stare, and in Ron's case for his many years in the bush he has developed a certain ear. People are hungry for full spectrum labels; I think that's what attracts people. The diverse range of music he puts out. I know I'm fascinated by that. Also it's like a tight knit crew of people that are connected thru Ron. You just aren't sending demos in, that's not how it's done. Total blood shit. It's definitely a family vibe. It harkens back the Wu-Tang, this idea of a collective front.
Yeah I dig like 99% of it and definitely listen to it and play it out when I DJ. I think there has only been one EP that I wasn't really excited about. Which for me is pretty rare as I can be quite critical! Ha.
I get the impression you judge your tracks primarily based on how the dancefloor reacts when they're played out? Is that important to you?
YEAH. Well that's the strange thing about playing them out live before I even commit them to memory or record them. They are constantly evolving based on the time I play or how stoned I am when I perform them out. Ha. But I think you get a more immediate understanding playing them live versus on a CD, since you can vary the arrangement and then go back to the studio and fine tune the track for the next gig until you find the need to record it… I am concerned with how the crowd reacts but I am not limited by it. I have seen how a crowd reacts to the new EP and it takes people a little time to adjust to a song like "Judged By Machine" due to its offbeat nature and vocals. But it's inspiring that it reminds me of the story about the first time Ron Hardy beat the original version of Phuture's Acid track. People didn't know what to do because they hadn't heard anything like it before. That's what I hope to achieve, the quest for unknown sonic textures.
So what particular influences are there on your sound? What sort of stuff do you listen to on a day to day basis?
Well my influences come from a wide range of sources. Most recently it has been the various cities to which I have been exposed. But the various disciplines of art are my main source of inspiration. Architecture, literature, cinema and of course music. As far as music, I was brought up in a pretty strange musical world thanks to my parents. Kinda black hippies. I have been rocking Neil Young's album Tonight's the Night. I mean it's a really dark album based on some tragic experiences that he had to deal with after the death of two close friends due to heroin overdoses. Also of course stuff like Le Syndicat Electronique, Richard H Kirk, Crash Course in Science, Kas Product, The Plasmatics, Death, Sabbath,Bowie, Hawkwind, SSPS, Dave Ball, Esplendor Geométrico, Front 242, DAF, Richard Hell, and Palais Schaumburg, Traxx, JTC, Confused House etc etc. I do get extra turned on by banging music my friends make for sure.
And what about the other stuff, away from music? Do particular aesthetics stick out?
Yeah, before I started making music I was a little more immersed in the world of the visual arts. First a painter, then as a graphic designer for print and the web. Also as a child I was exposed to photography via my father which lead to my love for cinema and childhood dreams of becoming a cinematographer. Also growing up in Chicago definitely embedded a love of architecture within my frontal lobe. You have Louis Sullivan, Daniel Burham, Frank Lloyd Wright, Mies Van Der Rohe and Falzur Khan who created many, many iconic buildings as well as pioneering structural techniques needed to implement these new designs. Also I have a love for lighting design and feel really tied to the idea of using light as a counterpart to music. I tend to visualize tracks with a specific colour in mind. It is a need to create a scene in the listener's mind which I believe is also the reason I started including vocals with the tracks.
Vocals have become a pretty integral part of your recent tracks then?
Yeah I still have like 6 more tracks with vocals that aren't out yet. I usually play these out when I perform. Hopefully I can get them on an album. Not sure how DJ friendly they are. I started back making more tracks that don't include the vocals recently. Just as a way to vary my output as well as approach the process at a slightly different angle.
What do you think of your 12"s now? Especially Mind Control – it's been about a year since it came out.
I love the releases. I don't really listen to Mind Control much, but "Mars Out Of Range" and "Marathon" are my manifesto for what I hope to continue rhythmically. I really doubt that I will make anything like "Deep Into Memory" again as Svengalisghost, but maybe under another moniker.
You mentioned the first time you met Lili. S earlier. You've recently started working with her under the name SHADOWLUST, yeah? What does that project entail?
Well, SHADOWLUST is about the space between things. Allowing concepts to evolve organically through collaborative mediations. Basically I approach the machines differently to allow Lili to have the sonic space her vocals enquire. All our recordings have all been done in one take, with Lili doing two or three vocal overdubs directly after the original take and little or no editing. So Lili plays the chord progressions which I follow along with her vocals to program the drum and synths.
How'd you start working with her?
One day I was moping around Soundcloud and saw some new follower called 51717 and thought the name was quite nice so decided to take a listen to her stuff. I was really amazed by this haunting vibe that her voice tends to exude, plus her version of Curtis Mayfield's "Give Me Your Love" blew my mind so I decided to follow her. The next day I got a friend request from someone on Facebook with just two Hebrew glyphs. So I wondered who this mysterious character was and discovered she was 51717 and that she was down with most of the cats in Brooklyn who ran in the same circle as Ron and my other L.I.E.S. comrades.
So I emailed back saying I loved her music and she asked me if I would be interested in laying some vocals down on one of her tracks. I wrote a poem called Trust In Pain and then I sent her a track "FutureTense" to do vocals and synth overdubs, but at this time there was no idea for a group. These were still tracks for our separate projects. But it was cool not really knowing this person except through emails. The idea to make ourselves some sort of group evolved during a Facebook chat and her showing me photos of some North Korean buildings and the Ryugyong Hotel really captivated us. We both gravitate toward the darker modes of thought. We sort of Lust after the Shadows ya know. But when I finally met her like 3 months ago we got together and jammed with SSPS as MysterySchool. Those sessions are online, but it wasn't until I went back to NYC for an unintended extended stay that we were able to have proper time to hang and lay down some Shadowlust tracks as well as perform a couple of gigs. I mean at our first proper session we tripped on chocolate candies and recorded on a 4 track. HA!! All the tracks evolved really organically.
What else have you got on the way? 
There is a Svengalisghost/Beau Wanzer split EP coming out, as well as a Shadowlust EP dropping the next month or so, and towards year's end a Shadowlust LP. Hopefully next year I can get a Svengalisghost LP out, and I want to get my other project MysterySchool off the ground. I also would love to start DJing more and give the machines a little vacation. I'm also going to remix an Ike Yard track. It's Vereker and myself so far.
Interview by Matthew Kent