M>O>S Recordings: Techno Music For City Slickers
We head over to Amsterdam as Richard Brophy checks in with Aroy Dee, whose M>O>S Recordings label is on the cusp of its tenth anniversary. 
"I would never live anywhere else apart from Amsterdam. It's a really lovely city, you can go everywhere on a bike and it has a lot of culture going on." So says Steven Brunsmann, better known to the techno community as Aroy Dee. For the past decade, he has been running the M>O>S Recordings label from the Dutch city, delivering a contemporary, effortlessly sensuous take on Detroit techno and Chicago house. It's no coincidence that his environment is the first thing that we talk about. Cities and urban environments feature heavily in Brunsmann's professional life and influence the label he set up to release his music on.
M>O>S is short for 'Muziek Over Steden' – the Dutch for 'music about cities'. When we speak over Skype video, he's in his airy apartment, a wall of shelves housing thousands of records in the background. As the conversation continues, he moves onto the balcony, which affords stunning views of Amsterdam. Hailing from Haarlem, Steven got friendly with Jochen Peteri (Newworldaquarium) and Steve Rachmad, who were also from the North Dutch city. Steven says that in such a small place it was easy to meet people with similar musical interests, but his fascination with electronic music was sparked by an event when he moved to Amsterdam.
"Certainly the first few Eevo Lute releases were an influence," he says. "There was a time in Holland where house and techno went in the wrong direction with gabba, but in 1991 I heard Derrick May play in a club here. He was playing loads of weird records, jumping from one thing to the other and he played the first Eevo Lute release and I was like, 'wow, why don't I know this?' "
That experience only intensified Brunsmann's passion for record collecting, which he has been doing since an early age – and the formidable looking wall of records in his apartment, which flits in and out of view over Skype, is testament to his habit. "As a kid any money I had I bought records with. Music from that period really inspired me. I don't like to literally copy old things, but you can hear the inspiration and I can hear quickly if something grabs me," he says.
Fast forward a decade after the formative experience involving Derrick May. Brunsmann has started producing and decides to set up M>O>S in 2003 as a vehicle to release his own material.  "In the beginning, I had done two of the early Rush Hour releases and I felt [the label] was a good way to have control over my music," he explains. In the early days, M>O>S was also a vehicle for Steven's old friend Jochen Peteri to put out music under his Ross 154 guise.
"He's an old friend and gave me these two tracks [Until My Heart Stops] and that became the second release on the label. It was always a hassle to release on other labels –  M>O>S allowed me the freedom to define my own style without getting into political discussions," he believes. When he set up M>O>S, Brunsmann got some help from an old friend. "Marsel from Delsin already had a professional network for pressing records and a promo pool which he had built up and he suggested that I use it when I did my own label," he adds.
Apart from establishing an autonomous platform to release music, Steve's interest in cityscapes was one of the other driving forces in his decision to establish M>O>S. "It's one of my main inspirations; I have always been inspired by the built environment like in Asian cities, the way they spiral into something you have never seen before. The photos you see on some of the releases [Beauty and Life and Summer] are ones I took when I was in Asia. Asia has a completely different vibe to western Europe and when I am in those cities, I get inspired to make music. It's that deep feeling of alienation, like when you go to one of those suburbs in Hong Kong and see all the extra bits that people have built on," he explains. Asia was also the place where he Steven found his stage name.  "I had an idea for this mysterious alter ego. Aroy Dee was a legendary Thai restaurant in Amsterdam and i really liked the name. Later I found out it means "very nice" in Thai and there's even a brand of canned-coconut named Aroy Dee." he explains.
Steven's love of built environments and inanimate structures also explains why Brunsmann loves electronic music so much. "It's easy to make music that is disconnected from other people, but which is also really beautiful, emotional and melancholic, like Carl Craig's classic string sounds, or Chicago house and also wave from Europe and Italo Disco".
"I like electronic music that has a sense of beauty, the nice warm pads with raw beats. It's the classic combination in house music and if you go back to Italo Disco you'll find beats combined with beautiful strings or synths to create something warm and melodic," he adds. This description neatly sums up the type of music that M>O>S originally became known for, raw beats and sensuous, airy melodies, best personified by the debut Ross 154 release. In the label's initial phase Brunsmann and Peteri were the only artists on M>O>S.
It was only after five years that the label opened up to release the gurgling acid of Photon by X2 aka D'Marc Cantu, Traxx and Tadd 'JTC' Mullinix, a record that also marked a shift in sound from the label's early, reflective approach. "We were only putting out one or two releases a year and for a long time, so I started to look around for people who fitted in like Traxx and Chicago Skyway," he explains. "Also, about five years ago, the amount of records we released started to grow, from one to two a year to maybe four to five."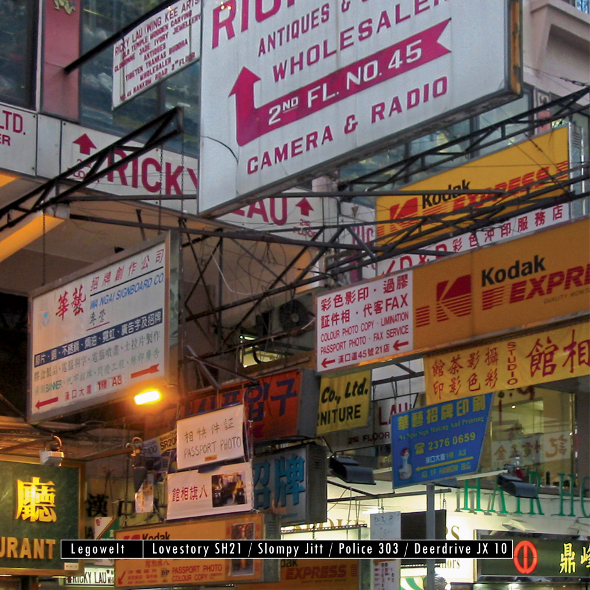 Since he opened up the label, it has become home to a diverse set of artists including Legowelt (whose Slompy Jitt record was one of his deepest and most brooding) the inspirational abstract techno artist Morphosis and acid freak Perseus Traxx, as well as its Deep offshoot resurrecting long forgotten classics – more about that later. However, Steven has proceeded with caution, never putting out too much material and ensuring each release matters.
It's with good reason that he runs the label in this way, as he explains: "When M>O>S started 10 years ago only a few people were into the kind of music I like. Some of the first releases did well, but there was a period where we had boxes full of records in garage. At the time, people were into electro, Many labels were releasing electro and there was limited interest in the more classic house sound. Now there is such a revival of Detroit and Chicago music and there is an improving market for the kind of music on M>O>S; there are six or seven labels releasing retro stuff and you have a label like Rush Hour digging deep into Chicago's past."
Or in other words, stick to your guns and don't follow trends and fads. While not critical of the current slew of Chicago-influenced tracks, Brunsmann does feel that much of the music being released nowadays has a limited shelf life. "It is difficult to stay original and there are good examples of that type of sound already out there, but you have to stay sharp and not make an identical copy of existing music," he says. "Music is unique, but when I look at the quality of music being released now, I feel that most records are disposable. The ones that stick in your mind are very rare. I'm not saying that everything has to be highly original, but if you are going to make a copy, make a really good one. Music is easy to make, but you still need to stand out. A lot of stuff coming out now is good, but does not have standout quality."
" I have always been inspired by the built environment like in Asian cities, the way they spiral into something you have never seen before."
The fact that M>O>S does not put out much material has seen it retain its edge over the space of a decade. It also helps that Brunsmann is not financially dependent on the label, working as an architect by day. He believes that earning from an alternative source means that money is not an issue when he chooses what to release on M>O>S. "I am not financially dependent on it so I get to release whatever I like. I don't have to earn money with M>O>S and that would be extremely hard to do, especially if you do not want to compromise," he feels. "The only exception to this rule that I know of is Marsel –  for the past four years he does Delsin full-time – but for me it would be impossible to make a living out of it. I would need to DJ more, but I am a full-time architect and father, so I cannot play two to three times a week."
So how does he balance music-making and architecture –and does he see a similarity between both disciplines? "It's a good counterbalance, but for me the two things are quite different; with architecture, if you have a good idea you need to work for three years to make it happen. You need to deal with neighbours, councillors etc. When I feel good about making music, I just sit down and do it and then it's ready. It's a great distraction when I have to do more of the boring, routine architectural work," he explains.
Despite all this activity, Steven set up a spin-off label, MOS_DEEP, back in 2009. In part, this was in response to the fact that the parent label was only putting out a limited number of records, and also because he was receiving an increasing number of high-quality demos. "I felt I could split the releases between the labels and put out music more quickly. MOS_DEEP is meant to be fast and simple, 'let's go and press it and throw it into the world'. It's a bit more dance floor oriented, it has an animalistic, irresistible dance floor approach." That said, Steven still feels that the first release by Chicago Skyway, was 'one of the most beautiful records on the label, so maybe it's not as rigid as I said!'
The third release on MOS_DEEP threw another curveball, with Brunsmann reissuing Terrance McDonald's 1991 release Mind Over Matter. Steven says that a lot of people who bought it were unaware it was an old release.  "I got in touch with him and got it re-mastered because it was so badly mastered the first time and we put it out, but not a lot of people knew Terrance McDonald and they didn't know it was a re-release," he says.
Apart from the Deep offshoot, M>O>S has also diversified into album releases. The first such venture was a joint effort with Delsin for Morphosis' spellbinding What We Have Learned in 2011, which merged Middle Eastern motifs with disturbing drones and stark techno grooves. Last year, M>O>S flew solo to deliver D'Marc Cantu's atmospheric, reflective take on Chicago house, A New World.
"Albums are a totally separate project and are very valuable to me. They give you a lot of space to experiment. I still love both of the albums we have put out and I'm working on an album with Ike Release – every time we think it's ready we go back and decide, 'no not yet'," he says.
The other aspect of the label that Steven feels passionate about is vinyl. He praises his distributor, Rush Hour, for its "huge, important network for selling vinyl" and believes that "vinyl will not die. Digital is convenient, but owning a thing is such a basic human need. People would rather have a 12-inch than buying four MP3s. Over the next twenty years, digital formats will change maybe five or six times and if you are a digital user, all you will be left with is a hard drive full of old MP3s," he believes.
Apart from that, M>O>S has no long-term plan. When asked about the future, he merely says that it 'depends on the music people send to me and what I make myself. I hope to keep releasing quality and not go with the fashions, but stay with my tastes. If it becomes boring, I don't release anything, otherwise there is no motivation. Maybe there will be no music for a few years."
Let's hope M>O>S doesn't stay silent for too long.
Interview by Richard Brophy
Header image by Ilaria Pace from original image by Aroy Dee