DJ Spider: The Hunger Within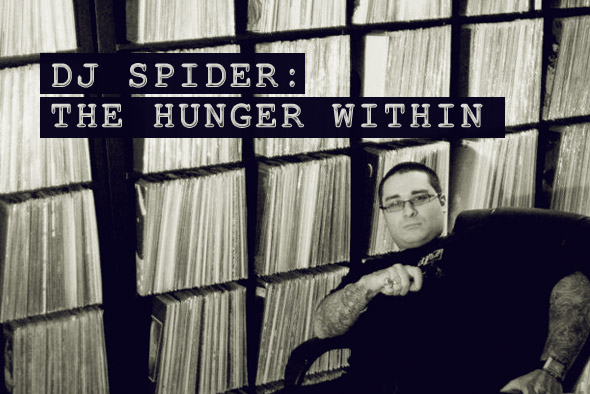 James Manning dials up the Bronx and speaks with DJ Spider, head of Plan B Recordings and a man driven by almost insatiable and sometimes challenging creative urges – he also provides an exclusive Spider Bites mix. 
"Kuru is a disease, a cannibalistic disease from people eating people." That's Spider explaining the inspiration behind one of his many production aliases, in this case Kuru. "The reason I gave that alias that name is because of the rawness of the content – and what's rawer than fucking eating human flesh?" From his street-smart New York accent, to the way he makes his music, to the heart and tattoos he wears on his sleeves, DJ Spider is raw emotion: "My music always ends up kind of being harsh, some people say dark…because yeah, it's in me man, I'm just honest with my music; it's a way of venting, it's a ventilation. It's nondestructive ventilation: it's my medication."
The Bronx-based DJ Spider is the Japanese film and culture buff that runs Plan B Recordings. He does this with the help of Dakini9, aka Lola Rephann, an alumnus of Plan B that's now as much a part of the label as its founder. Outside of his productions as DJ Spider and continuous housey-techno collaborations with Hakim Murphy and Marshalitto, DJ Spider is also Spider Bites, a one man cacophony of intimidating frequencies. Add Kuru and DJ Spider's other experimental pursuits Alarma!, Bomb Site, and the live ambient and drone collaboration Mindscraper to the three labels he runs, and you can see DJ Spider's spinning a web.
Spider Bites is the most accomplished of DJ Spider's experimentally-geared productions, launched on BTU Music (Beneath The Underground) in 2009. "I like being way under the radar, that's why I called my other label Beneath The Underground music; it's shit that isn't even underground, it's beneath the underground," Spider explains, adding, "I really like to stay low key man, that's like my main focus."
Much of the Spider Bites material exceeds 15 to 20 minutes, regularly subjecting the listener to fierce walls of noise fuelled by politically motivated undercurrents, World War motifs and macabre narratives. A potent example of this is "Alpha & Omega", a track Spider had cut to dubplate to use as his opener when playing the Freerotation festival in Wales this year. Beginning with the uncomfortably familiar sound of an air raid siren and an empowering Churchill-like address sampled from the 1940 Charlie Chaplin film, The Great Dictator, the track offers empowered quotes such as, "so long as men die, liberty will never perish" and "you are not machines, you are not cattle, you are men".
Paired with the industrial exhales of an engineered hum and the closing line of, "soldiers in the name of democracy, let us all unite," a glorious wrath of blistering synthesis paints the picture of a leader perched on a balcony watching a pageant of military might roll by.
The BTU label that released Alpha & Omega has a confronting aesthetic, and it's a place for the dark and ambient; power electronic noise, cold industrial soundscapes and experimental concrète. It's also home to the majority of Spider Bites' material. The Hell on Earth Volume 2 EP from 2010 is perhaps the most provocative release on BTU. Two of its three tracks exceed 20 minutes, with the harsh fluttering white noise of "In a Twisted Heap" sounding like a pulverized Alva Noto production beaten down by a rusty metal pole, while "Swirling Within A Dark Cloud" is as turbulent as the title alludes.
"This is my way of getting anger out without harming other people or myself," says DJ Spider of his stormier productions – a ventilation. What makes Hell on Earth Volume 2 BTU's most profound release is the added gallery of grisly photographs that come with it: "When you listen to Hell on Earth Volume 2 and you look at the images; you pull the image up; just sit on it, meditate on it," tells Spider.
Severed heads, mass graves, a horrific car crash and destruction to nature are some of the gruesome shots in the gallery. "That's reality," states Spider. "You could be walking down the street and witness a scene that is gruesome, you can't rewind and censor yourself from walking down that street, what you are experiencing is your reality," he points out, "so if you experience something gruesome, or you buy a release from someone and it is fucking gruesome, then that's what you have to deal with at that present time," Spider says.
"I like being way under the radar, that's why I called my other label Beneath The Underground music; it's shit that isn't even underground, it's beneath the underground,"
"Looking at the photos, it's saying the fucked up shit man is doing against man and the earth," Spider says wheeling over to his computer using his mobile to talk on Skype. Spider pulls up an image of a flaming oil rig, saying vehemently, "I mean look at what we are doing man; mother fuckers are polluting… I like to scream out about pollution and poisoning people and all of this other bullshit that they are doing."
"I hate seeing people in pain and suffering for money man," he adds, continuing to scan through the gallery – "look at this," he says, "you got pollution, some more pollution," giving a verbal explanation of the images on his computer like someone touring a guest through their apartment. He then reaches an image of a black and white newspaper with murdered drug runners and cartel killings splashed over the front page. "There's some Alarma shit right here, I mean check this out; if you go four pictures down you will see an article in Spanish, that's from the Alarma magazine, see, the Alarma! project comes from the magazine," explains Spider joining the dots.
"It's a crime magazine," he tells me, "I used to look at it every Monday. They basically show the police shots; anything that has to do with crime and violence they put it in there to wake people up. There's lots of drug cartel beefs in there and murders…It's fucking crazy." Inspired by the Latin newspaper, but not wanting to go the same radical distance, Alarma! is an channel for DJ Spider's message: "wake up, here is the alarm, here is what humanity is doing to each other."
Alarma! surfaced in 2011 on Sublevel Sounds, the sub-label of Plan B. It's a place for DJ Spider to release his music under whichever aliases – with room for remixes – that don't make it on to Plan B. Escrito Con Sangre! was the debut Alarma! release, an album title that translated into English reads: Written In Blood! Each track on the album has a different intro – or message – that leads into the next, as if a preface for the ensuing instrumental. Take the album's opening two tracks "HR8791!" which leads into "Clasificado!" The sampled intro features the monotone drawl of a senator addressing a chattering congress for the vote of approval on The Homeland Terrorism Preparedness bill.
Reading the bill verbatim, the said senator uses the word 'classified' when reaching the crux of each point, failing to reveal any real details of the bill. He starts, "civilian and military units shall be trained in containment in combat of…classified, including a radiated…classified, with possibility of…classified, airborne…classified, flesh eating…classified, and or all of the above in such an event of spewing…classified, escape, or released or otherwise become uncontrollable."
A little homework on the sample reveals it was a hoax reading from parody news publication The Onion – not a science fiction film, or in fact a real vote. The defining moment of the sampled speech is when the Senator reads, choking on his words, "should event occur in urban areas…Jesus…that's classified…far surpassing our darkest nightmares…"
"Again it's all self-expression," explains Spider. "Basically I speak through my tracks with different samples, so a lot of it is political, because…you know, I'm very angry with the way things are going, or have been going in my lifetime; politically, and socially." In the case of "HR8791!" it's suggesting that a vote can take place with little – to no – information needed for the possibility of a bill being passed.
Also released on BTU is the Mindscraper collaboration Spider does with Phil Moffa, a sometimes music journalist and active producer that debuted on The Corner imprint with label boss Anthony Parasole in 2012. The following year Spider and Moffa hooked up for the dancefloor-orientated Night Gallery EP. "That's basically how it started: making dance tunes with him," Spider explains of Phil Moffa. "But then after that he was exploring more of my drone and ambient stuff and he said 'let's do something like this with the analogue equipment, let's try and do a project that's complete ambient.'"
"Mindscraper is a lot of fun and we did that live in Brooklyn too," Spider says, dialling up a memory from the night, "it's hypnotic." The hypnotic Live Assault In Brooklyn recorded at last year's Northside Festival became the second release for Mindscraper following the project's debut opus, Oscillation 4, in May 2012.
The duo has since released a further two EPs, and the choice to work with Moffa was an easy one, as Spider alludes: "I had already been to his studio and had seen all the gear he had – he's an analogue junkie like myself so…" At the time of Mindscraper's first release both were busy building their own synths – including the Mindscraper synth – with the two soldering for days and putting together their ordered parts.
Collaboration is also something Spider is very open to he says: "I communicate through music, so if I'm hanging out with you and we are in the studio – which is usually where I am hanging out with people, either in their studio or my studio – we're gonna make music."
"And then travelling too you know," Spider continues, "people will say 'come by' and I'll come by their studio and start pushing buttons and before you know it we are making a track and it sounds great and we're like 'we should put this out'."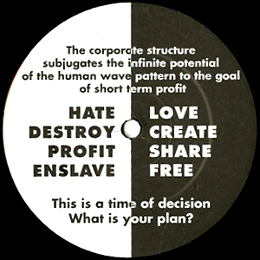 Luckily for Spider it's only been a couple of times where he's gone to work with someone that he maybe didn't feel where they were coming from. A collaboration he does feel where it's coming from is his work with Marshall Hansen aka Marshallito, a house dancer Spider met at the mid-week Deep See parties in NYC. "This kid (Marshallito) used to come to our party years ago and dance, it was a very house dance oriented party," Spider explains.
"Basically most of the house dancers would come out on that Tuesday night, because there wasn't really anything going on that was playing…you know deep shit, you know, so it was basically a lot of deep house and techno, and some broken beat stuff. I'm not a dancer per se, so I don't come from being a dancer to going to be a DJ – I didn't do that switch – but a lot of my friends in the scene are dancers, and a lot of people who have followed me, locally, for my DJing, are really serious into dance."
The collaboration subsequently launched Hansen's label subBASS Sound System. "It just so happens the first three releases are records he did with me," Spider says, explaining that after three successive collaborations the label's fourth release will be Marshallito's debut proper.
The Marshallito-DJ Spider powder keg isn't exclusive to subBASS Sound System, as the duo hooked up with Will Bankhead's London-based The Trilogy Tapes for the label's impending 11th vinyl release. "I was really playing the Willie Burns (The Overlord EP) record quite heavily," says DJ Spider of his decision to side with the label, "I think that he (Will Bankhead) and I have a similar palette."
DJ Spider is known for his involvement in New York's hardcore and noise scenes, but that doesn't limit his tastes to just the visceral. "My entire life, I've always had an eclectic palette," DJ Spider reveals. "Jazz, R&B and hip hop, and stuff that isn't as harsh as death metal or industrial, so coming up listening to the radio I was exposed to guys like Tony Humphries, Mister Magic and Marley Marl, Red Alert and Timmy Regisford – and that was the dance and hip hop scene stations," Spider remembers.
With only a handful of releases on European labels, it seems his TTT presence has sparked some interest from other imprints across the Atlantic pond. When starting this interview with DJ Spider I was given a pixelated 360-degree tour via Skype of his home studio and proud record collection. Playing in the background was the final track from an EP he's just finished for a new Berlin label.
"Some of my records here are my best friends, we've been through a lot," he says. Switching the faltering video link off Skype, Spider continues talking, "I've gone through so many decades of going through what I went through – emotionally as a person growing – and they were there because I was listening to them, you know what I mean, I still listen to them – like I'm pointing to them as though you can see: 'like these mother fuckers right here,'" says Spider literally pointing to Black Sabbath and Jimmy Hendrix albums, "I've had these albums forever man."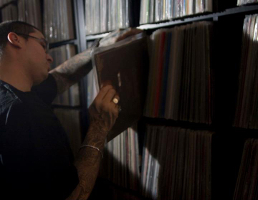 Now that Amir Alexander and Chris Mitchell – once part of a tight-knit DJ posse with Spider called the Vanguard Sound crew – have moved their Vanguard Sound imprint to Rotterdam in Holland, Spider considers Hakim Murphy to be his main man and co-conspirator inside the US. The two have so far released a collaborative EP each on their respective labels, with last year's AudioTagz EP for Murphy's Synapsis Records and the Kaiju EP on Plan B.
Kaiju is a Japanese word that literally translates in English to 'strange creature', and it refers to the supernatural creatures of Japanese science-fiction that we all know as Godzilla, Mothra and at a stretch, Rodan. "Godzilla is a favourite of mine," says Spider, explaining how the Kaiju EP  is littered with Godzilla movie samples; possibly explaining the stomping kicks in "Serpent Seed" or the gnarling growls, filtered moans and pterodactyl screeches of "Sector Zero" and "Submerged Giant".
"The emotion and the rawness and the grittiness of those horror films that I liked growing up definitely influenced the music, and the music in those films influenced me," explains DJ Spider. "Those samples give it a mood, so I'm very much into the mood, the sonic energy that's coming from the track when I am making music, so that's why I sample so many movies." What I didn't see in my pixelated tour was the eight crates full of kung fu and samurai VHS tapes. "Check out Izo for samurai movies and the Baby Cart series. Are you familiar with Shogun Assassin?" DJ Spider asks.
So whether it's horror films, kung fu movies and samurai epics, to conspiracy theories, macabre truths or subversive political activisms, all of the themes, motifs and messages in DJ Spider's music are an extension of his personality. For DJ Spider, music is not only his life, but his livelihood as well. So it doesn't matter if the multifaceted DJ Spider is producing hour-long drone sessions with Phil Moffa or as Spider Bites, making rugged house music with Marshalitto and Hakim Murphy, or exploring the cannibal-themed Kuru concept. "It makes sense," Spider says, "to have a couple of different aliases to feed my appetite."
Interview by James Manning
Spider Bites Hyper Chaotic Brainwashing for Juno Plus tracklisting:
1. Suspended Animation – Spider Bites
2. She's Contaminated – Spider Bites
3. Rust – Spider Bites
4. Mimas Death Star – Spider Bites
5. Global Purification – Spider Bites
6. Geo-Engineering Plot of Doom – Spider Bites
7. Psychotronic Cesspool – Spider Bites
8. Hell Dust – Spider Bites
9. Prepare the Attack – Spider Bites
10. Cloaked in Fallen Truths – Spider Bites
11. Occupying the Grand Chessboard – Spider Bites
12. Deep Space Suppression – Spider Bites
13. Crawling Towards Chaos – Spider Bites
14. Suspended Animation – Spider Bites
All frequencies were conceptualized and manifested by Spider and can be purchased at Spider Music.
Note: Recommended to be used with an open mind. May be used in sonic healing, ritual magick, meditation, psychic teleportation, levitation, yoga practice, pure listening pleasure or displeasure.