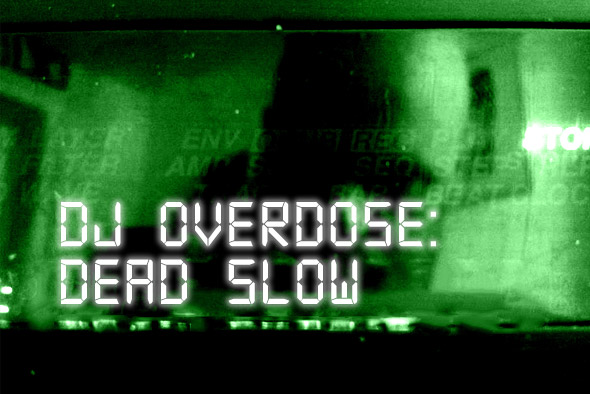 Richard Brophy tracks down Jeroen Warmenhoven, the Dutch producer and selector known as DJ Overdose, for a discussion on hip hop, film soundtracks and working with Alden Tyrell and St Pauli.
DJ Overdose doesn't work fast. The Dutch DJ/producer, real name Jeroen Warmenhoven, has been active for over twenty years, but has only put out a small amount of material. In fact until a few months ago, Overdose's solo work had encompassed just a handful of EPs and one album, 'In For The Kill' released in 2009. That slow approach seemed to accelerate in the past few months, with what could only be called a flurry of release activity by his standards. First, he put out his second album, the superbly bleak Bizarro Word on Crème Organization, followed in quick succession by The Future of the Planet EP for Lunar Disko, a follow up to his 2009 release for that label.
Both records are quite different. While the Lunar Disko release embraces Detroit techno and the outerworld subsonics of Drexciyan electro funk, Bizarro World is a far more sinister affair. Bleak in the extreme, it is the accompanying soundtrack to a perceived modern-day dystopia. It's unlike anything around in 2013; unsurprisingly Jay says he feels disconnected from contemporary electronic music.
"The rest of the modern producers I don't know, I'll admit that I never go to the record store anymore, For electronic music, the 1980s definitely was a golden age, hip hop had a second golden age from 1995 on till about 2005," he states baldly.
Jay's love of '80s hip-hop is well documented and in the past he has expressed his dislike of contemporary hip-hop. Does he still feel the same way? "I haven't heard a lot of new hip-hop. It probably is a bit too harsh to say that I hate it, but it doesn't appeal to me anymore. I just don't check out new music any more – a lot of people discover music on YouTube. I used to do the same, but now I watch demos of synths and gear," he says, adding that "I don't even buy that much gear".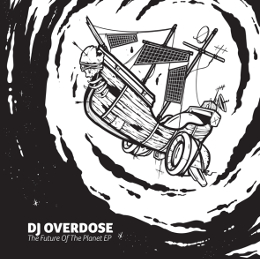 He may have cut down on vinyl shopping and gear-hunting, but it doesn't mean that he has subsituted these activities for toiling all day and night in his studio. "I guess I don't work so much in the studio either; whatever I do translates into the music I put out," he explains. "I have a really creative period, say a week every month, but when I'm in the studio, I don't do 9 to 5, I'll be sitting there for four days in a row, non-stop," Jay adds.
He agrees that his catalogue is 'not immense', but prefers to keep it that way instead of putting out records just to maintain a presence. "I don't know, maybe if I put out three records that sound the same, or if I made more music I would be better known, but 75% of what I make is released. I don't have many spare tracks lying around," he claims.
So what inspires these creative bursts? "If I buy some new gear or if I'm in a certain mood, maybe if I'm happy or depressed," Jay explains. "It all depends, sometimes I feel like making a lot of noise or a dreamy soundtrack." He says that the reason why there is such a world of a difference between his latest album and Future of Our Planet is because they were made during different creative periods. "The tracks for Bizarro World were sitting on my shelf for almost two and a half years, they took a long time to come out, whereas the music for the Lunar Disko release was done two months before it was released," he says.
It seems like DJ Overdose is in the middle of a creative purple patch at the moment; he has a record coming out on a new label, Pink Man run by Patrick Marsman in Rotterdam, and has a new release on I-F's sporadically active Viewlexx label. Does he feel that he takes the same approach to releasing records as Viewlexx – don't put out a lot of material so people sit up and take notice when something new appears?
"I don't think it's my approach, I just don't make that much. When I feel that what I make is good enough I let people who ask me for tracks hear them. In the Viewlexx case, I sent a complete EP with a more conceptual style to Ferenc because I thought it would fit the label well," Jay explains. "It's some of my best work, all the tracks are made with the Ensoniq ESQ1 which after the SP12 is my second favourite piece of gear. I-F also put out my first solo record so I'm back home, or something," he adds.
The same loose arrangement led to the establishment of his Model Man side-project, which so far has yielded two EPs worth of synthscapes and hypnotic, grungy disco. "Will (Burnett) from WT wanted to release some of my stuff more because he liked me than my music, so I sent a bunch of tracks to him over time and the only tracks he liked were the soundscape type things," he explains. "After that, Otto from Bordello A Parigi asked me to do a Model Man record to launch his label to take off, so I thought I needed to come up with a new name for that stuff. I get the feeling more people liked that than the Overdose stuff I do, not because it's better but because there's a bigger audience for it. Electro is a small niche in the electronic music biz," Jay believes.
For a Dutch electronic music producer of a certain vintage, Overdose is an anamoly; he wasn't part of the squat/warehouse scene that grew up around I-F's Unit Moebius collective and the Bunker label. Unlike many of his generation, he does not cite them as crucial factors in setting him off on a DJing and production path that has lasted two decades.
"I started off by buying turntables and learning how to mix and scratch. After that I bought a drum computer (Kawai R50) to see if I could make hip hop beats," he explains. "I got to learn a bit on that but just having a few sounds to use became boring pretty quickly. Since I heard a lot of people name-drop the SP12 in many of my favourite records, I went on the look for one, and two years or so later someone spotted an ad in a Dutch music magazine. I called and the guy still had it, so Technician and I went to pick it up. I've grown to love it more every time I use it. I have two now and I'm taking the first one to see the doctor next week because it died on me after surviving a US tour, a bunch of gigs in the Netherlands and a gig in a Spanish desert, where first a sandstorm and after that a rainstorm poured down and we had to cover everything with plastic."
And what about the artists that first inspired him? "If I had to name an artist I would try and make similar stuff to, it's 2 Live Crew's Mr Mixx. I remember that the first thing I sampled into the SP12 was some part of Al Naafiysh and some sounds from Technician's 808. We drooled!"
"The whole electro revival got saturated, then Italo got saturated and now in a few days Chicago jack will get saturated"
Despite not being part of the scene that the Hague is best known for  – and which has spawned mainstay underground labels like Clone and Crème – Overdose and his colleagues DJ Flex and DJ Technician used to spin electro and hip-hop at the Disco 3000 club, where I-F was also hosting a night. "They had a thing in the Hague and we had a thing in the Hague, and it's through the club that we go to know each other. I'm not into acid or house, so I wasn't involved in that scene, but I also know I-F through his old record store, Hotmixx," Jay explains. "I used to bug him about why he didn't sell hip-hop, but we liked each other because we both DJed out in the Hague and also because he wanted to put out our Novamen record."
Jay also disputes the popular narrative about the Hague and the West Coast's electronic music sound. While the environment is depicted as a hotbed for acid/jack and Italo-inspired music, he contends that "it didn't start out like that. I only got into I-F when he did the electro stuff not the acid stuff, I liked Legowelt better in the early day and Alden Tyrell made Autechre-type stuff: "Obsession" (released as part of the Digger EP in 2002) is probably still my favourite track of his."
Jay believes that hype surrounding electroclash amplified the notion of the Dutch sound and that because of this "the whole electro revival got saturated, then Italo got saturated and now in a few days Chicago jack will get saturated". "I'm still stuck in electro because that's all I can do, but I don't know shit about anything," he says self-effacingly.
Back to the present: while there are musical differences between the two recent DJ Overdose releases, it would appear that both titles suggest the author spends a lot of time pontificating about the state of the world. Is this the case?
"Nah, I'm not so worried man," comes the casual response. "The first record I did for Lunar Disko, 2012, had all this bullshit about that the world was going to end. I guess we didn't die so there is a future for the planet after all," he explains. "For Bizarro World, I got the name from an old hip-hop record. I like picking up on these sayings, it's not so much world play, sometimes the lyrics or words suit the music, but the album could have had any title."
This writer isn't so sure; it's the perfect title for a wonderfully bleak album. Coupled with its disturbing artwork by Crème in-house designer Godspill – "weirdos with their love child, it's nicely done" is Jay's assessment – and the music itself, those swirling, grainy synths, dead-paced drums and eerie sense of melody, it's the ultimate soundtrack for the end of the modern European project.
It's fitting that most of Bizarro World was written in 2011, when the euro teetered on the brink of implosion. The currency survived, but the legacy it leaves behind are the crumbling cityscapes and atomized sociaty that Overdose's second album so eloquently soundtracks. The album was described by this writer in a recent review on Juno Plus as being about "Overdose navigating his way through an unsettled, disturbed reality; it could be the accompaniment to Ridley Scott's vision…. Or maybe he is merely responding to the darkness that is omnipresent as the European project turns into a nightmare". How does he feel about such a description?
"I mean that's almost too much praise," he laughs. "I really love soundtracks and have about 300 soundtrack albums at home. I'm into John Barry, Ennio Morricone and Lalo Schiffrin, but Blade Runner is my favourite soundtrack, so to hear it compared to that is great praise. I'm a child of the '80s, so like everyone from that time, I'm a sci-fi fan. I like sci-fi from the '40s and '50s, but the stuff from the '80s is way cooler," he adds.
Apart from the eerie synths that pervade the album, Bizarro World also contains 'Fabriek' and 'Ruimtepuinruimer'. Powered by titanium-plated beats and steely timbres, these tracks serve to make the album sound even more foreboding. Were they influenced by his love of '80s hip-hop?
"I don't think there is a hip-hop track that I know of that has such distorted sounds as 'Fabriek'. I think the way it sounds is more like a moron version of Autechre," he believes. "With 'Ruimtepuinruimer' I think that it actually sounds more like what a lot of guys are doing, a rip off of Dopplereffekt or Kraftwerk. Hell if you have to copy anybody, it's a good choice!"
Perhaps his refusal to engage with the outside world has led Overdose to developing the singular vision articulated on Bizarro World. But Jay does not exist in complete isolation; he works with Martijn Hoogendijk (Alden Tyrell) as The Hasbeens and Ingmar Pauli (Mr Pauli) as Novamen. Whatever about his solo work, The Hasbeens release are very much part of the West Coast sound. Why does he feel that the Netherlands has such a large stable of electronic music artists?
"I really don't know, maybe we have got a lot of gear or just a lot of people who music here, but you are right, we have our own style," Jay says. "The French make filter house, the Germans have techno and we Dutch make music inspired by '80s electro and Chicago house."
He is also a believer in the possibility of local scenes forging unique musical identities, even in a modern, interconnected world.
"If you are into the music you get to hear these small differences – it's like saying all classical music sounds the same. I mean, I was always into Miami bass – I love the production sound and what they did with rappers and scratching – but you only get to understand local music by being there. I released a record on a Miami label, but I have never been there and would love to go. Maybe if I went, it would help me to make better at making that style of music," he believes.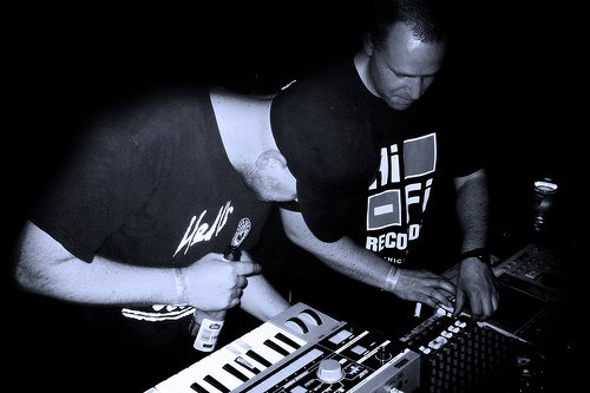 It was through a local connection that Bizarro World came about. Previously, Overdose had done a remix of Galaxy Toobin for Crème Organization, and TLR decided to make the relationship more involved. "He approached me to make an album so I invited him over, he listened to all my tracks and picked the ones he really wanted," Jay explains. "Most of the tracks had already been completed, and I'm really happy with the way it turned out. I'm also happy that this music is out there – everyone hopes to develop their own sound and I hope that the album sounds like me," he says somewhat modestly.
In between his own sporadic solo release schedule, Jay still DJs occasionally, the most recent engagement being at a Miami bass evening with DJ Technician. "I play a mix of old electro, Dutch stuff, Kraftwerk, some '80s pop and end with Miami bass most of the time," he explains.
He also intends to resume working with Ingmar Pauli as Novamen.  "We took a break because I moved to Rotterdam and he's in The Hague. It was easy to do new music when we lived together, but now our plans are thrown into chaos", he says. Meanwhile, the Hasbeens project has been put on hold but Overdose promises they will be 'back with a bang'. Jay's partner in the Hasbeens is also a central figure in the story about where his stage name came from.
"When I started out collecting vinyl and hanging around in record stores, my mother was very relaxed about me playing music loud at home. Martijn (Alden Tyrell) would come around and I'd be like 'you gotta hear this'. I'd put on 10 records in 10 minutes and by the time he'd leave, he'd be super stoned from all the records I'd played him. It was like an overdose of music and the name stuck."
The rest is history. Seeing as its Overdose, the name probably evolved at a death pace.
Interview by Richard Brophy