Stellar OM Source: A faithful leap into the infinite beat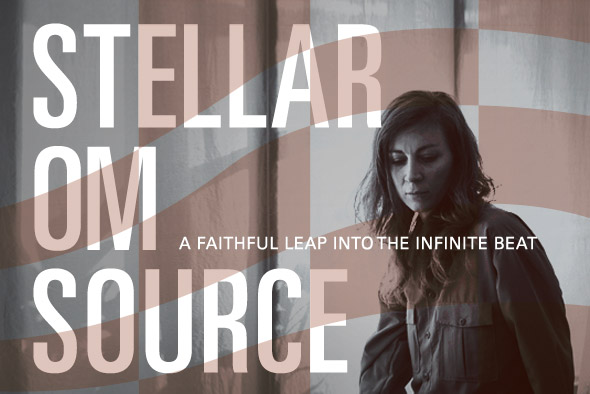 Scott Wilson talks to Christelle Gualdi about how J.G. Ballard, French film soundtracks and the involvement of Kassem Mosse helped to shape Joy One Mile, her new album for RVNG Intl.
"It's not like I have crazy fantasies in my head about alien planets and civilisations – I used to enjoy that as a teenager, but it doesn't inspire me as much anymore." I'm trying to get to the bottom of whether science fiction really has much of an inspiration on Christelle Gualdi's music as Stellar OM Source; in past interviews Gualdi has professed a love of writers like Philip K Dick and William K Gibson, writers whose fascination with alternate realities, the interface between human and machine and altered states of consciousness would seem to tie in strongly with Gualdi's vividly realized music.
Although her sound has developed over the years from a highly improvised form of kosmische recalling Tangerine Dream or Vangelis to a rhythmic form of music that owes more to Detroit masters Juan Atkins, Drexciya and Underground Resistance, it has always remained concerned with evoking deeply spiritual states. Despite this, it's J.G. Ballard, a writer whose stories are grounded in more terrestrial realms that Gualdi most identifies with, as she explains. "I like it when our reality is really close by to the things that happen, things that could happen to you in some kind of hyperreal way. For that, Ballard I would say is my favourite."
Although Gualdi is keen to emphasise that Ballard's approach has more of an influence on her work as an architect than it does as a musician, on listening to Joy One Mile, her new album for New York's RVNG Intl, the idea of reality close to our own rather than a completely fantastical one seems an apt way to approach her music's current iteration. While she is undoubtedly one of the recent crop of artists approaching dance music from an outside perspective, her colourful, jazz-inspired productions are about as close as anyone from the synth or art-rock underground has gotten to producing "real techno"; not as fractured or as queasy as Ital's take on house music, not as well manicured as Laurel Halo's recent Hyperdub material, it's as instant as anything released on Metroplex in the '80s, yet resonates with an extra-dimensional hum just tantalisingly out of the range of our reality.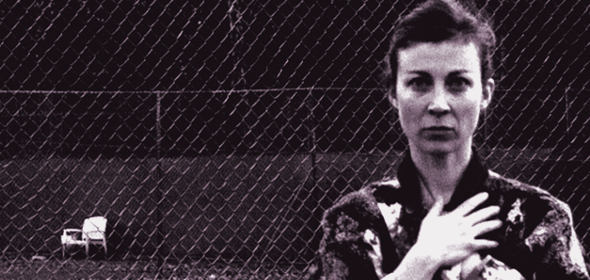 The path to Gualdi creating Joy One Mile – arguably her most accomplished work to date – was unusual, even in a climate where noise musicians increasingly cross over to techno, and former punks make house music. Growing up in a suburb of Paris, the young Gualdi received lessons in piano, violin and saxophone whilst playing with her father's drum machines and synthesisers. At age 16 she moved to Germany where she played double bass in the Konigin Katharina Stift Schulorchester, then studied music theory at Université Paris VIII. It was here that the interest in electronic music began to develop further, citing her use of Cubase that led her to become more interested in using computers or electronic devices than for composing for orchestra.
After earning an architecture degree, Gualdi found herself returning to the study of music, studying electro-acoustic composition at the Conservatoire de Paris. It was partly a conscious attempt to "unlearn" the rigid structure of musical rules that her formal training had imposed on her. However, this new way of making music soon began to impose its own set of rules. "At the time I really liked the old-fashioned 50s/60s kind of approach to electronic music – Pierre Henry, Pierre Schaffer, Luc Ferrari. It was fascinating, but I stopped for those same reasons, because it was again, very academic".
It was in the world of improvisation that Gualdi hoped to shed some of those rules, completely changing her approach in 2005 and using only a monophonic synthesiser and two delay pedals. "When you study classically, there's a world which you kind of fantasise about – which is also very scary – which is the world of improvisation. I decided that I had to tame that monster." Gualdi says. "I was always intrigued by improvisation when I studied, like when I played the standing bass, wondering how people did not follow the music sheet. I wanted to challenge myself to do that and see where it would take me." For someone used to acoustic instruments, I ask Gualdi why she chose to break with her past entirely and adopt the synthesiser. "I remember I first tried on an electric bass," Gualdi recalls, "and after just a couple of minutes things I learned just came back. It's an internal fight, and it was much better for me to try another instrument, and an electronic instrument as well. It's very hard to tell your brain to stop everything you know and do something else".
This type of expression would manifest itself in a sprawling collection of self-released CDr albums between 2005 and 2009, comprised of recordings made in locations across The Hague, Paris and Lisbon. Albums like Ocean Woman, Alliance and Crusader (highlights of which were later collected by Olde English Spelling Bee in 2010 on the Trilogy Select compilation) seemed to position Gualdi as an interstellar new age voyager with the viscous, hazy, VHS quality of artists like Daniel Lopatin and the more psychedelic traits of James Ferraro. It was no surprise that their similarly contemporary take on ambient music would bring them into contact, with Gualdi becoming friends with Ferraro during time he spent in Antwerp, Lopatin playing on one of Gualdi's tracks and Gualdi designing the cover for Lopatin's Zones Without People album. Although they collaborated to a degree, Gualdi emphasizes that their relationship was, first and foremost, one of friends who shared a love of jazz fusion, new age tapes, the '80s, and good food.
Just as the sound of this minor movement began to form, Gualdi and her friends moved their style away from what some critics were beginning to refer to rather unfavourably as "New New Age". While Lopatin and Ferraro's music has since developed into a plunderphonic style, and a vivid, hyperreal take on '90s nostalgia respectively, Gualdi's music spun outwards from the amorphous, beatless compositions that made up the Trilogy Select compilation into something considerably more rhythmic, most notably the Clarity 7" on Big Love Records and her remix of Harald Grosskopf's "1847 Earth"; both introduced a drum machine into her amorphous textures. Although the use of rhythms seemed quite sudden, it was actually something Gualdi had been experimenting with for some time using her father's drum machines. But as Gualdi explains, she "never felt confident enough with them." "There was this thing about improvising with the drum machine that was not fitting in at the time – it would impose another structure again." Although early live shows had sometimes incorporated a human drummer to bridge her ambient compositions with the bands playing after her, it wasn't until Gualdi was spurred on by a period of isolation in The Hague which caused her to experiment more with rhythm.
Gualdi's approach to production is rooted in her improvisational experience; Joy One Mile's seven tracks come from her live sets, undergoing months of refinement before they were chosen. The tracks would then be recorded live, multiple times until Gualdi was satisfied with the result. "There's always this instrumentalist person in me where a good take has to be a good take," Gualdi explains, "so I have to play the parts well and not fake it in the computer." It's an approach that seems to share a common approach with hardware enthusiasts such as The Analogue Cops and Pariah, or L.I.E.S. artists such as Steve Summers and Svengalisghost, but there's something about Joy One Mile that feels considerably more refined, something that evidently comes from Gualdi's outlook on creating music. "You don't always have a chance to put music out in the world," Gualdi explains, "I think it has to be good, and it has to move me – I always have some kind of standard. I think the more time you spend on it, the greater the chance that it touches people." It's something reflected in the light nature of her music; although tracks like "The Range" have the kind of kick drums that could break through concrete, they're never exhausting, balanced with delicate elements that pull the composition in multiple directions.
"You don't always have a chance to put music out in the world. I think it has to be good, and it has to move me – I always have some kind of standard. I think the more time you spend on it, the greater the chance that it touches people."
When the tracks had been laid down however, Gualdi felt that the tracks needed someone impartial to help create some distance. "I felt a lot of them were too baroque," Gualdi explains, "I got really attached to some sounds, because they had a lot of history from playing them live, and from certain sounds I would remember how I felt when I would play them." Gualdi decided to approach Gunnar Wendel to mix and arrange the tracks, the producer better known as Kassem Mosse whose austere, weighty productions for labels like Workshop, FXHE and Nonplus are the antithesis of Gualdi's spiralling, shimmering cuts. "It could work only if he would work in some kind of vacuum," Gualdi explains, "and he would do it on his own, getting carte blanche to do what he wanted." Rather than remixing or adding elements to the track, Wendel's role was to cull the elements he deemed to be unnecessary, leaving the structure of the tracks largely intact.
At the time Gualdi had never even met Wendel, and knew him only from his music. I put it to Gualdi that given her self-admitted perfectionist nature, it must have been hard to give up her music to an unknown third party. "It was a big risk, a really strange moment of being like 'OK, what am I doing?' But I really needed to make the quantum leap. I thought, if the tracks are good enough, they need to blossom from this work in a new way". Despite her faith in the process, Gualdi was initially shocked when she heard the final result. "When we listened to the first demos, I could recognise the tracks, but it was really this process of letting go – which was what I wanted – but to be confronted by it after a few months – it was interesting. And then something clicked where I thought 'yes, this is working'. It gained clarity. The first tracks were suffocating if you listened to them one after the other."
Despite the involvement of Wendel, it's clear that Joy One Mile is not simply meant to be an album aimed squarely at the dancefloor. Given Gualdi's interest in architecture, it's tempting to view Gualdi's relation to music as being similar to buildings, using synthesis to create impossible structures. Album opener "Polarity" is the kind of track that continually expands like a skyscraper being built in timelapse, while the manic acid and gleaming chords of "Trackers" seem connected with a subtle structural complexity that seems to defy the laws of physics. But when I question Gualdi about it, she seems less interested in building physical places than impressionistic, "emotional places". "It would definitely be more like emotional moments, snapshots in the life of people, more in a film way than an architecture way," Gualdi describes.
Gualdi's description of the music on Joy One Mile as filmic seems odd at first; the music is rhythm-based throughout, while the majority of film score music – synthetic or otherwise – is generally characterised by its lack of repetitive beats. Gualdi cites French director Jean-Jacques Beineix as an example, a director whose 1982 thriller Diva has had a lasting impression on her for its faster paced moments. "You have those moments of contemplation and mood setting, and then those moments of action where the music would react accordingly. I would more be in that space, or in that way of seeing."
Pushing her further, Gualdi describes the perfect setting as a late, isolated urban journey. It's tempting to imagine the similar idea of Burial's Untrue as perfect nightbus music, but where that album seems characterised by its introspection, Gualdi states that she wishes to create a "lonely but ecstatic way of enjoying" the music within Joy One Mile. For Gualdi, she sees the scenes she creates as from "a life not far from here, more like in a Ballard way in terms of closeness." Just as Gualdi creates music that is only just removed from the likes of Drexciya or Underground Resistance in terms of genre, her music is designed to elicit similarly fictional "movie in your head" moments where her music triggers a more idealised moment just outside of what's happening in reality.
A few weeks after our interview I have a solitary nightbus journey through South London ahead of me, and taking Gualdi's advice, I put my headphones in and listen to Joy One Mile in its entirety. Perhaps it's just the alcohol and extreme tiredness, but the effect is just as euphoric as Gualdi intends, the interlocking melodies, creating an unexpectedly vivid emotional state. In a climate where monochromatic, straight-laced techno is the norm, Gualdi's emphasis on colour, emotion and narrative is not just refreshing, it's revelatory. Her recent music may have found itself rooted to more terrestrial concepts, far from the science fiction association of her earlier work, but its power to transport the listener to far off places is more potent than ever.
Interview by Scott Wilson
Header image by Ilaria Pace from a picture by De Cinq à Sept
Christelle Gualdi images by De Cinq à Sept