London club Tief launches new label
Newcomers Sisterhood helm the first release on Tief Music.
Tief began life as a club night at Corsica Studios in late 2011, founded by the same people as the already established Trouble Vision with an intention to focus on the the deeper strains of contemporary house, techno and disco. Roughly eighteen months later, Tief has become as entrenched in London club life as Trouble Vision, with their monthly parties to date having featured the likes of Omar S, Levon Vincent, MCDE, Pepe Bradock and Joy Orbison whilst also hosting label events with Underground Quality, My Love Is Underground and Voyage Direct.
Having firmly established the name, the people behind Tief have decided to expand operations with the  launch of Tief Music. Intriguingly, despite the network of established artists open to the label after so many parties, the debut release comes from a pair of newcomers in the shape of the dapper pair Sisterhood (pictured above). The forthcoming Call Me Ishmael 12″ is due out later this month and pairs two accomplished original productions from Sisterhood's Harry Benson and John Malcolm Moore with remixes from the always excellent Juju & Jordash and 4Lux and Clone producer Arttu – you can stream clips of all four tracks below.
We got in touch with Matt Hessleworth, label manager at Tief Music to discuss his reasoning's for starting the label and what to expect over the coming months.
Hi Matt, why the decision to launch Tief as a record label now?
Hi! The decision was quite a natural one, the first EP is made up of two tracks from good friends of ours 'Sisterhood' which I fell in love with as soon as i heard. I had already been considering starting a label and was just waiting for the right music to do so. The club night Tief had also been running successfully for long enough for it to have gained a good reputation and for me to have made enough friends who make music and to get the ball rolling.
Can you tell us a bit more about Sisterhood, the act responsible for the debut release?
Sisterhood is made up of John Malcolm Moore and Harry Benson. John has been a very good friend of mine for years and Harry has already put out music under the guise 'Picture House'. Their production partnership works really well, John is a great drummer and has played in all sorts of weird bands with weirder names, music that I don't really understand. He is also a bit of a geek when it comes to computers and machines so tends to do really well in whatever he turns his hand to. Harry is a great producer already and in my mind has a great understanding in song writing and structuring. Both have impeccable tastes in music and have so far worked really well together. I saw them dj together for the first time on Saturday at 'Fill yer boots' and they were really great, cant wait for them to play at our home Corsica Studios.
Did they choose the remixers?
Urm, actually I think I did. I approached Juju & Jordash as I know them quite well already. I'm a huge fan of their productions and was really happy when they liked the track enough to work with it. Arttu was someone whose productions have been really getting me excited, so rough and ready but so effective! When I found out that they were all up for it I ran it by the guys and they were really happy too, I think we all have very similar tastes in music so all was cool!
Is the label going to reflect the focus on the best in contemporary European and US Deep House that the club night has successfully pioneered since it's establishment?
I think on the whole, yes.. Although I am going to be releasing slightly more unconventional music from countries further afield such as South Africa.The second EP for example will be the first release from 'Prophets of the south', one half of which, Esa who I met when i was in Cape Town in February. The music is so exciting and very original, while still sticking within the general theme of the label and night; deep, melodic and dancefloor. Including South African influences will probably be something that you will see within Tief line ups coming up, the scene over there is so healthy and exciting and there are some amazing sounds coming from the country
Can you lay out what's on the horizon release wise?
So we got the first 3 Eps wrapped up and ready to drop; After the Sisterhood release, Tief002 is from Prophets of the south (Ek Maak Julle Dance Ep) and includes an Portable remix. Tief003 is a split Ep from Marco Bernardi and Johannes Volk, 2 tracks from each. There are a few other releases that i am working on from some pretty exciting artists, will reveal more soon!
Are there any specific influences for Tief label wise?
Label wise, thinking about it Innervisions are bit of an influence. The Culoe De Song releases are incredible and show that South African music can sit side by side with European tracks comfortably. Other labels that I really follow include Crème Organization, Kann, Smallville, Delusions of Grandeur, Royal Oak, and Pampa. All display such consistency and stick to a sound and have really strong identities.
What else can people expect from the multi faceted Tief as the year progresses?
We are going to be getting some label nights rolling outside of London as well as a little 'tief' tour in South Africa and fingers crossed South America. Our website and agency will also be launching real soon.
Tief Music will release the Call Me Ishmael EP by Sisterhood in 180g 12″ format on June 17 with the digital release to follow a month later.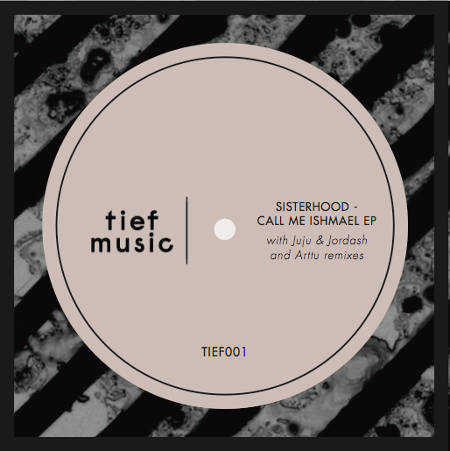 Tracklisting:
A1. Call Me Ishmael
A2. Call Me Ishmael (Arttu Remix)
B1. Tannhauser
B2. Tannhauser (Juju & Jordash Remix)
Header image courtesy of Katie Palmer