Unsound reveal 2013 theme and first names for festival lineup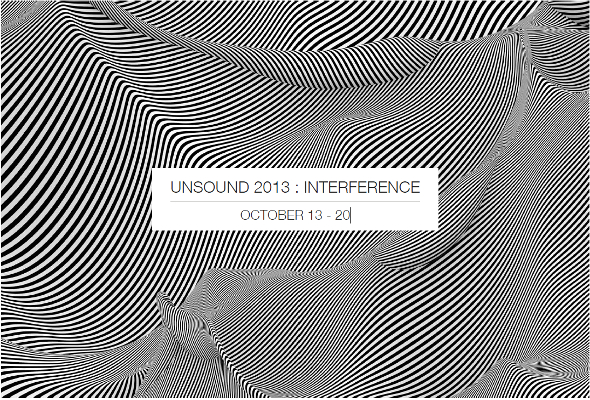 Karenn, Tropic Of Cancer and RP Boo are amongst the first names announced for this year's Unsound festival in Krakow.
The eleventh edition, set to take place in Krakow over a week long period from October 13 sees the organisers continue their efforts to adopt an overall theme for the festival; in this case it's around the notion of "interference", specifically the physics of sound and "overlay of varied sound waves and rhythms, distortion, disrupted audio, sonic disturbance, and the act of obstructing or impeding". This would seem an appropriate theme given the ever decreasing crawlspace between club music and the noise scene, though the organisers state the notion of interference will also be explored for its social and cultural significance, with lectures planned on the exact meaning of "underground" in today's climate.
Naturally, the theme extends to the musical programming with the "placement of unique installations and performances in unusual spaces" promised, with the announcement of revered ambient music legend Robert Rich the first such example. Rich will be performing one of the nine hour long plus "Sleep Concerts" that he treated San Franciscan audiences to in the early part of his career, and his appearance at Unsound marks the first time he's done one of these somnolent performances since 1996.
Another act slated for an overdue return to live performance at the festival is Porter Ricks, with Thomas Köner and Andy Mellwig no doubt emboldened by the reception to their classic work Biokinetics being reissued on Type Records last year, while Robert Henke aka Monolake will further add to the experimental electronic angle with a new show called Lumière, which combines lasers with "an autonomous audio engine" creating "rhythmical structures, intense grids of bass and spectral noises". The presence of Earth and Tropic Of Cancer demonstrates Unsound's willingness to deviate from the overly electronic nature of last year's programme, whilst King Midas Sound will probably straddle the mid-point between electronics and live instrumentation if the "My Bloody Valentine In Dub" approach of recent single Aroo is any indicator.
Blawan and Pariah also join the Unsound fray, performing live under their mangled hardware project Karenn, while there are further diverse dancefloor additions in the shape of Strength Music's DJ Qu, Golden Pudel resident Helena Hauff, Planet Mu's latest footwork acquisition RP Boo and Stellar Om Source, who will be performing tracks from Joy One Mile, her recently announced, Kassem Mosse mixed album for RVNG Intl.
Unsound takes place on October 13-20 in Krakow; further details can be found at the Unsound website.