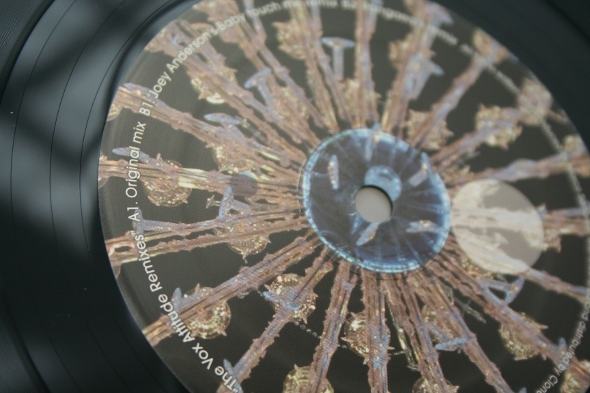 Despite some stiff competition, one 12″ stood out as our record of the week thanks to its incredible remixes.
Originally released on VIDD back in 2011, Marco Shuttle's anthemic "The Vox Attitude" found new life this week thanks to a timely re-release on Shuttle's own Eerie imprint. However, it was the impeccable remixes that really caught our ears; New York producer Joey Anderson turned in a deep, rolling house refix with plenty of twists and turns, while Pangaea provided one of his trademark jungle influenced re-rubs. The album of the week couldn't have been more different, as Eddie Ruscha returned with a new Secret Circuit full-length, the first on Tim Sweeney's excellent Beats In Space imprint. Given the usually vivid style of his psychedelic electronica, it's no surprise to find that Tactile Galactics is a mesmerizing trip between kaleidoscopic space disco, wide-eyed shoegaze house, analogue psychedelia, touchy-feely ambience and intense, druggy Italo, somehow shoehorning 25 years of musical misadventure into 70 spellbinding minutes.
This week also saw us revelling in one of the best weeks for innovative house music in some time. Heading the list was a pair of L.I.E.S. 12″s from Florian Kupfer and Svengalisghost; the former a rough but warm EP with shades of Jamal Moss, and the latter a dark hardware session filled with warehouse sized kicks, psychedelic acid lines and squalling synthesisers. Both were of course, essential. Dutch titans Alden Tyrell and Gerd also teamed up for the atmospheric vocal house of Luv Thang, but they were just edged out in our affections by Roman Flugel's first appearance on Clone Jack For Daze. Providing two spindly jack tracks with hints of classic Dance Mania, Even More nevertheless had all the oddball hallmarks of Flugel's best work. However, they were nowhere near as good as the experimental house manoeuvres of Ex-Pylon, whose latest Studio Barnhus 12″ combines a bumping house grooves with AFX-style textures.
The Don't Be Afraid camp also returned to their asparagus-themed Spargel Trax sub-label with volumes 3 and 4 providing the electro-tinged delights of Slazenger's People, the deep, squelchy grooves of Schwet Musali and many more highlights across two 12″s. Similarly bright in its outlook was the Beats In Space debut of DFA's Jee Day. Always at his best when marrying thumping, drum heavy arrangements with almost poppy vocal turns, "Sum Of Love" is a masterclass in this approach; the accompanying remix from Sweeney favourite Lauer is similarly sumptuous. These were admirably complemented with the Glass Table debut of Sepalcure more house informed half, Braille, and the latest 100% Silk outing for Pharaohs, with the Replicant Moods LP combining synth pop, scuzzy electro and disco styles into one of the most imaginative takes on box jamming to emerge for quite some time.
In the world of techno, those who missed out on Blawan's His He She & She on Hinge Finger last year were afforded a chance to catch up on the hype with the repress, but for those wanting some real industrial flavour, Orphx's Boundary Conditions on Adam X's Sonic Groove label offering a fierce concoction of tunnelling drones and savage synth textures. Similarly challenging techno could be found on both the latest 1-sided 12″ of proto electronics from Chasing Voices and the Krake compilation from Killekill, with the likes of Perc, Alex Smoke and Cassegrain all contributing tracks at the more experimental fringes of techno. However, perhaps the most idiosyncratic techno came from the Borft label run by Swedish oddballs Frak, with the mysterious Five O' Clock traffic's decidedly angular take on acid and synthpop.
Tri Angle this week released the vinyl edition of the debut album from The Haxan Cloak. Like Vessel's debut on the label last year, Excavation succeeds in making drone and industrial textures considerably more accessible than the majority of his peers, without sacrificing any of its visceral enjoyment or cerebral heft. Taking his usually madcap style into similarly friendly terrain was Nick "Ekoplekz" Edwards, whose Trainwrekz LP as Ensemble Skalectrik demonstrated that melodic tones can exist in his signal chain without being suppressed by malevolent noise, the polar opposite of Kareem's dread-infused Porto Ronco soundscapes on The Death of Rave. Fans of Oneohtrix Point Never meanwhile were this week treated to five reissues of classic works from the producer, with each LP previously only available in a hefty (and expensive) box set released last year.