Happy Skull label launched by The Kelly Twins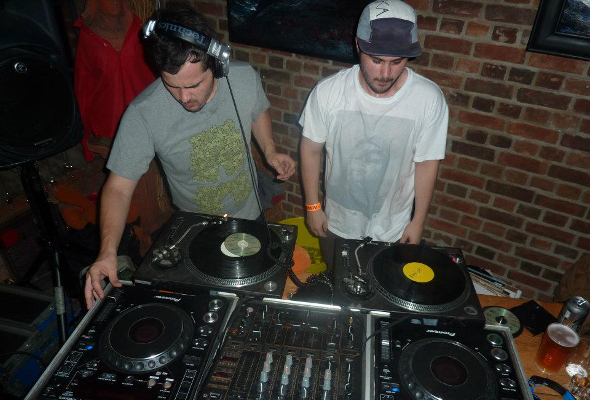 Brotherly Bristol pair The Kelly Twins will launch their own label, Happy Skull, later this month with the debut release coming from Systems Of Desire, a new collaborative project from Kowton and Hyetal.
Sean and Dan Kelly – pictured above –  rank amongst the most respected selectors in Bristol and have been DJing together as The Kelly Twins for the past eight years; their sets span everything from boogie and disco to electro and classic techno, while as residents for Bristol's So Bones the pair also spin full R&B sets. Sean also works alongside at Chris Farrell at venerable Bristol record store Idle Hands; evidently some of Farrell's experience running the Idle Hands label has rubbed off on Kelly, as he has decided to dip his toes into the murky waters of label ownership with his brother.
The label will be called Happy Skull and will kick off with a collaborative release between two of Bristol's most interesting producers, Kowton and Hyetal. Adopting the name Systems Of Desire, the pair worked on a track together, before going off to produce their own individual versions entitled "Control" and "Consumption"; the results are exactly the intriguing cross between Kowton's raw, crunchy, grime influenced techno and Hyetal's glistening synth work you would imagine.
Happy Skull will launch with the Systems Of Desire 12″ in July and you can stream clips of both tracks below – ahead of it's release we caught up with Sean to find out more about the label and their plans for the future.
So firstly Sean, why the name Happy Skull?
We were going through a period of being interested in the apocalypse. Not in an insane doomsayer kind of way, but rather the imagery surrounding it. We were having a discussion along these lines, specifically what it would be like to survive the end of days. Emerging from the bunker, to be confronted with total destruction, the scorched landscape strewn with skeletons. Whilst walking through the bleak scene, we imagined coming across a skull in the debris. That rather than sharing the pained expression of those around it, had a big grin across its face….a happy skull. At first the idea seemed quite trivial, but after some thought we decided that it was in fact quite a positive and powerful image. Albeit, in quite a macabre way. To us, it represented hope in a hopeless situation, a little bit of utopia amongst dystopia and positivity in the face of destruction.
Happy Skull as a name seemed an obvious choice and in a lot of ways represents what we want to do musically. Essentially to put out music that incorporates elements of both light and dark, both rough and brooding whilst maintaining a sense of positivity and musicality.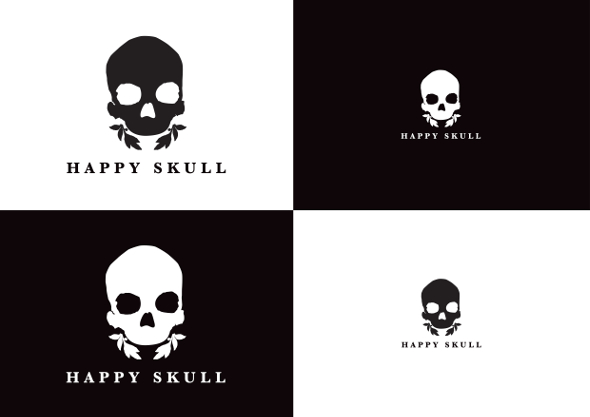 How long have you been thinking about starting a label?
A lot of people are starting labels at the moment and not everyone for the right reasons. We always said that we would only ever start our own label when we had a real focus and music that we genuinely believed in and not just for the sake of doing it. We have talked about it for some time, but it has only been in the last year that we have seriously worked towards making it a reality. Having DJ'd for the last fifteen years, starting a label seemed like a logical step for us. Essentially we are music lovers with a passion for vinyl and we would like to share this with people.
It's both your brother and yourself that will be involved, correct? Do you have specific roles within the label?
Playing and enjoying music is something that we have always done together, we feel stronger as a unit. Happy Skull wont be any different, we will share the workload fifty-fifty and will take equal responsibility for sourcing tracks and making sure shit gets done. I've no doubts that there might be a few arguments along the way, but the good thing about being brothers is that we will always forgive each other and appreciate the honesty we get from each other.
As DJs, the pair of you have something of a reputation for all encompassing sets
– is this something you are looking for the label to reflect?
I wish our DJ sets were all encompassing, but I don't think that is really possible. What you play or what you put out will always be dictated by your own taste. We just don't have enough time to be into everything but we do try to be as varied as we can be within the parameters of what we actually like and what we get a vibe from, regardless of genre or tempo. It has taken a while but we have reached a point now where people don't expect one particular thing from us, as DJs this has allowed us to be fluid and to move with the times without jumping on bandwagons. The whole experience is more exciting and satisfying because of this and in many ways we feel it has given us a huge amount of freedom.
Happy Skull will be an extension of this aesthetic, we will be drawing influence from the things that have inspired and continue to inspire us, such as boogie, disco, italo, Chicago house and Detroit techno, amongst many other things. Our aim is to reflect these in a contemporary and tasteful way, nostalgic but still forward thinking, eclectic but with a certain vibe. Basically we want to put out space music.
Is there an intention to show that there's more to Bristol than the bass driven sounds the city has become synonymous with?
Having lived here for some time now, it is difficult not to draw influence from the bass driven sounds that are synonymous with the city. Dub and soundsystem orientated sounds have always been and remain to be at the musical heart of Bristol and their influence and impact on us as record collectors and DJs will no doubt permeate into what we do as a label.
There has always been more to Bristol than just 'bass', people often forget that crews like the Wild Bunch used to play tons of rare groove and electro funk alongside jungle and reggae. The two have never been mutually exclusive. In recent times this has started to come through again, you have dubstep kids dancing to soulful house, DJ Die making boogie and Theo Parrish selling out one of the city's biggest venues. Bristol has always been open minded in that way, and this is a part of the city that we want Happy Skull to celebrate and represent to the fullest.
Are there any specific influences you are looking to label-wise?
We respect any label that comes from a place of integrity and does their thing in an honest way. Musically speaking, we love and draw influence from so many different labels. Anything from Tresor to Prelude, Sex Tags to FXHE, it's hard to pin point just a few. On a personal level, Chris Farrell who runs Idle Hands has been a huge influence and inspiration. He has been a close friend now for quite a few years and I have worked alongside him at the record shop since it opened over two years ago. Watching Chris work has allowed us an insight into a side of the music business that was previously unfamiliar to us, and what we have learned over the last few years has given us the confidence to start our own thing.
Kowton and Hyetal form the first Happy Skull release as the newly formed Systems Of Desire alias – which has a faintly coldwave ring to it – what can people expect from it?
We felt that this was a collaboration that made a lot of sense. Although different in many ways, their sounds compliment each other perfectly. They both had something different to bring to the table; Kowton, with his rough overdriven drums and analogue distortion and Hyetal with his epic synths and great ear for hooks and melodies.
The process behind the collaboration was different to the usual 'lets get together and make a bunch of tracks'. Instead they built a rough track together, then went their separate ways producing individual and distinctly different versions of the original jam. We are very happy with the results, both tracks are interesting yet playable and perfectly encapsulates what we want to do and what we want Happy Skull to be about.
After this, what other releases does Happy Skull have planned?
The next release should be coming later in the year, it's slightly different to the first. It's from a new, extremely talented producer and will feature a remix from one of our favourite artists, something we are massively hyped about. We don't want to give too much away now, but it's very exciting. All will be revealed soon…
Happy Skull will launch with the Control 12″ by Systems Of Desire in early July.
Tracklisting:
A1: Control
B1: Consumption