Cyclone Analogic – TT303 Bass Bot review
With the popularity of simple analogue equipment on the rise, we look at a new analogue bass synth and sequencer, the TT303 Bass Bot.
Most people would agree that all things retro hold a certain sentimental attraction, and this has been the case for as long as we can remember. In the 80s people blew the dust from their parents 50s and 60s records, in the 90s we went back to the 70s for inspiration. But now it seems the circle has come around yet again, as an interest in early rave and acid house culture from the late 80s builds. It's not just the music from that time either; inexplicably to anyone who came of age in that time, even the musical equipment seems to have a glow of vintage magic about it – surprising given that most of the electronic gear from that age has a notoriously flimsy and cheap feel to it that isn't exactly what you would associate with the word "vintage". It seems that that producers are increasingly shunning computers, favouring older and more stable equipment with the hands on element that seems to be increasingly missing in the laptop age.
However, there is one drawback to this new found love of early electronic gear; it's increasingly hard to come by, not to mention expensive. Even if you do find what you are looking for, it's difficult to ascertain what condition it is in and, if it's in need of repair, where will you go to get it fixed and at what price. Enter Cyclone Analogic, a new brand that have produced an analogue bass synth and sequencer familiar in looks to a certain iconic unit key to the sound of the original acid house productions.
The TT303 Bass Bot has a choice of two wave forms, saw or pulse, and to further colour the sound the unit has a four pole analogue filter. It's one of the simplest analogue synthesiser configurations on the market, with six small knobs to control tuning, cutoff frequency, resonance, envelope modulation, envelope decay and the sequencer accent amount. Scrolling through the preset patterns, you're immediately transported into a sonic world that existed towards the end of the 1980s, when acid house was in its heyday. The sound of this machine is startlingly good for such a small and simple unit, with the ability to tease screaming resonances as well as fuller, more subby bass sounds from its single oscillator.
The other key element of this synth is the sequencer, allowing you to access seven banks of preset sounds that contain eight patterns each; the unit also has its own OS called InstaDJ, which allows the machine to generate patterns by itself. Each bank has its own musicality; for instance, banks one and two have flowing lyrical patterns in classic 4/4 time, whilst three and four have a more stripped down feel. As you move away from the early banks, so more complex timings are introduced including triplets; the InstaDJ OS also has a handle on this, so when it's generating patterns in a certain bank it will adhere to the style of said bank.
One place where it diverges from its expected functionality is in the lack of a DIN/Sync port on the rear. In its place is a single port which is home to the MIDI breakout cable that features both MIDI in and out. This will be a bit of a disappointment to those of us that are lucky enough to own old Roland equipment such as the 606 or 808 drum machines that featured Roland's very own DIN/Sync protocol, and allowed different units to talk to one another (though this is not such a problem for owners of 909s or 707s which have the MIDI protocol built in). If you are looking to use the TT303 as a replacement for a Roland TB303 Bass Line in a setup that doesn't involve a computer, then it will need some form of converter that allows it to be clocked to the older 606 or 808 via DIN/Sync.
"Compared to the TR303, the TT303 is an impressive sounding bass synth and sequencer that rivals the famous Roland unit in a lot of ways"
Programming the TT303's step sequencer takes a little getting used to if you're not familiar with the old TB303 machine, but there is a comprehensive manual that generally makes things clear. There is a lot of dual purpose control implemented by pushing more than one button or key at the same time, something that takes a little while to get used to at first. If you have a pattern in mind you have to do a few mental acrobatics and a bit of note counting to bring your idea to fruition using the one octave keyboard representation on the lower half of the 303's plastic shell, and in the respect of this limited functionality it's not just the sound and exterior of this unit that reminds us of days gone by.
You can add accents and portamento to steps in your sequence along with tied notes and rests, and here is also the possibility to put any of the 224 stored patterns together in "tracks" to create song arrangements of up to 127 bars in length. Along with the sequencer is a useful arpeggiator that takes information from the user patterns (it's a simple operation to copy and paste a factory or generated pre-set to the user pre-sets bank) and allows you to turn on or off the desired pitch information you require.
There is also a tap label under the write/next key (which is an aid in programming the step sequencer) but there doesn't seem to be any implementation for it as yet, though it is possible to upgrade the micro-processor firmware via MIDI Sysex, the software for which has yet to be released. Further to this it would seem that if there is MIDI then it would be possible to save patterns and tracks to a computer using Sysex.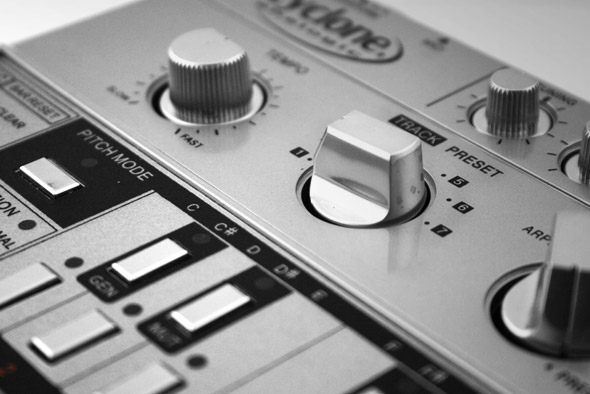 Compared to the TB303, the TT303 is an impressive sounding bass synth and sequencer that rivals the famous Roland unit in a lot of ways. It can store more patterns, and the selection of said patterns is aided by multi coloured LEDs giving clear user feedback, it has MIDI I/O and it somehow seems possible to get more out of the filters and envelopes than the TB303; the non-volatile memory of the TT unit also means that you don't need a battery in place to keep the patterns in memory. The TT303 unit  also has the ability to calibrate its own tuning unlike the TB303. In addition to this, the price is a lot less than a second-hand Roland TB303, and around the same price as some of the less accomplished clones on the market. It still maintains the CV/Gate ports on the back along with a single 6.33mm TRS headphone and single main output jack.
There have however been several 303 clones in recent years, perhaps the best known being the Xoxbox 2 from Mode Machines which featured the beloved DIN/Sync ports as well as MIDI and a USB port, so those looking for the full range of connections may be better served by that unit. However, if you are looking to sync the TT303 with a drum machine in a setup reminiscent of the old school acid house producers then there is mention of a TT606 Drum Drone unit from Cyclone Analogic coming soon. One can only guess at the purpose of this machine, and that assumption probably won't stretch the imagination too much, but one thing is certain, using these machines will no doubt be a joyful experience.
Rob Lee
Buy from Juno
Specifications:
| | |
| --- | --- |
|  Power |  9V DC/ 4C cell batteries |
|  Filter |  24db/4 pole/low pass |
|  Oscillator |  Single sawtooth and square |
|  Sequencer |  224 editable patterns, step sequencer (64 steps), arpeggia |
|  Communication |  MIDI I/O, CV/Gate |
|  Outputs |  1 x 6.33mm TRS Headphone, 1 x 6.33 mm TRS Output (Mix In) |
|  Dimensions |  19cms x 38cms x 10cms |
|  Weight |  1.2kgs |
|  Features |  Flash memory, multi coloured LEDs, pattern generator, 7 songs of  127bars, InstaDJ OS |