Dekmantel call on Dettmann for Vedomir remixes
Marcel Dettmann serves up two remixes for Vakula's Vedomir alias on Dekmantel.
Last year saw Mikhaylo Vityk aka Vakula release two self-titled albums under two different aliases. The first was a 13 track digital album for the obscure Nuearth Kitchen imprint as V, but his most celebrated work of 2012 was the Vedomir album for Dutch party throwers and label Dekmantel. It marked the Ukrainian producer's second appearance on the Amsterdam based imprint, following his exceptional five-track Pictures Of You EP released in 2011.
Dekmantel return to Vedomir for their first release of the year, commissioning Berghain heavyweight Marcel Dettmann to remix the rock 'n' roll bass and panning arpeggios of "Musical Suprematism" and the spacey minimalisms of "Dreams". Marcel Dettmann has proved to be quite the versatile remixer over the past few years, reworking everyone from Luke Slater and Skudge, to artists further distanced from straight up techno like Morphosis, Commix, Fever Ray and most recently Trus'me. You can stream a fair chunk of both remixes below.
It marks what could be the onset of another big year for Dekmantel, who celebrate their 6th birthday in 2013. The label recently announced they will be hosting a weekend festival in Amsterdam's Bos forest in August, where both Dettmann and Vakula will play, whilst there are many more releases planned as the year progresses.
Dekmantel will release Vedomir – Marcel Dettmann Remixes at the end of April.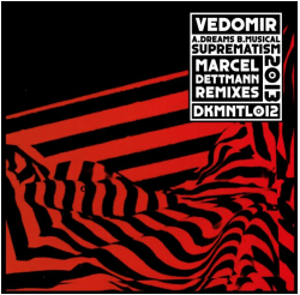 Tracklisting:
A1.Musical Suprematism (MD Remix)
B1.Dreams (MD Remix)