Faderfox UC3 Universal Controller review
Rob Lee investigates the latest addition to Faderfox's growing family of specialist MIDI controllers, the Ableton focused UC3.
Faderfox boss Mathias Fuchß is part of a growing number of designers and electrical engineers from Germany that are setting out on their own to create bespoke controllers, keyboards, synthesizers and FX units. Although these kind of companies are steadily growing in number, Faderfox have been making bespoke controllers for longer than most. Their first controllers were very simple affairs by today's standards, being powered only by battery or a separate power supply, and only MIDI I/O ports on the back, with no USB to found until the third generation came about. Faderfox's latest offering, the UC3, is part of this continuing third generation of controllers, with the addition of bus power through USB connection providing the biggest difference from previous incarnations, along with compatibility with iPad through Apple's camera connection kit. The first generation of controllers were designed for use by DJs using Native Instruments' Traktor or producers using Ableton Live;
If you haven't come across a Faderfox controller before then the UC3's size may come as a bit of a surprise. At first glance its 18 by 10.5 cm faceplate looks decidedly small, and even though it sits on your desk with its metal faceplate neatly angled towards you, you question its tactile usability whilst admiring its unique portability. Those who have come across one of Faderfox's many controller designs on the other hand might not find much new to look upon, but as you delve further into the UC3's world of micro control you begin to get a picture as to the applications you could use this unit for. As is usual, you can see what software a particular controller may be designed for just by looking at what controls are present on the front. The unit is dominated by eight 45mm faders with eight push encoders at the top in two banks of four configuration, with two shift buttons in each bottom corner and all underlined by a crossfader hinting at use with Ableton Live. In fact, the unit only ships with one pre-programmed mapping for use with Live 8.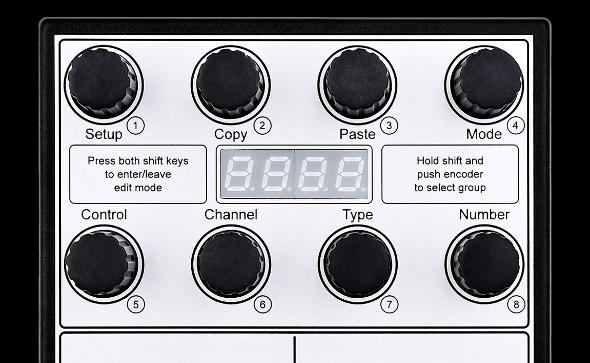 Perhaps one of the most common gripes with small controllers of this type is that they never have quite the right mix of knobs, buttons, faders and encoders that you need for comprehensive control. Some have plenty of knobs for tweaking FX or buttons for launching clips but lack faders for controlling channel volume or vice versa. For DJs, perhaps the biggest problem with their controllers is that up until recently very few actually featured a crossfader at all. The UC3 has been very well thought out in this respect. It doesn't feature many buttons, so it makes use of push encoders for accessing clickable controls whilst focusing on things you turn or turn up. It lends itself to Ableton Live (for which there is a mapping available), with extensive instructions on how to install the script.
There are effectively two setups for getting the UC3 to control Ableton, accessed by clicking both shift buttons at the same time to access edit mode and turning the top left encoder until the four digit display reads "SE15". This immediately makes the eight faders control the first eight channel faders in your Ableton Live set with "SE16" controlling faders nine to sixteen. Switching between these two set ups is quick, easy and can be done mid set. The control possibilities don't end there; the mapping also allows you control of three racks, sends, panning and the master volume control. You can also create your own mappings, and there is no need for any software to enable this as it can all be done on the unit itself; with up to eight groups of control per set up, there are plenty of control options available. There are various functions for easing the burden of work for mapping extended parameters across multiple groups using the copy and paste options and equally you can fully program the functions of each control surface by mode and type as well as channel and number.
In use, the feel of the controls on the UC3 is very satisfying, with a pleasant amount of resistance to each fader and encoders which have have a gratifying click when pushed. It feels luxuriant and in keeping with its bespoke credentials as well as being robustly built with a tough black plastic exterior and metal faceplate. Even though at first glance it looks "dinky", it does draw you in, and before you know it you have forgotten about its diminutive size. Similarly, the layout doesn't cause any problems either apart from one small, yet fundamental flaw: it's incredibly difficult to keep track of what mode you are in whilst in the heat of a live performance. The four digit display gives you some indication, but even performing simple functions becomes difficult as you flip from function to function. Faderfox wants its products to be used live on stage, however the level of concentration needed to operate the unit would likely prove a huge distraction for anyone on stage – DJs who need to be concentrating on the audience may find it difficult to operate the unit in a high pressure situation. For this reason, the UC3 may be more suited to technicians that are off stage such as light and video operators rather than those actually interacting with the audience.
Competition in the world of USB/MIDI controllers is getting increasingly intense, especially as Ableton have just releasing their much lauded Push controller; any Ableton focused controllers coming into the marketplece now need to offer things that the Push machine won't be featuring. Given that that the Push controller doesn't feature any faders, as a solution together with the UC3 they would probably make the most comprehensive controller duo for Ableton to date. Behringer are also shipping their CMD series of controllers soon and although they certainly don't have the boutique chic of Faderfox, they could offer some competition. Livid Instruments have also made serious progress in the bespoke controller market in recent years, but with Faderfox making their units at a new highly competitive price, they could steal Livid Instruments' thunder from across the pond; the UC3 is a controller for many different uses in a tough, portable form that is particularly aimed at serious controller aficionados and advanced users.
Rob Lee
Buy from Juno
Specifications:
| | |
| --- | --- |
| Power | USB bus power (less than 500mW/100mA |
| Controls | 8 x faders (45mm), 8 x push encoders, 2 buttons, 1 x crossfader (45mm) (136 commands over eight groups per set up (16) |
| Dimensions | 180mm x 105mm x 70mm |
| Weight | 350g |
| System Requirements | iPad: iOS5 or higher. PC or Mac: with one free USB port or USB hub |
| Advanced | Mapping, 14 bit resolutionencoder mode, class compliant |
| Display | Four digit digital display |
| Ships with | CD w/Ableton Mapping & Instructions. USB Cable |