Siriusmo returns with with second album Enthusiast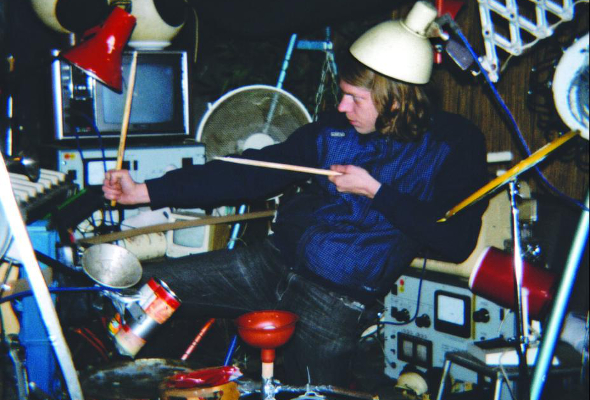 Modeselektor's Monkeytown Records will release a second album from Siriusmo called Enthusiast. 
The shy and retiring Berlin based producer, real name Moritz Friedrich, was one of the most prolific artists on Monkeytown for quite a period; he released numerous EPs of distinctive tempo shifting music through the label in the run up to the release of his well recieved debut album Mosaik in 2011. Although he was subsequently granted a rather exhaustive 42 track retrospective spanning a decade's worth of releases by the label called Pearls & Embarrassments, Siriusmo has scaled down his releases to the point where last April's EP Doctor Beak's Rantanplant was the last we heard of him.
Around the time that EP was announced, Monkeytown casually hinted Friedrich was hard at work in his notoriously cluttered Berlin studio on a follow up to Mosaik. It's clearly taken slightly longer than originally projected, but the forthcoming Enthusiast is slated for release in June with the three productions from the aforementioned Doctor Beak's Rantanplant amongst the thirteen track set. This should guarantee there is no wild shift in direction from Siriusmo's well loved brand of humour and sample heavy electronics, a notion strengthened by the sound of album track "Itchy" which is available to download below. 
A brief and suitably fanciful statement from the label on the forthcoming album reads as follows: "After eighteen years, elaborate and outrageously expensive recording with a full-size Czech symphony orchestra, Siriusmo decided to reject it and to retire with enthusiasm. This was followed by moments of euphoria, overconfidence, and many shed tears. Once at the bottom of the facts, he now proudly presents his new album Enthusiast."
Monkeytown Records will release Enthusiast by Siriusmo across 2xLP, CD and digital formats on June 14.
Tracklisting:
1. Doctor Beak
2. Congratulator
3. Tränen aus Bier
4. Enthusiast
5. Cornerboy
6. Plastic Hips
7. Itchy
8. Stinky Wig
9. Liu
10. Rantanplant
11. Wattnlosmitmir
12. Petit Cochon
13. Leftovers