Expanding horizons and battling the creative divide: An interview with Kyle Hall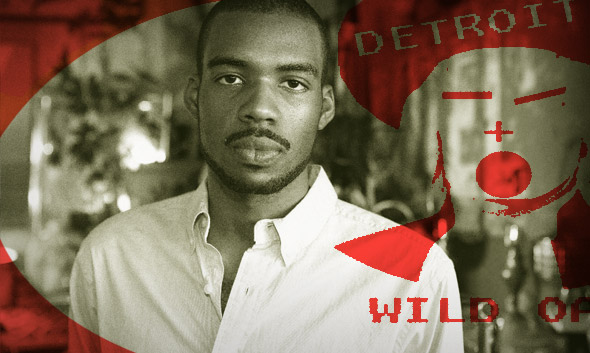 Currently overseeing the successful Wild Oats label, forever collaborating, DJing and on the cusp of releasing a long overdue debut album; perhaps it's time to stop calling Kyle Hall a wonderkid and give him more credit? Brendan Arnott speaks to him ahead of The Boat Party being released.
"I feel like my third eye's opened a bit these days" Kyle Hall tells me over a Skype conversation on a foggy Wednesday morning. A perpetual blur of kinetic motion, it's not surprising that the influential Detroit producer is occupied with expanding his horizons. Hall's been thrust into the spotlight as a musical prodigy since his early teenage years, taking care of everything from world tours, managing his own record label Wild Oats, and releasing a flurry of genre-destroying dance music on every label from FXHE to Hyperdub to K7.
But it's more than just music that's informing Hall's powerhouse production output these days. "I've been into a lot more stuff just broadly connected or related to art. I've been reading a lot of books too, even financial books – when you start DJing and doing label stuff for a living, you start learning a lot more about that shit," he laughs. "I've also been going to like some of my friends' film shootings or music videos to see how that works. I'm interested in the process. It makes me look at music in a more multifaceted way. It is liberating because now I can incorporate certain themes or forms of inspiration from other forms of art in my music and it still make complete sense… it allows me to see things from a different perspective."
Hall also mentions he's just finished reading Octavia Butler's Dawn, an afro-futurist novel about the emergence of a genetically engineered alien civilisation where creatures forcefully alter the genes of other intelligent species, irrevocably changing both parties, creating a new synthesis for better or worse. Butler's novel looks at some scary questions: What makes us human? And is there a value to forsaking humanity in lieu of something else?
While Kyle Hall is most likely not an Oankali or cyborg of any sort, his fusion of soulful and organic feeling with blistering mechanical rigidity seems much like the hybrids of the future that Butler speaks of. One moment he's twisting longing-filled soul samples and hurdling synth pads across sensual jazz landscapes, and the next he's constructing a barrage of percussive loops and slamming drum machine experimentalism. There has been multiple changes to his style and production technique since Hall debuted in 2007 with the chunky stomper "Plastik Ambash" for FXHE, but whatever he's making always manages to bring together disparate elements into something cohesive – no matter how abstract, intense, or frightening the result, there's something that resonates with the human urge to dance etched into Hall's music.
While 2013 may find Hall inspired by a more varied range of stimuli than ever before, the day-to-day business of running his Detroit-rooted Wild Oats label stays the same. "It's pretty much mailing vinyl to online customers and preparing artworks, like, centre labels for upcoming records and stuff like that. You know, it depends on what it is, sometimes a lot of shipping, post office running." It may not be glamorous, but it's rooted in the gritty, down to earth realities of running a label. "When it's a vinyl based label, it's a lot more hands-on",  Hall concedes.
While Hall remains grounded, the ideas sprouting from Wild Oats are blooming into more personalised ways to deliver music. The end of 2012 brought two inimitable pressings from the label: Scott Grooves' Bittersweet White EP, which came with a fuzzy velour label (which manages to feel quaint and sleazy simultaneously) and a hand-cut, completely translucent polydisc pressing of The Reflektor's sprawling, organic journey through space and sound on the Las Ruinas Mayas EP. "We plan to do a lot more of those kind of things in the future, just to keep everything interesting." Hall admits. "That's what I try to do with the records, just to give people kind of more of a sense of attachment or connection to the music they're buying and enjoying, to give them something to hold onto."
Part of the impetus for creating these individualised records has a lot to do with a culture of musical disposability these days. "The aesthetic of things is really changing again." Hall states, "Technology kinda influences the people using it, and kind of their choice of what they like and how they consume. A lot of times we think that art, or what people do influences the technology, but I think it works both ways. Just a lot of the digital download culture and things have changed, and left people wanting a little something more than just a file." Hall pauses for a second. "Because so many of us, I'm sure yourself, you've lost thousands or hundreds of MP3s, and they come out feeling disposable. Once you go through this, I think we had to go through a period where we learned that digital media is really disposable."
Jokingly, I posit the idea to Hall that maybe someday we'll have the technology to dig through ruined hard drives to mine them for MP3s, the same way that vinyl diggers frequent garage sales and thrift shops. Energised, by the idea, Hall admits he's thought about it already.  "Yeah man, especially because there's so much going on – I'm so into the technology thing myself, and not just in music… I'm not sure if you're familiar with Arduino PCB boards…" After admitting my ignorance, Hall explains with a palpable sense of excitement in his tone. "Arduinos are what're called micro controllers, and basically they make a lot of other electronic things that we need feasible for us to make. It's kind of like this whole new open source attitude that's starting to surface. By open source, I mean things being free, the general public not having to pay, and it's just really challenging things on their value… how much something is worth is changing, especially with this technology. We're starting to learn that a lot of things that are wrong with pieces of electronics that we own, we don't really need to get rid of them and buy a new one, we can just repair it easily with a dollar part of something."
"If I'm working with Stevie (Funkineven), I jump on the keyboards and start playing some stuff, and he makes sense of what I play – so it allows me a lot more freedom in my mind."
When I mention that technology like this could combat the North American overconsumption epidemic, Hall states his thoughts vocally. "That's what everyone wants us to do, CONSUME. The powers that be that kind of institutionalise and control the flow of money, they want you to continue to consume, but now with music and technology, you can do things yourself TRULY, like, there's no reason in the next 30 years, to be consuming nearly as much as we do – I mean, in the next year, I think it's going to cut down once people start understanding and start consuming from each other, and then we can figure out that we can just really trade, and we don't really need to use… money,  as much – that's what it's really about, it's just value. What is this worth to you? What is this labour or task worth? Why should I be compensated? Thinking about jobs and things like that, it's all relative to music, and what it's about as far as the business aspect. I think a lot of us get caught up in so much of what's going on and looking out for yourself that you fail to realize the true value of things."
I suggest that one of the most positive affirmations of value must be the growing masses of dance fans who love Wild Oats, and Hall seems to agree. "Exactly, and then you reciprocate back with creating more things that people can be more attuned with, and feel good about" he states. "Actually I just started doing the digital thing more, just because of the exposure – I want to dispel the idea if anyone thinks I'm "anti-digital" or something, like I'm just a vinyl guy, but it's just a medium, a way of getting the music to further places."
While digital expansion may be an essential component of sowing the label's Wild Oats, Hall's musical education was rooted in the physical realm, taking place at Rick Wilhite's Detroit record store Vibes New & Rare Music. It's the place where Hall gathered his encyclopaedic knowledge of all things dance, and where he ended up "hearing a lot of stories and seeing a lot of records that I probably wouldn't know otherwise." But Hall says that his real-life education might have been different if he'd grown up now, during what might be the apex of the internet age.
"The internet's great because it's an archive, a lot of information that's always being steadily updated, but when I was first starting, it was kinda, not much, y'know, because you had to just know about tracks instead. And I kinda liked that, to a certain extent. It just made things feel a little bit more special, y'know, just kind of made DJing and things like that, and finding great records more of an art-form. Nowadays it's just kind of a bit of a mouse click away, or just perusing the internet on your own. You start to learn a lot, which is great, because I used the internet a lot as a tool myself, and I still do, but it kind of just… takes away from the excitement." Hall is contemplative as he continues. "That's why I kind of don't even like telling people certain records and things like that – just to kind of keep a bit of excitement. I know other cats are like 'yeah, you're supposed to tell people and share, it's a crime to not tell who made it'  and I'm like, 'maaaaan…' It's a double edged sword I guess."
Hall isn't the only one who's been discussing the internet's obsession with cataloguing music lately. Kieran Hebden's self-referential "The Track I've Been Playing That People Keep Asking About And That Joy Used In His RA Mix And Daphni Played On Boiler Room" – or  "TTIBPTPKAAATJUIHRMADPOBR" for truncation fans – and the DJ Koze and Caribou collaboration "Track ID Anyone?" both jab fun at the internet's obsession with identifying music, perhaps in lieu of enjoying it.  Asking Hall what he thinks of something like the Boiler Room's approach to constant track-ID requests, he argues both sides of the issue.
"Those mediums are really neat for engaging people who otherwise wouldn't have access. Especially Boiler Room, I like what they do, I've done stuff with them, I plan to continue to do stuff with them, but a lot of time people get on there, and are just sitting at their computer… you're not even really there. What you should be doing is learning about music in a more organic sense. You can use (the internet) for entertainment, but don't let that be your life, don't let that be your pure education. If you really want to get into it, I suggest y'know, spending some time and reading about these records, and learning on your own so you can have a greater appreciation for it instead of just saying this and that on message boards, it's not really helping anybody…"
Hall pauses and backtracks a bit. "I mean, it's always helpful if someone says something that's educational for someone else, but just to be ranting and putting somebody down, this and that – 'like, ah, that's not fair that he doesn't say what record he's playing' – or lying about a track, or calling it something it's not – (here, Hall affects a nerdy voice) 'ehhhh, I think it's this, or a Kerri Chandler track.'  Naw motherfucker, it's not! They think they know, but they're just misleading other people." Hall says all this with goodhearted ease but there's a faint note of exasperation in his voice as he continues.  "…Or tagging things wrong! I mean, for instance – I have a song I did a long time ago, it's like up on YouTube, it says Kyle Hall "Friendly Skies" – I never made a song named anything like that!"
Does Hall feel like the burden of responsibility is on him as an artist to jump in and correct lazy web-fact finders?  He seems conflicted. "I dunno man, because it's kind of a waste of energy. Like, 'oh well, just let the ignorant be ignorant' sometimes – and the people that know, let them figure out. I'm kind of a product of the internet myself, but I find it kinda taxing now, because things are moving much more tremendously faster than they ever have, and it kind of throws me off my square a bit. So I just try to keep my small, simple operation as forward as possible – just try to keep it realistic to my intentions, just try to keep it working well."
Lately, an increasingly large part of Hall's work has revolved around collaboration, where his sound takes on ever-twisting and emerging patterns and detours through the genre spectrum. Last year's FunkinEvil collaboration with Funkineven was a simmering stomp through improvisational dialogue; on "After Dusk", Hall swirls and swerves through sweeping piano rhythms that naturally blend into Funkineven's chunky percussive touches, while "Night" flexes some seriously scary concussion-inducing synthesiser rawness. More recently, Hall brought Canadian neighbour Kero for the Zug Island EP, filled with pulsating acidic synths and sludgy house vibrations.
Both releases were standouts of 2012, and Hall's skill for crafting vigorous and nuanced dance music shines through in each. So what is it about collaboration that keeps Hall energized? "It kinda brings out the best in what you do, and you start to realise, what some of your contributions musically and creatively to electronic music are… because a lot of the time, when you're working alone, as most electronic producers do, you're working in your own mind. When you're doing collaborations, you kind of have the other person as a mirror to reflect what you're doing, because they're responding to how you're playing something or how you listen to things. So it's a shared experience of learning and growing— that's why I've been doing collaborations. Sometimes, when you go on the road a lot, or you go on tour, you kind of forget why you like certain things, or where your ear comes from. So sometimes it's good to be with someone else who isn't you to kind of bring out those special qualities to remind you what YOU do."
I mention that the dialogues with Funkineven and Kero both yield very different results too, showcasing a different side of Hall's craft. Hall concedes. "I know definitely, between all the different collaborations, and the stuff I'm currently doing, you always see the different characteristics of people. If I'm working with Stevie (Funkineven), I jump on the keyboards and start playing some stuff, and he makes sense of what I play – so it allows me a lot more freedom in my mind, to just be an instrument sometimes. You just start to see different personalities emerging. Like, Kero, y'know, he's more of a passive kinda cat, so I'll do something, and then he'll come up with something on his gear to kinda compliment it – so when we're doing stuff together, it's more of a much more live band like experience, whereas it's really studio working with Stevie."
Hall and Kero's Zug Island EP was named after the toxic metal plant looming on the Detroit Rouge River. As an outdated industrial monolith with supernatural elements often associated with it (feral rats the size of birthday cakes and unexplainable humming oscillations that plague nearby residents, if you believe the rumours). So what are Hall's thoughts about the obsolete pillar looming over his city? "I just kind of feel puzzled, to be honest. I don't really feel like there's a necessary purpose for it at this point in time, so I'm kind of thinking to myself… like, "why does this still exist? It's kind of a steel mill, but like a lot of industry there it looks like it's has been cut down, so it's mostly serving as a pollutant to the surrounding areas. It's more of an icon at this stage; I definitely haven't run into anyone who's ever worked there, on the Detroit side. And the other thing is, they don't want you to see it, they don't want you around, they don't want you to know what it is."
The press release for Zug Island mentions that the recording was inspired by a "risky trip to Zug Island". Without raising too many possibly indicting details, I was curious how Hall and Kero got access to a place that is broadly thought to be off-limits to the public. It turns out that the only obstacle standing in the way of Zug Island was a desolate dog park.
"It was kind of a trip to go over there; we had to approach it from the Canadian side, because we couldn't really pass through on the American side. From Canada, It's connected straight from a park over there… it doesn't really make any sense. You can walk through, all the way over there, if you go through a dog park, it's so messed up – like, why would anyone want to take their dogs there?! It's just wild. You can feel the warmth from the radiation and stuff, like, it was weird. But it's just kind of like, it just brings to mind so many questions – like, 'Why is that really there?', 'Like, what is that doing?"
For many, having a Zug Island outside your window would be one of the many factors prompting a flight from Detroit. Plagued by many more tribulations than the toxic metal factory, Detroit is at more of a critical juncture now than ever – eighty years ago it was the fastest growing city in America, and today it is the fastest shrinking. With an estimated amount of over 100,000 abandoned houses and a population drop of a million citizens over a forty year period, statistically it's claimed that a family moves out of Detroit every twenty minutes. In a recent City Hall press conference, Detroit mayor Dave Bing stared into a camera and, looking incredibly weary, said "the city is broke, I don't know how many times I have to say that."
Looking at the sleeve of the forthcoming KMFH (another facet of Hall's personality) album The Boat Party finds Hall sat on a dirt encrusted, abandoned boat that's been washed ashore, and feels like a way of subtly addressing Detroit's crises. Hall believes this LP juxtaposes the destitute state of Detroit and its recent proneness to discarded luxury in financial crises, and admits that it's partially the financial crisis that allows him the space and time to make music. "There are people selling their gear, whether it's because they need extra cash, or they are moving. So that's cool for me because I can get things I want for pretty reasonable prices."
It's important for Hall that the new KMFH offering isn't interpreted as a Kyle Hall project, however. "I don't like to say it's Kyle Hall stuff" he states. "I feel like there's a divide in personality sometimes, every artist has that – like, it's a certain attitude more so than a persona, it's when you're feeling a certain way, and these songs come together, that's when you decide who made it. Like, "is this Kyle Hall?" "Is this KMFH?" I spend a lot of time myself, battling with that, because sometimes I don't like what the outcome was, when I was trying to be Kyle Hall – but that's how I was feeling, so I couldn't  really change it."
Yet, despite all Detroit's turmoil, Hall can't imagine packing up and starting over somewhere else. "I've definitely kinda entertained the thought, like, just how would that living situation be compared to where I live currently. Placing myself in the hypothetical situation 'what if I did live there? How would I operate, how would this change my creative flow?'  But it just hasn't really ever added up to move anywhere else." Hall attributes his decision to a basic personal choice about character.
"I think this is a weird era we're living in where everyone's kind of communicating with people in totally different remote places, so they feel more comfortable living in other places and they feel like they can do better in other places… but for me, it's just kind of distracting to live somewhere else that I'm not familiar with, because I feel so connected to where I am. I think a lot of what I do and how I do things is really based on the fact that I came up here. Certain decisions that I make are based on my day-to-day life, and understanding of how things work in the world and it's based on Detroit. Detroit's not too similar to other places, and so it's kinda hard for me to be like "oh man, I'm just gonna move here". I guess if you had something really tragic happen to you, that might precipitate wanting to leave… but otherwise, there are too many things that I really hold onto that govern the way I do things, so I don't really want to change that."
With Hall's early start in music production and extensive life experience, I'm curious to find out his first musical memory. It's the only question in our interview that makes Hall pause for more than a second before responding. "I don't even know man, that's a really tough question. Just uh, I guess with my parents. My mom's a singer, so I'm sure, somewhere there, her singing all the time. I'm going to take a hunch and say, maybe my mother's voice, if I was hearing her sing in the womb."
Music can affect you before you're even out in the world, I add. "Yeah, it could be just in my genetic memory more than my cognitive memory as we know it now." Hall responds. "Because I can't remember my first musical memory, but I'm willing to bet it's probably something that has to do with that." More proof that whatever otherworldly talent is at Kyle Hall's disposal, the final product is something undeniably, deeply and intrinsically human.
Interview by Brendan Arnott
Header Image adapted from a photo by Jeremy Dupatat
Bench Player image courtesy of Jeremy Dupatat
Boat Party image courtesy of Midori McSwain