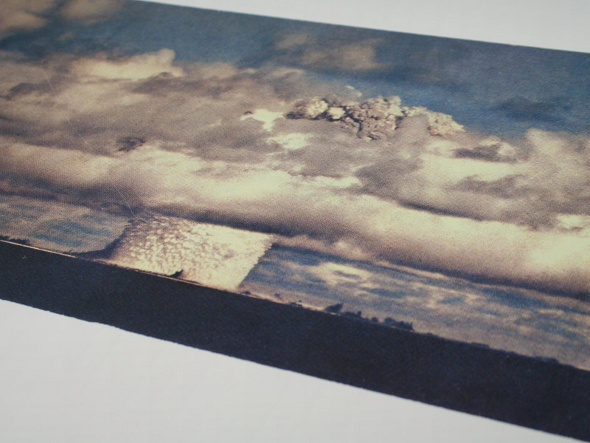 This week was one of those weeks where the amount of records we wanted to buy far outweighed the amount of money in our wallets.
Anthony Naples' long awaited Trilogy Tapes release finally landed, sporting the kind of beautiful artwork we've come to expect from Will Bankhead's label. The music fits in similarly well with the label's aesthetic; rather than the bubbly house and jacking techno of his Mister Saturday Night releases, El Portal consists of four deep jams with roughly sanded edges; "Busy Signal" easily provides the standout with its madly tweaked filters and knockabout snares.
Similarly coveted was the NNA Tapes release from Surgeon, released under his real name Anthony Child. The Space Between People & Things sees him delve into his personal archives of "tone-based experimental works" collected over some sixteen years of private recordings, and as is the case with NNA Tapes, arrives sporting some striking artwork. This week also saw the mammoth 5×12″ Nonplus box set land; it was Joy Orbison's "Big Room Tech House Dj Tool – TIP!" that offered the set's most asked after track, and coming exclusive to the vinyl version of the compilation, its not surprising that version didn't hang around for long. However, the compilation as a whole, also available in CD and digital versions, has more than enough moments to excite fans of the label's weighty techno and bass fusions, with Martyn's "Bad Chicago" and Four Tet's "For These Times" providing other notable highlights.
The most exciting records this week however came form the fledgling New York operation White Material. Although it may seem to an outsider that Ron Morelli's L.I.E.S. imprint has swallowed up all of New York's underground talent for themselves, the first two releases would suggest otherwise; Young Male's record of "working man's techno" combines the darker side of Detroit techno with the simplicity of Levon Vincent's NYC inspired house rhythms, but DJ Richard's "Leech 2" on his equally as excellent debut 12″ was the real killer. Combining a Baltimore club style vocal sample with a steely NYC house backbone and rumbling analogue bass, it somehow rolls everything great about underground US club music into one package while putting a unique spin on things.
Similarly throbbing was the latest release from Anthony Parasole's label The Corner, who put aside the deep house for their third 12″ from L.I.E.S. affiliates Shawn O' Sullivan and Beau Wanzer. Two tracks on Security are attributed solely to O'Sullivan; the title track which throbs and hisses like vintage Adam X, and "Crisis", a moodier syncopated cut. However, it's "Courier", the collaboration under the name Civil Duty which bangs the hardest, pairing noisy percussion with corrugated iron textures.
However, rivalling those records for sheer visceral impact was the first release on Tessela's new Poly Kicks imprint. Kicking off with two of his own productions, both "Hackney Parrott" and "Helter Skelter", both of which show a clear development of his signature sub-heavy sound that references classic breakbeat and jungle with some subtle pop nuance as well. The producer also popped up on Alex Coulton's new single for the new 92 Points label, remixing the swung UKF-indebted techno of "Too Much Talk" into a gritty piece of swaggering breakbeat techno.
Returning with a similarly engrossing hybrid sound was Peverelist, who provided the fifth Livity Sound white label. "Aztec Chant" packs primitive tones and jungle referencing rhythms into a house tempo, but its "Livity" on the flip that is the producer at his most unhinged, as a twisted synth line, post-garage rhythms and rave piano combine into what sounds like a natural companion to his Hessle classic "Dance Til The Police Come". Rounding out a heavy crop of mongrel techno was the third record from Bristol's Rhythmic Theory; Legacy Of The Lost which arrived on the consistently great Idle Hands might have been analogue loop techno, but it nevertheless showed an obvious debt to jungle and D&B in its chest-rattling bass and shackling rhythms.
Those looking for some more conventional techno however were also well served; top of the pile was a deluxe 3 LP reissue of Elements 1989-1990, a collection of Carl Craig's material released in 1996 and produced between 1989-1990 under the BFC and Psyche monikers. It provides a welcome opportunity for a new generation of Detroit techno enthusiasts to bask in some of Craig's finest productions, such as the wonderful collage of breakbeats and life-affirming synthwork that was "Chicken Noodle Soup" or the cyber-B-Boy 808 programming of "From Beyond".
On a similar tip was the latest transmission from James T Cotton, who arrived on Manchester's Hoya:Hoya, with the Park Days EP demonstrating the scope of his abilities; "Argo" and "Cereal" both resonate with an icy Detroit feel while "South Brooks" and "Gallup" show the producer to have a deeper, more house-inclined side. The Black Dog also showed that they are content to forgo sleep, as they released their second record in a week on Ostgut Ton's Unterton imprint, but perhaps our favourite piece of techno this week was from Shifted's new Covered In Sand alias, with "Heaven's Gate Suicides" and its accompanying Vatican Shadow remix providing some of the most blistering post-punk informed techno we've heard this year.
Despite the veritable skipload of pounding techno this week, there was still some excellent house and disco music released. Rush Hour's most recent project saw them reissue Jesse Saunders' seminal 1984 release On & On, widely regarded as the first house record committed to vinyl, with this reissue replicating the original artwork down to a tee. Another welcome reissue was Justus Kohncke's 2004 classic Timecode, which found itself alongside remixes from Tyree Copper and Axel Boman. As for contemporary house, the Detroit based FIT Sound tapped up Swedish Omar S collaborator Patrik Sjeren for a full eponymously titled EP of new material; the four tracks sound as diverse as a FXHE release and are held together cohesively by Sjeren's veteran production touch. The contemporary disco flag meanwhile was flown by the heavyweight combo of Lindstrom and Todd Terje, who finally delivered a vinyl version of the breathlessly ascending "Lanzarote".