Full details of Sandwell District's Fabric mix emerge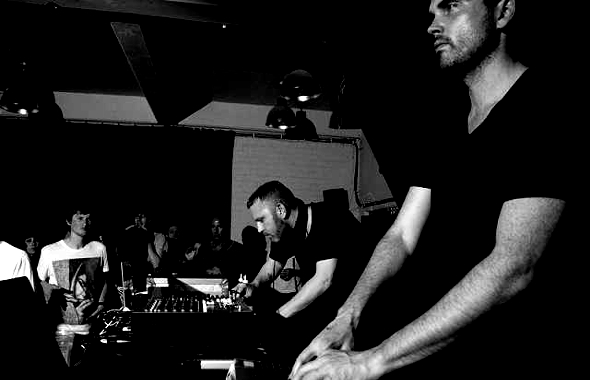 Fabric have announced the full details of techno collective Sandwell District's entry into the London club's long-running mix series.
Sandwell District has nebulously been comprised of a number of rotating characters since its inception in in 2002; Karl O' Connor (Regis), Dave Sumner (Function), Juan Mendez (Silent Servant) and Peter Sutton (Female) have all had a hand in curating or contributing to its label some point or another, or collaborating live or in the studio under the name, but as this interview from 2008 demonstrates, no one individual could claim ownership of it. Following the release of the collective's Feed Forward in 2010, the label released a slew of essential 12″s from Rrose, Yves De May, Function and Silent Servant before calling time on operations as a label at the end of 2011. Since then, Sandwell District has nevertheless continued to exist as a performance-based entity, with Female and Silent Servant leaving it to be fronted by O'Connor and Sumner.
Given Sandwell District's significant influence on contemporary techno, their entry into the Fabric canon is long overdue, and Fabric 69 represents the first material committed to disc from the outfit since the label closed in 2011. Rather than simply recording a simple DJ set, the 30-track set was collated remotely by O'Connor and Function, with O'Connor outlining sections he thought might work with Sumner's, and sending 10 minute drafts to work into the rest of the mix; Sumner executed the final mixdown after he had painstakingly fine-tuned the detail of the mix.
Productions from the pair feature heavily, with several tracks from Function's recent Incubation brushing up alongside several of Regis' recent remixes for Blackest Ever Black and VCMG, while Sandwell alumni Silent Servant and Rrose also feature in the form of "A Path Eternal" and "Wedge" respectively. There are also a few surprises in the form of Untold's "Motion The Dance" and Factory Floor's "16-2-16-9-20-1-14-9-7", which are joined by experimental fare from Boyd Rice and Samuel Kerridge.
Sandwell fanatics will also be pleased to hear that the mix will be launched at Fabric on April 20 by the duo, while Rrose will accompany them with a rare live set.
Fabric will release Fabric 69 by Sandwell District on April 22.
Tracklisting:
01. Silent Servant – A Path Eternal [Hospital Productions]
02. Function – Voiceprint (Loop/Edit) [Ostgut Ton]
03. VCMG – Spock (Regis Remix) (Loop/Edit) [Mute]
04. Boyd Rice / Frank Tovey – Extraction 7 [Mute]
05. Raime – Exist In The Repeat Of Practice [Blackest Ever Black]
06. Ike Yard – Loss (Regis Version) [Blackest Ever Black / Desire]
07. Vatican Shadow – Church Of All Images (Regis Version) [Blackest Ever Black]
08. Fiedel – Andreas (Bonus Beats) [Fiedelone]
09. Cub – CU2 (UST Funk Mix) [Cub]
10. Mary Velo – Detune [Frozen Border]
11. JPLS – Basis [Minus]
12. Rrose – Wedge [Eaux]
13. Ø – Syväys [Sähkö]
14. Rrose – Wedge [Eaux]
15. Function – Modifier [Ostgut Ton]
16. Carl Craig – Darkness [Planet E]
17. Markus Suckut – Hunt [Figure SPC]
18. Samuel Kerridge – Waiting For Love Part 1 [Downwards]
19. Untold – Motion The Dance [Hemlock]
20. Surgeon – As You Breathe Here Now [Semantica]
21. Mark Ernestus – Mark Ernestus Meets BBC [Honest Jon's]
22. Plastikman – Plasticine [Plus 8]
23. Trevino – Uptight [Klockworks]
24. VCMG – Spock (Regis Remix) [Mute]
25. Planetary Assault Systems – Flat Tire [Mote-Evolver]
26. Factory Floor – 16-2-16-9-20-1-14-9-7 [Blast First Petite]
27. James Ruskin – Into A Circle [Jealous God Music]
28. SS/S – Sicario de Dios: Siglo 2 [Jealous God Music]
29. Laurent Garnier – At Night [F Communications]
30. Function – Voiceprint (Reprise) [Ostgut Ton]