Playing with sound words: An interview with Dadub
As well as their highly regarded work as Dadub, Giovanni Conti and Daniele Antezza can be considered Stroboscopic Artefacts' secret weapon, responsible for mastering each release from the label. James Manning spoke to the duo about the processes behind You Are Eternity, their long awaited debut album.
"Instrumental music, oddly enough, left me rather cold" writes Aldous Huxley in his 1954 book The Doors of Perception, a personal account detailing his experiences with the drug mescaline. He is listening to Mozart's C-minor piano concerto, which is interrupted after the first movement by a secular vocal composition, or madrigal, by Italian composer (and murderer) Carlo Gesualdo. Stirring Huxley from his mescaline stupor, he says appreciatively "these voices – they're a kind of bridge back to the human world."
It's the loss of escapism and rebound to reality Huxley is referring to, something music, without the aid of a hallucinogenic stimulus, can deliver. It is also one of the most alluring characteristics of electronic music which manifests itself most explicitly in techno; repetition, texture, the space between beats and intricate sound design all play a role in transporting the mind from a physical state of consciousness to a secondary cognitive frame of thought.
Techno needn't always be a cerebral experience, but for Daniele Antezza and Giovanni Conti, production duo and collective mind of the Dadub project, it comes part and parcel. You Are Eternity, their long awaited album on Stroboscopic Artefacts, sees the pair journey deep into the complex layering of low end sound design they are known for; but what sets the album apart from their previous work – aside from Monad contribution "Illya" – is their equivocal use of speech.
"We feel quite uncomfortable with the idea that musicians live totally isolated from their material and from reality," Antezza explains, thankful to have the opportunity to reach people on a verbal and musical level. "By using vocal samples in our tracks, we are able to encourage our music to be heard in a specific moment at a certain time," explains Conti. It's something Stroboscopic Artefacts top authority Lucy has been a staunch advocate of, regularly embedding washed out spoken word essays or hazy discourse into his productions and remixes.
Last year, fellow Berlin based Italian producer Dino Sabatini released his debut album Shaman's Path on Munich based imprint Prologue, a label sharing similar sound aesthetics to Stroboscopic Artefacts. The album alloyed Sabatini's brand of deep techno with African rhythms and his interpretation of shamanism: "a bridge between reality and imagination". While crossing over to the afterlife in a techno club may seem a little far fetched, tribal dance and altered states of consciousness is not only believable, but experienced at Dadub's live shows.
It felt more like a ritual and journey – a shamanic experience – rather than techno in a club, one fan told Dadub after a performance. Antezza agrees, saying Dadub's music shares parallels with ancient Italian shamanic traditions. "If somebody was sick and the doctors were unable to understand why, these shamans would use a violin, playing a certain kind of note to understand if the resonance of the body was something magic." Conti then adds to the conversation: "this shamanic, mystical side of music, I feel is really inside of me and it's something I really wanted to convey. To see people managing to get it by themselves, using the words they did to define what they just felt, really shows we are on the right path, we are managing to bring something more to the dancefloor."
To counterbalance the cosmological channelling of Dadub's music, the duo finds inspiration "borne out of everyday life". But for much of the Eurozone in 2013, the norm lends itself to social insecurity, unemployment and general disdain toward politicians and establishment. Oscar Mulero's Black Propaganda album, also released last year, was a mouthpiece for his financially troubled home country of Spain, a country on the brink of economic disaster. Track titles like "Disinformation", "To Convince for the Untruth", "Intentionally False" and "False Statements" were underlying thematics of distrust and suspicion he and many other Spaniards feel toward the powers that be.
Dadub's motif for You Are Eternity was a similar one, but inverted. Buried in a haze of fuzzy overdrive, the second track on the album, "Truth", begs the question via a vocal sample; are global financial markets self regulating? It's a deeply reflective piece, backed by spacious and booming beats, arranged in a syncopated and polyrhythmic structure. It also simultaneously combines Sabatini's shamanic presence with Mulero's disaccord for Europe's commercial communications. Dadub's album however, is not all politics and questioning. The track "Life" features a conversation recorded in 1956 between an American psychoanalyst and a "stable and well balanced" housewife who has been administered a dose of LSD. After taking the drug she is asked to explain what she feels, to which she responds: "I can't tell you about it, if you can't see it you'll never know…I feel sorry for you,". Immersed into Dadub's ghoulish soundscape, her voice is as childish and frightening as Haley Joel Osment's "I see dead people" quote from The Sixth Sense.
The album also brings with it several collaborations; Tony Scott aka Edit Select features in "Circle", with the Glaswegian helping provide some linear flow to an album buckled by un-rhythms, whilst Dylan Richards' King Cannibal project is another. An admirer of Cannibal's work on Ninja Tune, Conti saw Richards put out the call for a Berlin studio space via social media, with the Italian suggesting he look at something in the same building as Dadub's lab. Richards' move to Berlin and studio viewing was a timely one, as Dadub's album was in mid production phase. The result of their serendipitous encounter was "Transfer", the heaviest hitting track of You Are Eternity, combining violent bouts of industrial King Cannibal drums with Dadub's undulating low end swing.
"This shamanic, mystical side of music, I feel is really inside of me and it's something I really wanted to convey."
The collaboration marks the last ever production Dylan Richards will write as King Cannibal, as he now embarks on a new project called House Of Black Lanterns. "I really like the power that comes through his drum programming," explains Conti. "He manages to create atmospheres that are dark – and for some people they might be evil – but to me they sound quite pure." Another artist to feature on the album is Fabio Perletta, whom Antezza says he shares "more than a friendship". He appears as Øe and runs Farmacia901, an Italian experimental label housing an ensemble of left of field electronic composers and musicians.
Dadub's album will be Stroboscopic Artefacts third, after lauded full lengths from Lucy and Xhin in 2011, and demonstrates the controlled scheduling and the business acumen of Mortellaro. The previous calendar year was dedicated to the four part existential Stellate series which was artists from the Stroboscopic Artefacts roster artists venture further into experimental pastures – similar to the label's Monad requirement – only on a larger scale.
Despite the high calibre of contributers (Van Hoesen, Slater, Silent Servant) Dadub's two submissions to the Stellate project were a series highlight and although both were beatless pieces, Dadub's dogmatic beginning, middle and end formula remained. Dadub's narrative take on music looks beyond artwork and suggestive titling, with the duo drawing parallels to classical forms of literary structure within their own musical arrangements. "Like books or written material – we introduce characters or a certain musical space that helps the audience visualise (our music)," Conti says, further explaining "It's like watching a movie, the opening shot shows you where the movie will take place, and then you introduce the characters and then through the interaction of the characters within the space you have a story".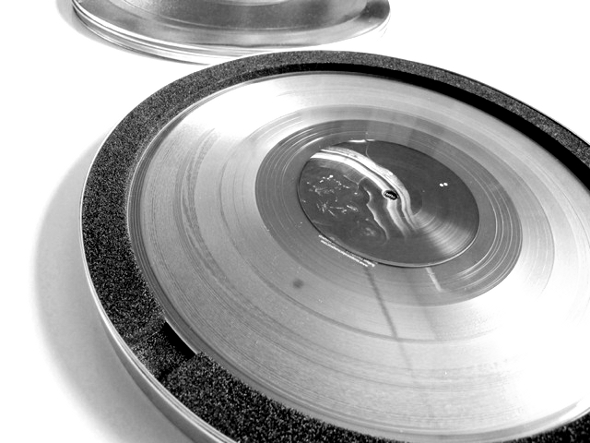 "These characters can be a story of conflict, it can be a story of love or death, but we like to think our songs can work by themselves, without the need for references," Conti adds. They are right. Possible visual imagery attached to "Endless", from Stellate 2, is a destructive tsunami apocalyptically rolling forward from the horizon, building in size and amplitude up until its final moment of collapse, whereas "Refraction" for example steers clear of rumbling sub bass or roar, placing specific emphasis on subtlety and middle to high frequency spectrums – bringing to light Dadub's mastering prowess.
"We give rhythmic parts power, but bring atmospheres, melodic elements and details to a level that is perceptible, it's something ordinary mastering studios don't do," Dadub say. "We invented some processing chains that are not considered orthodox or standard in the classical sense, but we feel when you work with electronic music, you do not work with an acoustic reference; we're not mastering something that came out of a musician, playing a musical instrument, so we don't have an objective reference." Conti continues.
Last year the shadowy Frozen Border imprint via their Horizontal Ground sub label introduced Samuel Kerridge, a name who has since been noted for his take on the darker and experimental side of techno. Dadub's mastering can be credited for giving the Berlin based Brit's Auris Interna EP its final touch, something the duo say was a pleasure. "We felt there was someone else trying to go in a similar direction to us, using a lot of subs and bass and managing to blend this power in the bass range with detailed and curated atmospheres."
Other hardened techno given the Dadub finish includes music from NX1, Repitch Recordings and Semantica, as well as fledging Italian producers Chevel and Andrea Zanchetta's Wall Street inspired Conrad Van Orton alias. Dadub's mastering however, is not only restricted to techno, as the two have also worked with tech house, progressive and trance genres. But perhaps the most interesting of their left of field appointments is Thai actor and beatsmith Montonn Jira, a star in his own country and someone who has previously toured with Justin Timberlake, Nelly Furtado, Dave Gahan of Depeche Mode, and Fischerspooner.
With the lynchpins of the Stroboscopic Artefacts stable all with full lengths to their name, it poses the question, who is next? Dadub aren't sure, but for them at least, it's a return to the EP format, something the duo say they have always found difficult to work with, as found Lucy when returning from his Wordplay For Working Bees LP via Monad X. Antezza and Conti suggest they could appear on up to four or five EPs for imprints other than Stroboscopic Artefacts this year, stressing association by record label or pigeonholed sonics is something they aim to avoid.
Conti iterates their music is less about a final destination, but an emphasis on what they call "sound-words". "I think when you make a single and release it on a techno label, you feel the pressure to make a track for DJs, for us this was quite a compromise," Conti explains. "We learned to translate our sound-words into a format that can be played on a dancefloor, but that is not our main interest or reason for being musicians," he says. Recent reviews have described Dadub's music as cinematic, which isn't such a surprise knowing Conti previously produced music and sound for documentaries and 3D movies, but their post-You Are Eternity approach to making music they say, will be a reductionist one.
"If you listen to the album or our previous productions, our songs are full of many atmospheres, drum beats, overlays, polyrhythms…and when we show our project to people – we mostly use Ableton Live – they say we are fucking crazy, you should reduce them," Conti says, and still laughing in the background, he continues. "Our approach is more about structure; it's similar to a pop track where you have the intro and then the riff and then you have chords and the ritournelle."
So where Huxley's mescaline induced mind-trips sought deliverance from reality, Dadub, embracing a world easily learned through verbal communication and discourse, use vocals and sound-words interlaced with rhythmic and harmonic alignment to pave a way for both escapism and actuality to be enjoyed and experienced simultaneously, be it for the moment or eternity.
Interview by James Manning
Dadub shots used courtesy of Riccardo Malberti