Mohammad debut on PAN with Som Sakrifis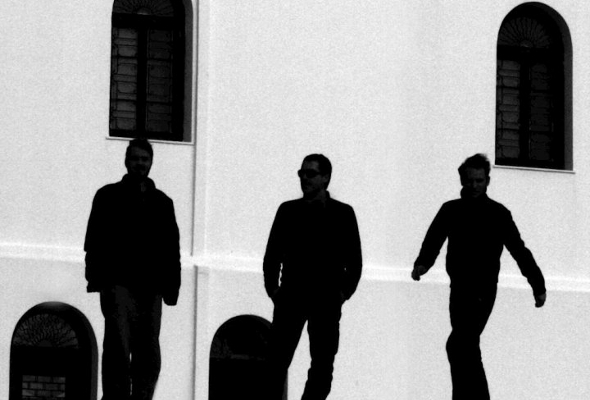 Greek chamber music is next on the menu for PAN with the label debut of three piece act Mohammad.
Formed of a trio including Coto K on contrabass, cellist Nikos Veliotis and ILIOS on oscillators, Mohammad specialise in long form drone pieces that sound perfect for a Tuesday evening at Cafe OTO. To date, the Greek trio have released two albums on the Antifrost label, debuting with Roto Vildblomma in 2010 and returning a year later with the triple LP box set Spiriti.
Due for release in March, Som Sakrifis finds Mohammad in typically immersive form, presenting three arrangements described as "monumental slow moving physical blocks of sound, both daunting and musical". The final track "Liberig Min" is indeed quite daunting, hogging the B-side and clocking up an impressive seventeen minutes. Newcomers to PAN drawn in by the recent dancefloor-leaning material from Heatsick, NHK'Koyxeи, Lee Gamble and SND & NHK might be slightly flummoxed by the addition of Mohammad, but Bill Kouligas' label has always had a healthily experimental outlook, with recent releases from Helm, Eli Keszler and the ensemble of Mika Vainio, Kevin Drumm, Axel Dorner and Lucio Capece all covering similar sonic territory.
Rashad Becker at D&M has once again been employed for mastering and cutting duties for the vinyl edition of Som Sakrifis, which comes pressed on 140g vinyl and housed in the expectedly high standard of packaging and sleeve art from label boss Kouligas and Kathryn Politis.
PAN will release Som Sakrifis by Mohammad on March 7 – you can stream "Lapli Tero" below.
Tracklisting:
A1. Sakrifis
A2. Lapli Tero
B1. Liberig Min