Rainbow Arabia return with Sushi FM
West Coast band Rainbow Arabia return with a new band member and a new album due out in April.
Founded by partners Danny and Tiffany Preston, Rainbow Arabia surfaced in 2008 with an infectiously international slant on dance pop that made them Californian cousins to Gang Gang Dance. Scoring the memorable Omar K 7″ for Merok, Rainbow Arabia later appeared on Manimal Vinyl and Pure Groove Records (RIP) before Kompakt somewhat surprisingly scooped them up for their debut LP Boys And Diamonds in 2011.
Absent since then, the Prestons have added drummer Dylan Ryan (Icy Demons / Cursive) and signed to the (Kompakt distributed) Time No Place label for their new album FM Sushi, with today's announcement accompanied by a wonderfully imaginative press release referencing Orchestral Manouveres in the Dark, Tangerine Dream, Vince Clark, and Jan Hammer that would make RVNG Intl jealous. Lead track "Rivers Edge" is available to stream below to give you an idea of how the ten track album sounds.
Time No Place will release FM Sushi by Rainbow Arabia on April 15.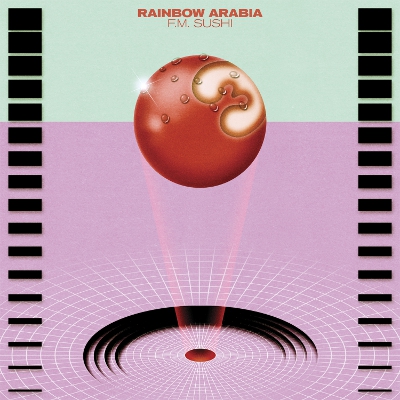 Tracklisting:
1. River's Edge
2. He Is Sorcerer
3. Math Quiz
4. Lacking Risk
5. Thai Iced Tea
6. Three Moons
7. FM Sushi
8. Precreation
9. Moments I Had
10. Silence Me