Slave To The Vibe: A conversation with Maxmillion Dunbar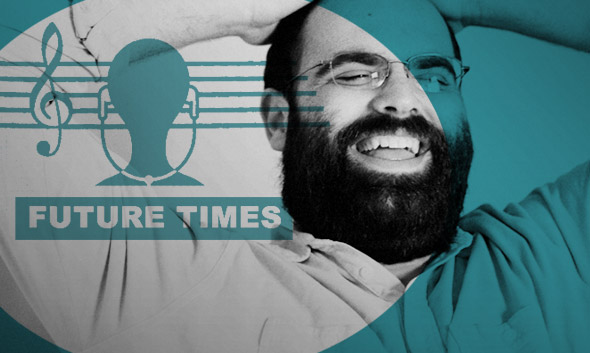 With his joint role as as chief operator at Future Times, one half of Beautiful Swimmers and sole pilot under the Maxmillion Dunbar banner, Andrew Field-Pickering has been integral in releasing some of our favourite music of the past few years. Matt Anniss caught up with Field Pickering in advance of his second Maxmillion Dunbar album dropping to discuss eclectism, his love of shoegaze and percussion, and much more.
Andrew Field-Pickering is unhappy. His Future Times label, a now long-established outlet for his own music and left-of-centre dancefloor curiosities from his extended family of friends and musical contacts, is being thwarted by technical glitches and pressing plant cock-ups. "I really can't stress enough how many problems we've had recently," he says. "We want to get this shit done right. At the moment we're haunted with our pressings, and we need to wait for that curse to be lifted. So many things come back with these terrible pops and crackles. It's frustrating."
Field-Pickering is not the sort of person you can imagine getting angry. From the moment Juno Plus finally gets hold of him on the phone, he's relaxed and laidback. So laidback, in fact, that you can imagine him lying on the floor of his basement apartment in Washington DC, wrapped in a blanket to keep warm. "It's pretty chilly here now," he says. "I end up chilling all day in the one room – the warm room."
Field-Pickering's most famous musical alter ego, Maxmillion Dunbar, is arguably a more vivid version of his own semi-horizontal persona. While capable of creating great dancefloor tracks – see his inspired but hard-to-find Everyday EP for the irregular series of L.I.E.S white label releases, or the spine tingling goodness of "Polo", re-released last year on Live At Robert Johnson – for the most part Max D material is curiously kaleidoscopic; musically diverse, rhythmically fluid and more suitable for intense home listening. In the space of one album (2009's decidedly wonky but thrillingly positive Cool Water) and a handful of 12" singles, Field-Pickering has honed a sound that in turns sounds like new age synth-wave, Balearic retro-futurism, E'd-up ambience and tropical deep house.
Certainly, he's become a hard man to pin down. "Eclectic is not a dirty word for me," he says, pausing for a moment. "People are always going to label you up as something. One review described one of my tracks as 'vaguely tropical with some house drums.' It's kinda funny. Everyone's stuff is eclectic now – we have eclectic populations in our cities. Now we have to find a way to move forward from that."
Journalists, in particular, have found it difficult to put Field-Pickering's particular brand of synth-laden electronic music into neat boxes. The same could be said of record store vendors. One was recently overheard complaining that the latest Maxmillion Dunbar single, Woo – a rush of off-kilter analogue rhythms, cascading synth chords and bold melodies – was difficult to sell because his customers were only interested in more straight-up dancefloor gear.
"It's funny, because there's that whole capitalism side of art that you don't think about as a musician," he muses. "I do understand if people don't know how to approach the Woo 12". That's fine. A lot of DJs and producers want to do more than one thing. My tracks are like the instinct I have for dance rhythms, mixed with all of the other things I like."
Field-Pickering certainly has eclectic tastes. A one-time punk who got heavily into hip-hop as a teenager, during the course of the interview he name-checks a disparate list of musicians, producers and styles, from Robert Hood and Kowton to disco, Demdike Stare and post-punk. A glimpse at the brilliantly retro Future Times website confirms this; its list of MP3 clips, downloads and sneaky re-edits includes the post-punk dub of 400 Blows, the psychedelic synth-rock of Daniel Barbe, and a dash of acid-fried jazz-funk from Ramsey Lewis.
Clearly, this open-minded approach to absorbing and digesting music has informed his productions, though you'd sometimes be hard pressed to tell. That's not because he rigidly sticks to one style, but rather that he has developed a distinctively fluid, multi-layered style of his own.
"I ferociously digest music, listening to it all the time, and always have," he enthuses. "Now that I've got to a certain place with the hardware and the software I use, all of those things are in my mind when I'm in the studio. They just come out. Like, if I make a track, it will sound like a Max track, but all of these influences, they come out in a pure way. I've digested music for so long that I can translate ideas into tracks much quicker."
The fruit of Field-Pickering's recent efforts can be heard on House of Woo, his second album and first for RVNG Intl. It's a curious but hugely enjoyable set, mixing hissing, off-kilter analogue rhythms with layers of synths, darting melodies and cascading electronics. It's predictably hard to describe, with tracks such as the aforementioned "Woo" and "Slave To The Vibe" joyously picturesque, whilst "Inca Tags", and the discordant "Kangaroo" are strangely melancholic". It's certainly a step forward from his debut album.
"With Cool Water, there was still this kind of learning curve thing going on," he says. "I'd been making music for years, but I still felt like I was learning new stuff. House of Woo is definitely where everything has come together. I actually feel like some of the songs have everything from the Cool Water album in one track. It's like I'm building upon the foundations, you know?"
"My tracks are like the instinct I have for dance rhythms, mixed with all of the other things I like."
The three most distinctive features of his music – the playfulness of his left-of-centre rhythms, the emotional resonance of his sounds and the densely layered nature of the synth melodies, are much in evidence on House of Woo. This latter element is of particular interest, as it has marked out his work for a number of years.
"I've always loved shoegaze music and noise music, things where you can just pack it in," he says. "It can get annoying when it's overdone, but just pack in layers of stuff!"
Oddly, despite confessing a love of shoegaze and noise music – styles renowned for the denseness of their musical layering – Field-Pickering claims that he doesn't consciously layer-up his tracks in a similar way. "It's really hard to be objective, because I made it, but when I think about other people's reaction to it I can see that there are a lot of layers," he concedes. "It's not intentionally smashed together and created that way, but there are layers you can peel back. I'll admit that on occasions I consciously do it, like with "Loving The Drift" on the album, which has almost a full orchestra of pads. The version on the Woo 12" ["The Drift"] is just a bare bones drum track. When I put it on the 12", it didn't make sense to people. Hopefully when they hear the album, it will all fall into place."
As for the rich emotions evoked by his music, he seemingly finds it hard to explain. "You know what, I just don't know," he says, sounding genuinely perplexed. "I generally don't think about it that much. I think the emotions going into the tracks are subtler than I would know about. Sometimes the emotions and moods others see in a track isn't what I was feeling when I made it. I think all music relates to how the musician or producer was feeling at the time. Even music that doesn't have a positive or negative emotion attached has something that inspires it. Take a drum track, for example. If you're making a drum dub that has no notes to convey melody, you can still convey emotion."
The notion of 'drum tracks' is a theme that Field-Pickering returns to a number of times during the course of our conversation, musing on the sense of release triggered by "big percussion" and the thrill of changing the mood of a room full of dancers by dropping a 'twisted acid house' dub after a disco
jam. While not all of his tracks are bolstered by raw analogue rhythms, there's a fluidity and attention to detail in his drums that recall his years as a drummer in various DC hardcore punk bands.
"I play all the keyboards on my tracks, but I'd never stand up on stage and play keyboards for anyone," he says. "But drums… I'm definitely with it. Drums is what I actually know how to play."
This love of percussion and rhythm also informs his music-making process. More often than not, he says, it's the drums that come first. "If I'm doing a drum pattern in a hardware machine, like a little Boss Rhythm machine or something, I'll play it in using the pads at the start of the process. For example, the first song on the LP, "Slave To The Vibe", I just laid out 10 or 11 drum loops that I might use, then recorded them into Ableton in different sequences, doing 'live' takes. A lot of the time, I'll record a long, 45-minute version of a song, with lots of drum jamming. I'll then cut it down and rearrange it afterwards. I'll just play with it and play with it until it feels right."
The spontaneous feel evident on many of House of Woo's greatest moments highlights the positive aspects of this way of working. The fact that many of the tracks were recorded in a short space of time – a matter of hours, in some cases – and the whole album was finished in two months suggests that Field-Pickering is perfectly at ease with his working methods. It's interesting, too, that an album that succeeds partly on the quality of its synthesizer sounds was made by a man who confesses to not being much of a synth-fetishist.
"I don't get too deep into the nerdy side of things," he admits. "With synths, I don't know a whole heap about how they work. I do have some, though. I used to have a Korg M1, where the dreamy sounds come from. For the most part, though, I just use anything I have around the make stuff. The tracks are usually a product of something on the computer, mixed with something I took from a sample of 'real life'. There aren't many samples from records any more, which is something I did on purpose. There's much less reliance on samples these days."
Listening to House of Woo, you can tell. In the old days, electronic musicians used to call this a 'progression', and talk at length about their usually dubious musical credentials. Field-Pickering, though, is more circumspect.
"It's interesting that not relying on samples is seen as a progression, and therefore I've progressed," he muses. "I wouldn't hesitate to do something with a ton of samples if it called to me right now. House of Woo was just a little thing. For two months, when I was making it, I was immersed in it. I just wanted to record an album on purpose, like a real LP. It's not like I've given up on sampling completely. Me and Ari have gone the other way with the Beautiful Swimmers stuff, sampling stuff up more."
Beautiful Swimmers, Field-Pickering's collaboration with friend Ari Goldman (pictured above), is a different proposition to his Maxmillion Dunbar material. Similarly eclectic but more obviously influenced by boogie, disco, proto-house, Italo and Balearica, Beautiful Swimmers tracks are often built around samples from obscure records. For the most part, they're more obviously dancefloor-centric, too, even when chugging along between 95 – 100 BPM. The first three Beautiful Swimmers singles on Field-Pickering's own Future Times imprint received a rapturous reception, but it's been a while since we've heard from them.
"We've just finished the Beautiful Swimmers album," Field-Pickering enthuses. "It's very collage-y and sample heavy. I really like that layered, collage, odd-sample sound, and listen to a lot of stuff. Bill from PAN is a buddy, and I'm really into Demdike Stare. All that stuff is super-dark. I think of some of the new Beautiful Swimmers tracks are like the volleyball version of that stuff. It's the 'dog catching a frisbee' version."
The Beautiful Swimmers album is scheduled for release "before the summer", presuming the "endless pressing delays" that have so infuriated Field-Pickering are sorted soon. Much of his frustration derives from the fact that Future Times, once spoken of in the same hushed tones as PAN and L.I.E.S, has lost ground due to an inability to get good pressings. Given that he counts L.I.E.S boss Ron Morelli and its family of artists and the PAN crew amongst his best friends, you can understand the frustration.
"I'm really pleased for Ron that L.I.E.S is getting such props, because I think that his shit is the best shit out there," he says. "Ron puts the pedal to the metal and does great shit in my opinion. It was more fun than anything seeing the world wake up to it. At the moment the Future Times pressing issues are blowing my mind, because I want to have a few things out at the same time as those guys' stuff. Sometimes a community rises to the top together. Everybody doing great shit at the same time feels good."
And with that, he's off to call the pressing plant again. Future Times waits for no man.
Interview by Matt Anniss
Max D press shots by Shawn Brackbill
House of Woo will be released by RVNG International on February 18