Win tickets to Oscillate Wildly's Corsica Studios take over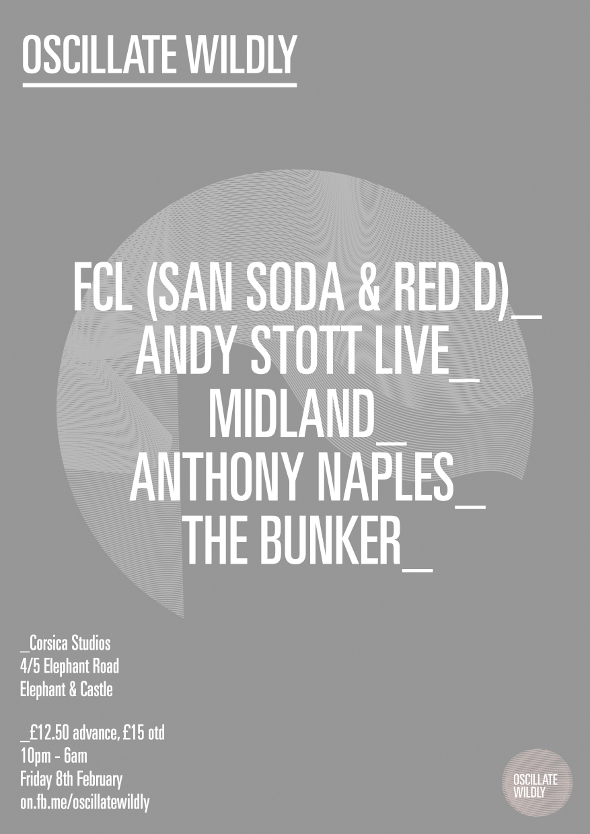 The Oscillate Wildly crew descend on South London next weekend – win free entry here!
The roving London party descends on Corsica Studios once again for next week's event with a lineup that continues their established crossbred approach to electronic music. The former FC Leiejongens duo of goalkeeper Red D and winger Sand Soda – hence the FCL name – take formation in room one alongside the Midland general Harry Aguis and the London debut of young Anthony Naples.
Replicating the NYC flavour of the main room, Bryan Kasenic and Derek Plaslaiko, the two residents of legendary clubnight The Bunker also make their London debut in the second room backed ably by a live performance from Modern Love's Andy Stott. New York heads should take note of Oscillate Wildly's forthcoming NYC debut in early March, taking over the front room at The Bunker alongside Juno Plus favourites Madteo and Jorge Velez.
To be in with a chance of winning, send the correct answer to the following question with "Oscillate Wildly" in the subject line to competitions@juno.co.uk: What was the name of Andy Stott's most recent album?
Entries will close on Wednesday, February 6 at 4pm, and a winner selected at random and notified shortly afterwards.
Details:
Friday February 8
10pm – 6am
Corsica Studios,
5 Elephant Road
London, SE17 1LB
Room one:
FCL
Anthony Naples
Andy Stott
Midland
Room two:
Bryan Kasenic
Derek Plaslaiko
For more details tickets check out Resident Advisor.