Planet Mu announce details of debut Heterotic release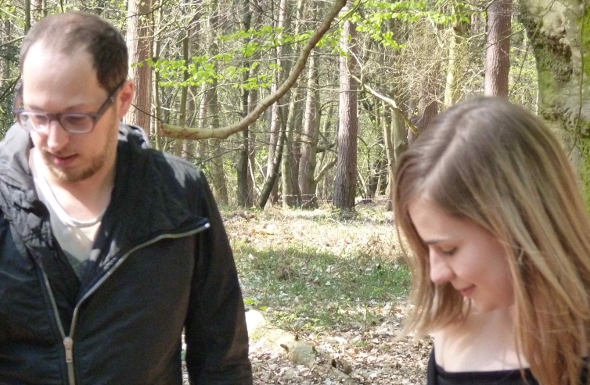 Planet Mu have announced details of their second release of 2013, the debut album from Heterotic, a collaboration between label boss Mike Paradinas and his wife, Lara Rix-Martin.
Paradinas is best known for his productions in the 90s as µ-Ziq, as well as his ongoing curation of the Planet Mu imprint, a label which has been releasing records since 1995 and has been most notable in recent years for popularising the sound of Chicago juke and releasing landmark albums from Kuedo and Machinedrum. Although the sound of his solo work is associated with the 90s IDM of contemporaries such as Autechre and Aphex Twin, Love & Devotion – a collaboration with his wife Lara Rix-Martin under the name Heterotic – represents something of a departure for Paradinas, purportedly displaying "a love of hazy, dreamy eighties influenced electronic pop shot through with the dynamics and space of modern electronic dance music".
The eight-track album also contains four tracks made in collaboration with Warp Records artist Nick Talbot, who is best known for his dark folk influenced fare as Gravenhurst. Although not the most obvious of bedfellows, Talbot's lyrics supposedly "describe a world that is profoundly haunted by its past", taking the nostalgic, euphoric, early 90s inspired rave instrumentals of Paradinas and Rix-Martin and using them to explore "the fragility of memory…the idea of the unreliable narrator, and how we so often fill in the blanks and idealise the past".
The album represents the second Paradinas related release for the label so far this year, with the previously announced µ-Ziq retrospective Somerset Avenue Tracks (1992-1995) charting the early days of his production career, which is also curated by his wife Rix-Martin.
Planet Mu will release Love & Devotion on 12″, CD and digital formats on March 25, 2013.
Tracklisting:
01. Bliss
02. Blue Lights (ft. Gravenhurst)
03. Wartime (ft. Gravenhurst)
04. Robo Corp
05. Devotion (ft. Gravenhurst)
06. Knell
07. Slumber (ft. Gravenhurst)
08. Fanfare