Renegade Of A New Age: An Interview with Legowelt
The Hague can do strange things to a man's soul. Just ask Danny Wolfers, who comes from the west coast of Holland. For the past 15 years, the Dutch producer has been releasing his individualistic take on electronic dance music, mainly as Legowelt, but also under an almost schizophrenic range of guises like Gladio, Venom 18, Raheem Hershel, Jackmaster Corky and Smackos. Wolfers is among the second wave of artists from Holland's West Coast/Hague environs. It's tempting to posit that the grey skyline and relentless churn of the North Sea have had an effect on Wolfers, but it is certainly true that musical developments in Holland's administrative capital played an even greater role, including the warped interpretation of US dance music articulated by I-F's Unit Moebius band and Bunker Records. As Wolfers explains: "I came a little bit later than those guys you mention, in the early 90s. I was also listening to the usual stuff from Chicago, Detroit and Aphex Twin and other artists from the UK. I don't know why other people started to make techno, but I was 14 and I just wanted to make music in a certain way – I started with just an Amiga. At the time most adolescent kids were playing in bands, so what I was doing was considered pretty weird."
It wasn't just Wolfers' approach that was unusual; what came from his early experiments was also pretty freaky. Releases like Reports from the Backseat Pimp, Klaus Kinski or Slave of Rome (as Gladio) merged the shuffling 808s of US electro with tear-jerking Italo melodies and Chicago-inspired primal jack, and laid the basis for future Wolfers releases. These early records also inspired a wave of inferior copycat electroclash records, a scene that Legowelt inadvertently got caught up in when he released Disco Rout on Sven Vath's Cocoon label in 2002. Disco Rout became one of that year's biggest releases thanks to Vath's patronage and opened up a whole new world to the then naïve Hague producer. "It was very nice that it happened at that time. I didn't know a lot about the dance music industry and in The Hague we felt unsure about it," he admits. "I only met him once, but Sven Vath seemed like a nice guy. After the record came out, I was booked for a lot of money to play these big shows in Germany. They would expect me to play the Sven Vath style of techno, but I would bring the Bunker crew with me and they would play Italo, electro and Chicago house. The only guy who could mix vinyl at the time was DJ TLR and of course the audience reaction was one of surprise. This type of music didn't go down well at all and pretty quickly we burned our bridges and disappeared back into obscurity," he recalls.
Not that obscurity seems to bother Wolfers. After all, if he were seeking attention, he probably would have kept the focus on one project instead of embarking on creative flights of fancy. Yet despite his tendency to release music under a wide range of names and guises, it sounds like fashions tend to follow Wolfers about. In the same way that the great electroclash swindle took inspiration from I-F, Bunker and Legowelt, the more recent wave of Chicago house comes in the wake of Wolfers productions for Crème Organization/Crème Jak and M<O<S Deep. How does he feel about this latest development? "I am responsible for it to a certain extent because I did some of these records," is his honest reply. "Sure, it is nice to get some recognition, but the problem is that a lot of these tracks are too close to the originals; everything sounds like a Mr Fingers track. I would be great if some of these producers could use a cheesy sampler instead of a Juno. I mean, a TR-707 sounds good, but it's all in the way that you use it." At the same time, Wolfers believes that there is 'a lot of cool stuff coming out' and does not have a wide-eyed view that the 90s was a golden age when every release was a classic – "there was a lot of crap coming out then too", he states matter-of-factly.
So what about the polemic on Legowelt's website against characterless contemporary techno that accompanied the release of last year's The Teac Life album? In one of the most strongly-worded and amusing rants this writer has seen, Wolfers railed against "boooooooooooring contemporary shit they call techno nowadays with overrated talent less pretentious douche bag cunt DJs playing a few half-assed dumb mongo beats and being all arty fartsy about it". Does he stand by his words? "Sure, there is a lot of music that just ambles along with no character and I don't really care for it. I'm not fighting it. With a computer everyone can make music. I don't mind computers because I use one to play live, but anyone can download loops and use them to make tracks – but I just don't care". By contrast, he cares deeply about his own music-making and right from the get-go – on the eerie synth pulses of opening track "Danger In The Air" – his latest album The Paranormal Soul, is full of warm basslines and gloriously evocative melodies. As Danny explains, there is no theme or discernible narrative behind The Paranormal Soul, and "it's more just a collection of tracks; Serge chose them with me".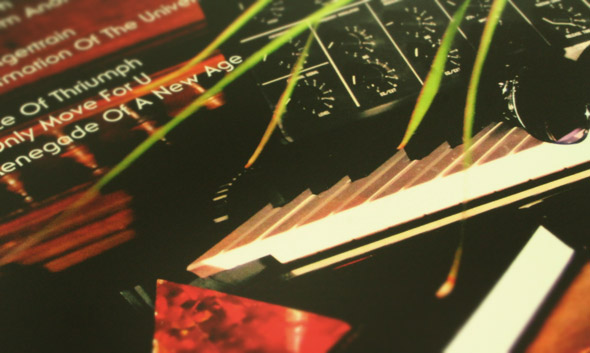 Despite this claim, The Paranormal Soul does marks a departure for Wolfers: "Clap Yo Hands" mines Chicago house but also looks to contemporary artists like Portable thanks to its rumbling vocal and eerie organ riffs, while there are references to 90s techno and hardcore via tracks like the Red-sounding chord stabs and tumbling breakbeats on "Rave Till Dawn", the mysterious, Network-esque "Elements of Houz Music" and the sweet, warbling melodies of "On the Tiger Train". Danny does not feel the temptation to make more stripped back music to reflect the headwinds of austerity that inhabit contemporary techno; in short, don't expect him to be making a bleak, broken beat industrial track with a picture of Myra Hindley on the cover anytime soon. "For me, it's difficult to make something very minimal. I would like to do something more sparse and laid back, but people like melodies, so why not make them?"
This response has a lot to do with Wolfers' disenchantment with modern techno, which according to his infamous TEAC Life rant, is devoid of character and soul. Does he still feel the same way? "I don't know techno these days," he replies. "From what I can hear it sounds the same but with boring chords. I listen to stuff like Actress, that's futuristic and advanced. Is it techno? I don't know. There are still bits coming from all corners, some from Detroit. I listen to Andy Stott, I am a big fan of Terrence Dixon, I guess that's techno too – he's got a very different sound – so I listen carefully to these artists and it's not like I am completely shut off."
Wolfers feels that the other key difference between The Paranormal Soul and his previous albums is that it sounds more "professional". By that he means that after the producing the tracks, he mixed them down with a friend so that the overall sound is more advanced. "A lot of the tracks have been produced so that people can play them in clubs," he says – a good example being the dense groove of "Sketches From Another Century"- before adding that "some of my records are hard to play out, only DJs who are very skilful and know how to work the EQs properly are able to play them," he feels.
"I don't know techno these days – from what I can hear it sounds the same as it always has but with boring chords"
The Paranormal Soul arrived a year after The Teac Life and is Legowelt's ninth album since the mid-90s. Coupled with his other projects (five albums as Smackos and two as Nacho Patrol), does he ever get concerned that he is releasing too much music? "For me it's not a problem, for the fans, I don't know if people get upset by it. In the 1980s it was normal to release under a load of names – the whole New Beat sound was just three guys who made 100 records each in a year," Danny says. Talk of New Beat brings us back to Italo, that other musical reference point in Wolfers' music. Though less pronounced on his latest album, it remains an influence on tracks like "Transformation Of The Universe". During the late 80s, Belgium had New Beat and on Holland's West Coast, Italo was popular. It laid the basis for the subsequent dance scene that emerged in The Hague, led by I-F and Guy Tavares from Bunker. Danny explains that "with Italo, a lot of people came together and the music has historical interest. Italo was the most commercial music of the 80s in Holland and around The Hague. It was very big here because there were a lot of pirate radio stations, but in the 90s, it completely disappeared from the airwaves."
Despite this, Italo left enough of an impression for emerging DJs like I-F and labels like Bunker to create their own version of electronic dance music. Despite this, Danny feels that other parts of Holland have produced more artists than The Hague. "A lot of the artists on Hague labels aren't from here apart from Syncom Data and Unit Moebius, and Amsterdam has more producers per smile than anywhere else," he laughs, adding that "Holland is pretty well off per capita, so in the 90s this was a factor because it allowed people access to equipment." There's also the public perception that producing and releasing music is a valid career choice. It's something that Wolfers views as his job and he treats it as such, working all week in the studio and gigging each weekend.

There is some crossover into his personal life and his relationship with American artist Xosar – whom he met a few years ago through a friend in San Francisco – has led him into some new creative paths. "We share a lot of the same interests," he remarks, before explaining that the Trackman Lafonte & Bonquiqui releases on Crème and L.I.E.S. are "good time party music" and that following the release of their excellent Xamiga record on Rush Hour, their next shared project will be a "Latin freestyle record and it'll be out on Signals. The way we work is random – sometimes we'll do music under a totally different name. Maybe it's a Legowelt record or maybe it's something totally different, like a Nacho Patrol release, it just depends on what kind of music we make".
But back to his current album – what was the thinking behind it? "Do I have to make something up or can I just say it's an album title," he asks. I ask that he should explain the meaning. "OK, well the music itself sounds mysterious, it's something strange, and it's ghostly music. It has something about it, a mystery that hasn't been solved yet, it has paranormal qualities," Danny continues, moving from the album to a more general theme.  "In the future, people will discover this about music, what we don't know yet. This is hard to describe in words, but music is a series of tones and it affects the mind in ways we don't know yet. There are frequencies that we don't know about that hypnotise people and inspire them. Music does a lot of things, it's very weird," he adds.
Wolfers has done a lot of thinking about the future and, having explained the concept behind his new album, is keen to talk more about his general theories. "In the future, music will be perceived and used in a different way to how it is now," he believes. "Once the secrets are discovered, once the magical frequencies are discovered, it will change the way that people make music and how the music industry operates. Then new players will be made, we'll have implants in our brain and even speakers systems that can play those frequencies. I'm not sure, but there are probably other people in the know who can tell you more. I see all of this as a good thing; maybe some people will try to exploit it and try to rob a bank."
At this stage the conversation is veering into related topics. Danny says he also subscribes to the theory that certain sub-bass notes don't work on sound systems before switching topic to talk about John Carpenter. He feels that his film soundtrack work has influenced Legowelt and "has always been a big influence on the Hague sound. "Generally, he [Carpenter] is a big hero in all kinds of scenes; in Carpenter's day, he was working with synths and he didn't know exactly what they did or how they worked, but that's what made the music so exciting," he claims. "Returning to the subject of 'paranormal', there is a whole theory about film soundtracks, that they evoke emotions, scare people."
Having explained the theory behind The Paranormal Soul, he is also keen to talk about the rationale for releasing The Teac Life first as a free download and then later in physical format. This approach, Wolfers believes means that he has already made a step towards the future – and it was based on simple logic. "I wanted to release it for free because people would download it anyway, so it was cool to just give it away," he says. "I don't really care much for vinyl anyway," Danny adds, claiming that although "it's part of the culture, some clubs don't even have decks anymore. Ten years ago, I was pro vinyl, but when you get older you release that it's just a historical format. A lot of people growing up now don't even have a record player and in the deep time of the universe, probably in the next 20-50 years, vinyl will die off," he predicts. Irrespective of whether Danny's prediction proves to be right, let's hope that Legowelt's strange but wonderful soul exists in perpetuity.
Richard Brophy
Legowelt & Xosar image by Rene Passet