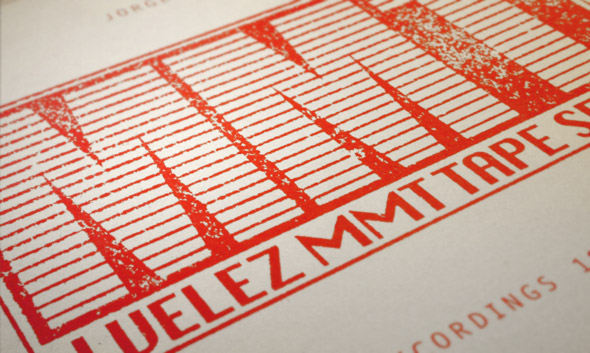 You know that scene in Being John Malkovich where the famous actor joins in on the addictive fun and enters his own psyche before findong himself in a restaurant full of Malkovichs whose every word is "Malkovich"? That's kind of what it's like when a new Burial record drops.
"Burial!," "Burial?" and "Burial….." seemed to be the prevailing excitable tones this week as the reclusive Hyperdub artist slipped out the two track Truant 12″, which you will no doubt have exhausted the widely publicised soundclips of by now. Those snippets only really tell roughly 8 per cent of the story Burial is trying to weave across the two longform compositions that have a kind of cassette tape collage recorded from a pair of decrepit turntables quality to them. #BurialXmasNo1?
Elsewhere, the records kept rumbling in despite the proximity of Festivus; top of the pile was the final killer plate of 2012 from the FXHE laboratories in Detroit, with O B Ignitt allowed a whole 12″ to indulge his mutual love of classic cinema and classic house music on the brilliant Star Wars themed Oh Jabba. Instantly warming on your senses, the title track a wonderfully simple and melodic entrant into the FXHE canon of greatness. Another buy on sight label in Workshop jettisoned a 16th 12″ that had Marcellis dropping three tracks of moody, weather beaten house music perfectly suited to the label, though the shadowy German producer does find space to incorporate his own sense of pronounced funk.
Rush Hour flexed their status as one of the best in the game with two Christmas present shaped double LPs, enlisting Gerd 'The Word' Janson to compile some contemporary cosmiche compositions from the likes of Ame, Move D, Roman Flugel and more on Music For Autobahns, while those uber limited MMT Tapes 12″s from Jorge 'Professor Genius" Velez that surfaced earlier this year were collated together with four extra tracks on the quite superb MMT Tape Series: Home Recordings 1996-1999. The return of Acido with boss Dynamo Dreesen on the buttons and Sotofett on assistance coupled with a cheeky little Sex Tags UFO number, the Bird Scarer debut of film noir magician Black Merlin and a wonderful return from Aniara duo Genius Of Time were other highlights under the wide house umbrella.
That beautiful beast techno gave birth to some excellent nuggets of hypnotic potency this week too, with the long awaited dosage of Hieroglyphic Being on Morphine finally arriving and frazzling our brains even deeper than the slightly worn out Soundcloud streams that had been keeping us sated. Coming in heavy for the fabled Black Market label, Magic Juan Atkins did not pull a punch on the high octane Electric Jungle 12″ and John Heckle was in spell binding form on The Last Magic Maker, a superlative Crème Organisation debut that brandished our favourite Godspill artwork since last year's D'Marc Cantu LP. Furthermore, a new Mika Vaino Sahko 12″, the emergence of that man Trevino on Klockworks, more hand stamped Truncate, Kev McPhee on WNCL and Klock, Elliott and Vak remixes of Trus'me equates to "another fine week in techno".
At Juno Download this week, No Hats No Hoods scored a massive coup in securing a 22 track compilation of incendiary instrumentals from grime collective Ruff Sqwad. Back in the day many grime heads would have given their privates for some of these dubs, and here we find them in all their naked glory; cuts like the woozy Japanese shuffled funk "Functions On The Low", the west coast LA meets Croydon vibes of "Lethal Injection" and the savage cage rattling of "Tings In Boots" tell one of the most honest grime narratives you'll find right now.
Elsewhere, Killekill showcased its wildly diverse take on techno with the Megahits compilation, a selection featuring Neil Landstrumm, DJ Stingray, Lakker and Bill Youngman among others, the overall result being as colourful and occasionally disturbing as an LSD-drenched peek through a kaleidoscope. Another notable compilation came from the venerable Touch imprint, who celebrated 30 years of experimentation and success with four exclusive collaborations by their most celebrated artists.
Other digital treats came courtesy of Gilles Peterson, who compiled his ninth assortment of Brownswood Bubblers, and Blackbelt Andersen, who followed up his recent album for Full Pupp with an EP of typically breezy Scandolearic chords and melodies. After the inescapable impact of her Quarantine LP on Hyperdub earlier in 2012, Laurel Halo was back on Kode 9's label with a new track and its accompanying dub version, and Seawash slid into earshot on Delsin with a debut EP of refined and positively heart-warming creations seemingly built from dancefloor means but choreographed to play out like a ranging kind of live performance.
On the CD shelves it was all about American Noise, the debut compilation on L.I.E.S. which celebrated just how far Ron Morelli's project has come since that debut Malvoeaux 12″ back in May 2010, collating some of the New York label's back catalogue as well as serving up a full disc of unreleased material that hints tellingly at the next phase.