Scratching The Surface: The spectrum of bass in 2012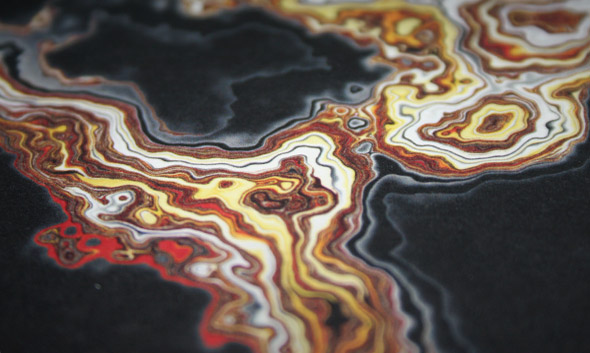 A few months ago I wrote that this year had been characterised by a lack of major narratives in underground dance music. Nowhere is this more evident than in the arena of what we call bass music, the genre formerly known as post-dubstep, whose early years seemed to be dominated by a clutch of producers releasing on Night Slugs, R&S, Hemlock, Hotflush and Hessle Audio who have increasingly been copied by a younger generation. Arguably bass music's biggest change in 2012 was that it became a major commercial force; as divisive as his album Personality was, nobody could deny that Scuba and his Hotflush imprint are major brands now; Disclosure came out of nowhere to offer a bright, accessible take on the genre that cracked the British top 40, and even Ministry Of Sound released a compilation called Future Bass. As a term, however, bass is one that many writers (this one included) still feel reluctant to use with any degree of certainty, and the likes of Scuba and Disclosure encapsulate why this is so; although the musical inspiration for these artists may have started with dubstep or garage, you'd really struggle to describe the music they make as anything other than a strain of house music, and to call it "bass" feels like a fallacy.
In 2010, Hyperdub boss Kode9 said that the music that was then referred to as post-dubstep represented a "holding pattern before something else comes", and looking at the events of 2012, it would seem that he was in a sense right, though what seems to have come to pass is less an evolution towards a new genre, and more a regression back towards existing ones. The oft-overused cliché "forward-thinking dance music" – a phrase predominantly used by writers in the past few years who have struggled to describe the melting pot of bass music experimentation – has become even more irrelevant this year as this process of devolution has taken place, as evident in the increasing techno focus of producers like Blawan and labels like Hemlock or Nonplus, the ghetto house explorations of Night Slugs and Hotflush's increasing predisposition towards big room productions. This is perhaps no bad thing; if we're to assume that the true bass music is part of the lineage of the hardcore continuum – for example dubstep, garage, grime, UK funky or jungle among other genres – then the best examples of the bass music were not what Pitchfork's Andrew Gaerig has referred to as "mealy, house-music gruel", but material that looked back to the roots of the 'nuum for inspiration, scrapping everything and starting from scratch. It's with this in mind that this final Scratching The Surface of the year presents a collection of tracks and producers from the bass arena who have re-engaged with old forms and offered a renewed sense of perspective in the past 12 months.
The first genre on the list is jungle, which seemed to pop up everywhere this year. Lee Gamble's celebrated Diversions 1994-96 on PAN crafted an ambient trip out of an old jungle mixtape, Source Direct made an appearance at the Blackest Ever Black showcase in London, while even techno deity Regis supposedly dug out his old 12"s for a jungle set in Berlin. In the bass world, Pangaea's excellent Release provided the most celebrated example, building on his Hex release for Hemlock last year with eight tracks that encapsulated the visceral feel of being in the centre of a mass of bodies flailing around in a dark, sweaty basement. However, two other producers were notable for their engagement with the genre this year, creating musically equally as visceral as Pangaea. Perhaps the most explicit was Paul Woolford, whose Special Request project was inaugurated with a pair of white labels inspired by pirate radio. Although anchored by 4/4, "Lolita (Warehouse mix)" tethers its inbuilt rewinds to breaks juggled around a bowel-loosening hardcore bass. But the most startling track was "Alone", which literally sounds like it's been made from six different tracks bolted together, with amen breaks constantly interrupted by moments of acid house and diva vocals, flailing around in 2/3 time; these were tracks that felt like they'd been pieced together from teenage memories of pirate radio. Coming on with the same kind of nervous energy in his productions, Tessela was one of the year's most exciting breakthrough producers. Like Pangaea, his productions are gristly, thrashing concoctions, and his single for Punch Drunk delivered two delirious bangers. However, it's his remix of Djrum's "Turiya" on 2nd Drop that seems to have flown under the radar this year. While the original was a diva sampling piece of lush 2-step house that arguably beat Scuba to what he's doing now, Tessela's remix sounds like it was ripped from a pirate radio broadcast in 1995, its rolling breaks jostling in the way the static rhythms of its tech-house peers obviously have no interest in engaging with.
The influence of grime has always loomed large over the various recent mutations of bass music, but over the past few years its importance has been sidelined by the increased crossover between house and techno. However, 2012 seemed to be the year when grime staged a fightback in a big way; Slackk's eskibeat inspired Raw Missions EP for Local Action almost sounded like it could have been released 10 years ago, while Bristol's Kowton made 2012 his year with a style that roughed up the 8-bar template in the same way Hieroglyphic Being does with house music, caking it in grit and distortion. Both of these artists have already received much attention on these pages, but there were plenty of other producers experimenting with the genre with equally startling results.
"The best examples of the bass music looked back to the roots of the hardcore continuum for inspiration, scrapping everything and starting from scratch"
Kahn is already a fairly established name; a member of Bristol's Young Echo collective, two singles for Punch Drunk last year marked him out as a producer of notable talent. This year he teamed up with Neek to deliver "Percy", the debut release for Bristol's Bandulu. Something of a homage to Youngstar's proto-grime classic "Pulse X", it combines scuzzed up, speaker-blowing bass stabs, the kind of beats that sound like a rusty nailgun to the temples and a sample of Roll Deep member Flowdan, whose menacing leer gives the arrangement the kinetic energy of a pound of C4. Kahn isn't the kind of producer to cultivate a unique style like his Young Echo associate Vessel; rather, his talent lies in his ability to create staggeringly accurate facsimiles, which prove that sometimes just knowing your source material can yield results as effective as wild experimentation. A similarly great throwback track was released by Atlanta-based producer Helix on Night Slugs earlier this year in the form of "Drum Track". Although Night Slugs started the Club Constructions series this year "as a channel for raw and tracky material aimed straight for the dancefloor", the aesthetic of the label as a whole took on as many of the qualities of the ghetto house classics that series so obviously takes its inspiration from, something that's particularly evident on Helix's NS White Label release. The rough jackhammer drums are proper Dance Mania stuff, but its lysergic chord stabs and 8-bar structure (and appearance of Flirta D on the B-Side's vocal version) are all out grime revivalism.
Perhaps the most striking grime-influenced producer to break through in 2012 however is Logos. Although he's been producing for some years now (he was even reworked by Kowton back in 2008), this year has seen him break through with the brilliant Kowloon EP on Keysound, but my favourite track of his, the bewildering "Devils", opened the recent Tales From The Darkside compilation on Unknown To The Unknown. A combination of ice cold Eski synths and a relentless sample barrage of camera flashes and gunshots, it puts me in mind of much of Jam City's hyperreal album for Night Slugs, except for its climax, where the paranoid, sketchy atmosphere is layered with an ethereal kind of digital soul, lending even more light to his almost entirely beatless constructions. Although it could be argued that Zomby's been making similarly impressionistic grime for a while, there's something vivid about Logos' curiously suspended musical structures that makes for an equally immersive listening experience.
UK funky is another genre that seems to have been marginalised by the increasing dominance of house and techno influenced bass, but this year saw it claw back some ground thanks to several producers. Although Champion, in recent years one of the genre's most vital producers, made the move to grime with the ridiculously enjoyable "Crystal Meth", DVA's Pretty Ugly and Cooly G's Playin' Me for Hyperdub offered some of the genre's meatiest albums and most interesting creative statements. But there were a couple of fresh producers working in this area who caught many people's ears in 2012 who weren't part of the established old guard. The first is Kodiak, a duo who made their debut on Numbers earlier this year with "Spreo Superbus", which they followed up with a remix of Capracara on Unknown To The Unknown. The slightly less unhinged Capracara remix seems more suitable for inclusion here; the bouncy claps and snares are pure UK funky, and their use of synths have that feel of the poppier end of the genre, but soaked in reverb and delay, giving everything a malleable, rubbery quality that makes you feel you've just inhaled a generous helping of nitrous oxide. In many ways Kodiak are analogous to 2012 success story Disclosure; they both understand how to make music that sounds fun, but where Disclosure's crowd pleasing tunes are occasionally guilty of being the sound of two people playing it safe, Kodiak aren't afraid to push the formula further than anyone realistically should, and their music is all the more thrilling for it.
"Over the past few years grime's importance has been sidelined by the increased crossover between house and techno"
At the other end of the UK funky spectrum, offering a starker take on the genre was Sheffield-based producer Beneath. One thing the year wasn't short of was self-styled "mysterious" producers who utilised their cloaks of anonymity to varying degrees of success. Evian Christ for instance found himself catapulted to the ranks of the Tri Angle elite thanks to the discovery of his YouTube channel, while Unknown's rather contrived attempt to do the same was something of a damp squib. Although it wouldn't be entirely accurate to place Beneath in the same category as these producers – he was initially fairly open about his name and location – it bears mentioning given the increasingly desperate ways young producers attempt to market themselves in their early stages. Beneath's rise was more organic, thanks to a pair of self-released white labels that led to a success that was driven more by word of mouth than empty hype. However, Beneath still feels like an anonymous figure, something down in no small part to the character of his music – it's UK funky drained of colour and given a transfusion of early dubstep's dark blood, inviting the listener to make their own interpretation. Though his first two self-released 12"s were rightfully praised, it's his Illusions EP for Martin Clark's Keysound imprint that deserves the mention here; building on the early material, at times Illusions feels like a Skull Disco record. Not just because his music's subtle Eastern tones are reminiscent of those in Shackleton's productions, but because it pulses with the same sense of possibility that imprint's music did back in 2008. Like that music, Illusions is a record refreshingly unconnected to any sense of ego – something that many of his contemporaries working in similar circles fail to see the importance of.
Scott Wilson