Best Of 2012: Top 10 record labels
Record labels are the bricks and mortar of the independent music industry, the foundations upon which artists and scenes flourish and grow. During 2012 there seemed to be a glut of new labels popping up across the board, and though some made strong statements with their initial releases, our list largely acknowledges the imprints who continue to lead the way for others to follow. The people behind our top labels are individuals we – and many others – willingly place our trust in; their curatorial abilities are integral to ensuring they stand tall amidst a sea of samey musical dross.
In many cases, passion for the music these labels have released is the over-riding factor, any notion of profiting from the releases secondary to the rush of seeing it out there, pressed on wax and housed in a nicely presented sleeve. For regular readers of Juno Plus, these ten names should make perfect sense; a selection of labels whose output has made it easy for us to show our support for over the course of the last 12 months.
10. Rush Hour
It's tempting to take for granted just how much music Rush Hour put out, as well as the high standards that the label maintains. After all they've been doing it for years, subtly changing the focus of their output without losing sight of quality control. Whereas in previous years it was the deftly curated 12" output that has impressed most – the Direct Current series for example – or their long run of artist based reissues from Daniel Wang to Kenny Larkin via Recloose and Virgo Four, this year has seen Rush Hour release so much music it's hard to keep a lid on it all. Looking back at their output in 2012, we had to remind ourselves of 12" releases from Hunee, Kirk DeGiorgio, Alfabet and BNJMN such is their relentless schedule on that front. The label's stateside reissue focus swung from Chicago to New York with expansive retrospectives of The Burrell Brothers, Dream 2 Science and Elbee Bad, during which time they also squeezed an album out of San Proper.
The somewhat mysterious No Label series continued to act as a primer for just that, music without a label, adding highly limited contributions from Aardvarck and Heatsick to last year's double dose of Hype Williams with further releases from Stellar Om Source and Willie 'Black Deer' Burns planned. As the year rolled towards its close what really became apparent was the level of forward planning that goes on at Rush Hour. Amidst the continual stream of 12"s, the label casually announced plans to release an extensive compilation of "ambient not-ambient, kraut pleasers and codeine house" curated by Gerd Janson featuring contributions from Âme, Move D, Quiet Village, Marco Passarani, Roman Flügel and more. Given the people involved it would be foolish to think this kind of project happens overnight, and yet Rush Hour can also concurrently put out a compilation of archival material from Jorge 'Professor Genius' Velez, seemingly swiftly agreed off the back of a series of limited 12"s the producer self released over the summer. This only rams home the passion for music that drives the Rush Hour operation and their importance to contemporary electronic music.
Essential listening:
1. Dream 2 Science – Dream 2 Science
2. J Velez – MMT Tape Series – Home Recordings 1996 – 1999
3. Aardvarck – Nubian
9. Avian
One of 2012's most interesting narratives was the revival of techno as a genre in the UK, especially an increase in harder, more industrial sounds caked in distortion, harking back to the Birmingham techno of the 90s. Although artists like Blawan and AnD, releases from Milo Smee's Power Vacuum label and the continued efforts of Perc Trax all played their part, arguably the most interesting label working with these sounds this year was Shifted and Ventress' Avian imprint. Shifted himself was one of the year's breakthrough techno producers, bringing a fresh approach from his years of experience working as a top flight producer in another genre to create Crossed Paths, an album that takes inspiration from that harder strain of UK techno, but also the minimalistic sound design of the Sandwell District family.
It's this sense of balance that both he and kindred spirit Ventress have cultivated that's key to Avian's success. AD/S's "Transversal" layers just enough drama within its gritty kicks and nagging synth lines, Shadows' "There Is Only Light" weaves a hypnotic, atonal synth line worthy of Silent Servant through its broken, lead-heavy drums, while the unpronouncable SHXCXCHCXSH's productions soak a laser-guided precision in a kind of musty binary fog. The imprint also started a 10" sub-label, Mira, to focus on more minimal sounds, though in reality the debut from Bleaching Agent was as abrasive as anything on its bigger brother – just more restrained. The standout releases however were a pair of 12"s from MPIA3 – an alias of established producer Truss. Consisting of little more than gnarled, atonal acid lines and distorted kicks, these tracks, which Blawan recently described as "slowed-down acid gabba" would likely have been laughed at a few years ago, and even by the standards of the current trend towards harder techno they stand out. To release such uncompromising music takes serious conviction, something the now defunct Sandwell District imprint had in spades – and given the very singular place it seems to occupy in the current techno landscape, it doesn't seem a stretch to suggest that Avian could be its natural successor.
Essential listening:
1. MPIA3 – AVN 005
2. Bleaching Agent – Part 1 & 2
3. SHXCXCHCXSH – AVN 007
8. FXHE
Given how much music FXHE has released in its near ten year history, the sheer diversity and constant creativity demonstrated in their output over the past 12 months makes them a worthy inclusion in this year's list. It's fair to say Omar S's label began 2012 in the same relentless manner of the previous calendar year, issuing a succession of killer 12"s that made us consider employing an intern to specifically keep tabs on the label, and probably made their designated pressing plant very happy. After a brief summer hiatus, the label has slipped back into the release groove and eased their way into our end of year affections thanks to a canny mixture of delightfully lo-fi art work and a wonderfully diverse array of house and techno. As ever, Omar S was at the centre of proceedings, featuring in some degree on everything FXHE released, which made the ingenuity and different sonic approaches demonstrated on each release all the more impressive.
A real highlight of the FXHE schedule has been witnessing the development between Omar S, vocalist L'Renee and Aaron Siegel of Fit Sounds. First working together on the sparse yet eminently soulful "Tonite", the trio would surprise many and delight even more with the S E X Remixes 12" which arrived in a veil of misinformation that did not detract from the overall enjoyment one iota. Timed perfectly, that release arrived just before the summer months and was not subsequently added to until FXHE unveiled Keep On, the second full length album from Luke Hess that saw release in October. A masterful display of how to take the dub techno template and stamp your own individuality on it, the album was a natural fit for FXHE and was followed by an end of year run of 12" excellence. Gunnar Wendel returned to the label, collaborating with Siegel on Enter The Fog, Omar S laid down a marker for his next LP with "Mayall II", a production brandishing the most unashamedly euphoric chord pattern since last year's "Here's Your Trance", and OB IGGNIT's Oh Jabba flaunted the finest example of MS Paint art this year.
Essential listening:
1. Omar S – S E X Remixes
2. Aaron FIT Siegel & Gunnar Wendel – Enter The Fog
3. Omar S – Triangulum Australe (Say It Space)
7. Night Slugs
Perhaps Night Slugs' biggest achievement this year was the manner in which they reached the same energy levels that fuelled their first 12 months in existence. Last year was a relatively quiet one for the label, and it's now clear that many hours were devoted to projects that bore fruit in 2012, with the London-based operation helmed by Alex 'Bok Bok' Sushon and James 'L-Vis 1990' Connolly juggling several thematically intriguing projects. The centrepiece of the imprint's output was Jam City's Classical Curves, a hyper-real opus that used themes of sleek hyper-consumerism as a reference point for an album that at times threatened to physically drag the listener head first into its own shimmering, disorientating 3D world.
This year also saw Night Slugs launch two new projects: the "strictly for peak time usage" Club Constructions offshoot that featured 12"s from L-Vis 1990, Lil Silva and KW Griff, and an in-house podcast series that kicked off in April with 76-minutes of raucous club tackle from Sushon, who was more visible than ever in 2012. There were four new cuts on the well established Night Slugs White Label series, with Helix's grime-meets-Berlin techno fusion Drum Track released alongside Bok Bok's MJT and two 12" singles from Jam City, the second of which was a particularly impressive addendum to Classical Curves. Night Slugs favourite Girl Unit also returned a double 12" of snappy electro funk, while Bok Bok's "Southside" was remixed by Spyro, Vjuan Allure and Mr Sushon himself. If 2012 was the year that Night Slugs shed the "neon" tag that was attached with their early output, they did it without compromising any of the principles that make them so interesting in the first place.
Essential listening:
1. Jam City – Classical Curves
2. L-Vis 1990 – Club Constructions Vol.1
3. Helix – Drum Track
6. Public Information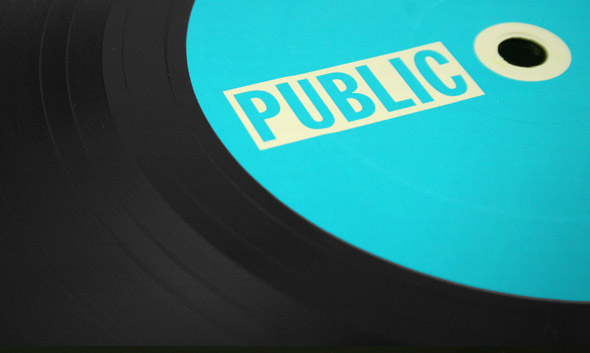 Although Public Information claim their remit involves "a survey of electronics" across the spectrum of electronic music from "1950-Tomorrow", this doesn't really do justice to what they're doing. Their aesthetic is uniquely British, positioning themselves as archivist curators providing that most British of concepts – a public service. This is most obvious in their archival compilations – which this year has included a retrospective of unheralded pioneer of electronic music F.C. Judd, and the other comprised of library music from Canada's Parry Music Library. But in the context of the label as a whole, these are really primers to understand the originals which they release, music that feels very much like an artifact from an alternate timeline. Ekoplekz's Dromilly Vale EP imagines the results if King Tubby were to have made music in the Radiophonic Workshop, Austin Cesear's Cruise Forever seems to present house and techno as if it were created in the USA's desolate mid-west 20 years earlier, while Love Cult's brand of decaying, tape-warped doom sounds as if it was dug up from the centre of Chernobyl's forbidden zone.
These records seem to exist outside of our world, and within that of the fictionally constructed world of Public Information. At this point, we wouldn't be surprised if we were told that even F.C. Judd and the Parry Music Library were fictional constructs – and therein lies the appeal of Public Information. Like that of Ghost Box, the music Public Information releases has a strange sense of the uncanny, but rather than attribute hauntological narratives to the music which you're expected to buy into to understand, their records revel in a lack of continuity. Public Information and their releases feel like they've come from the pages of a short story by Borges; each record seems as if it's slipped into our world unnoticed, with you at the centre of an elaborate puzzle of their design.
Essential listening:
1. Ekoplekz – Dromilly Vale
2. Austin Cesear – Cruise Forever
3. Various – Tomorrow's Achievements: Parry Music Library 1976-86
5. PAN
At the start of 2012, it's unlikely that PAN – the label run by Berlin-based artist Bill Kouligas – would have been on the radar of many outside of hardcore enthusiasts of a particular niche of experimental electronic music. This year's highlights included the blasted industrial electroacoustics of Helm's Impossible Symmetry and the plunderphonics of Jar Moff's Commercial Mouth, but the processed breakbeat techno of NHK'Koyxen's Dance Classics 1 & 2, the oddball Casiotone house of Heatsick's Deviation and Lee Gamble's recomposition of jungle motifs on Diversions 1994-1996 saw the label engage more explicitly with dancefloor concerns, allowing a way in for listeners on both sides of the divide to engage with music outside of their comfort zones, seeing them become something of a Berlin-based counterpart to New York's RVNG Intl.
PAN's musical output alone would be enough to secure a place in our top labels of the year, but the effort that goes into their physical product goes far and beyond any other imprint currently in operation. With seemingly every other release these days boasting screenprinted sleeves and 180g vinyl mastered by Rashad Becker at D&M, PAN's releases cut through the hyperbolic language of fetishisation with genuinely exquisite cover design and accompanying printed PVC sleeves designed by Kouligas and Kathryn Politas that ensure covetous glances from anyone who happens to cast their eyes on them.
Essential listening:
1. Lee Gamble – Diversions 1994-1996
2. NHK' Koyxen – Dance Classics Vol 1& 2
3. Helm – Impossible Symmetry
4. Death Waltz
This time last year, Death Waltz Records was nothing more than a twinkle in Spencer Hickman's eye, but in less than 12 months the erstwhile Rough Trade East manager has turned his soundtrack-focused imprint into one of the UK's most exciting independent labels. The main focus of Death Waltz is on reissuing cult cinema scores, and it set out its stall in consummate style with sumptuous vinyl editions of Fabio Frizzi's Zombie Flesh Eaters and Alan Howarth and John Carpenter's revered Escape From New York OST. From here the label proceeded to put out a slew of releases including Donnie Darko, Let The Right One In, The Living Dead At Manchester Morgue, and three more Carpenter/Howarth masterpieces, Prince Of Darkness and Halloween II and III.
Already Death Waltz has announced plans to expand operations into issuing scores for contemporary movies and documentaries, and has already signed the score to Stanley Kubrick documentary Room 237. Having worked in record shops for years, Hickman has clearly developed an appetite for lavishly presented vinyl, with every release treated to newly commissioned artwork for both cover sleeves and accompanying insert prints, with different designers employed for each project. The label's vinyl-only policy will be relaxed in January for a CD release, but, typically, no expense will be spared, with a limited handmade run of 1000 gatefold copies planned. What's more, it's clear that this is just the beginning of the Death Waltz journey, with Hickman clearly revelling in the opportunity to indulge his three passions in life – music, cinema and art. In age when too many seem happy to live within creative boundaries set decades ago, Death Waltz is a showcase for reissue culture at its best, paying homage to classic scores while carving its own unique identity at the same time.
Essential listening:
1. John Carpenter & Alan Howarth – Escape From New York
2. Fabio Frizzi – Zombie Flesh Eaters
3. Michael Andrews – Donnie Darko
3. Blackest Ever Black
Although Blackest Ever Black made their mark in 2011 with impressive releases from Raime, Tropic of Cancer, Young Hunting and Regis, it was obvious that is was still very much a label in the shadow of Downwards – an imprint that label boss Kiran Sande admitted he felt a kinship with in an interview with Resident Advisor last year. However, he also admitted that he had "not yet finished establishing the parameters of what Blackest music is", and 2012 was the year in which the threads started to come together to form something unique. A new focus on reissues saw lost soundtrack works from 90s industrial project Black Rain and a vinyl release for Flaming Tunes, the collaborative album between Mary Currie and This Heat's Gareth Williams, while the label further blurred the edges between techno, noise and post-punk with releases from Vatican Shadow, Cut Hands, and Regis and Monoton's recompositions of New York no wave act Ike Yard, all of which illuminated the connections between core contemporary artists Raime and Young Hunting (who later metamorphosised into Dalhous).
Nobody could deny that electronic music has taken a darker turn over the past few years. Perhaps it's connected to the prevailing sense of global political and financial uncertainty, or maybe it's just a reaction against the brighter sounds of the last decade, but Blackest Ever Black is arguably at the centre of it all. Their label night at London's Corsica Studios in October proved this; in a day and age where such parties are little more than shallow branding exercises, to hold an evening where Source Direct sit on the bill with noise artists William Bennett and Russell Haswell and for it to be a sell out success shows that the enthusiasm for such sounds – across all ages – is present. It made one thing clear – we may not have been able to imagine a label like Blackest Ever Black before its inception, but we'd certainly miss it if it wasn't there.
Essential listening:
1. Raime – Quarter Turns Over A Living Line
2. Black Rain – Now I'm Just A Number
3. Vatican Shadow – Iraqi Praetorian Guard
2. The Trilogy Tapes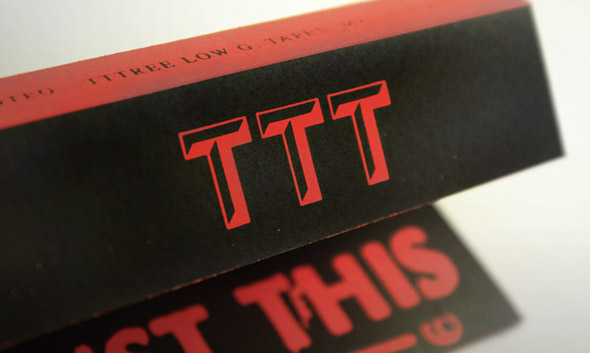 "The best way to get noticed is try not to get noticed" – one of many eminently quotable off cuts from the walking sound bite machine that is Madteo during his illuminating RA Exchange earlier this year. Uttered in reference to his release with Hinge Finger, this phrase can also be applied as an apt summation for sister operation The Trilogy Tapes. Overseen by Will Bankhead, The Trilogy Tapes retains a wilfully obscure perspective that's been apparent since its early days despite the increased prominence that comes when the likes of Ben UFO, Joy Orbison, Dean Blunt and Kassem Mosse contribute to your series of limited cassette mixes.
Maintaining a schedule of hard to categorize mixtapes – where semi albums of techno sludge from Madteo sit next to punk compilations and a TLR mix that crams the last 30 years of dance music onto one tape – the label has fully embraced the 12" vinyl format in 2012. Kassem Mosse & Mix Mup, Dro Carey and his alter ego Tuff Sherm, Willie Burns and MGUN have all been called upon to offer their own equally brilliant dissections of outsider house, and each 12" has managed to remain stylistically distinct and special for its own reasons – not least the impeccable art direction from Bankhead – while still brandishing the kind of music that feels perfectly at home on The Trilogy Tapes. It's this fine sense of curation and a clear disregard for playing the hype machine that appeals so much about the label, more so when you consider how much attention is heaped upon the affiliated Hinge Finger. Indeed, the way that sister operation casually dumbfounded expectations with a debut release from Madteo – then unknown beyond feverish Morphine and Workshop completists – before calmly unleashing a succession of clamorous YouTube rip sensations has been amusing to watch unfold and hasn't altered the bet-you-can't-guess-what's-next approach that makes The Trilogy Tapes so special.
Essential listening:
1. MM/KM – MM/KM
2. Madteo – TTTree Low G. Tapes: Mad Dip Revue
3. Willie Burns – The Overlord
1. L.I.E.S.
Although the L.I.E.S. imprint overseen by Ron Morelli may appear to have arrived overnight, in reality the label's foundations have been in place for years. Morelli, a native New Yorker, has been serving a musical apprenticeship of sorts behind the counter at A1 Records in Manhattan, and through his ongoing role at the shop he's steadily built an encyclopaedic knowledge of dance music and a network of talented friends who now form the nucleus of the L.I.E.S family. It's a strategy that is paying dividends – the label is now home to a fascinating assortment of obscure journeymen, exciting newcomers and the odd legend or two, and this year released a staggering sixteen 12"s and two albums, with a double CD compilation set to arrive in December. It's been a watershed 12 months– previously L.I.E.S. had only put out in nine releases in two years, but the positive response garnered from those early 12"s (including Steve Summers' excellent In The Mode For Love and Legowelt's Sark Island Acid) clearly spurred Morelli on to bigger things.
In addition to the regular release schedule, this year saw limited runs of white and black label 12"s, from the unofficial L.I.E.S all-stars offering Journey 1 to Bookworm's brilliant debut Love Triangles, the deranged party techno of Morelli and Doug Lee's Bad News project and the twisted, synapse-frying sheets of industrial noise on U-202's Straightjacket. The label's back catalogue is a monument to Morelli's peerless knack for picking up on the darkest, weirdest and rawest music inhabiting the outer fringes of electronic music, with the mesmeric drones of Jahiliyya Fields and Professor Genius's cinematic synth experiments coexisting happily alongside the rubbery Dance Mania bounce of Delroy Edwards, Vapauteen's industrial techno and Legowelt & Xosar self-styled surfer house as Trackman Lafonte & Bonquiqui.
This year has also seen Morelli and Jason Letkiewicz re-engage their Two Dogs In A House project with more ambitious results; previously an outlet for straight to tape house throwdowns, their Eliminator 12" featuring two drawn out odysseys that occupied the vast, sludgy wasteland between electro and acid, and perhaps served as the finest example of the label's unflinching and adventurous ethos. The decision to make L.I.E.S. our label of the year was a unanimous one here at Juno Plus – it's an imprint we've watched rapidly grow from its infancy into one of the most formidable outlets in electronic music – and anyone who has listened to one of Morelli's recent DJ sets showcasing unreleased material will know he's only just getting started.
Essential listening:
1. Delroy Edwards – 4 Club Use Only
2. Two Dogs In A House – The Eliminator
3. Bookworms – Love Traingles