Raime – Quarter Turns Over A Living Line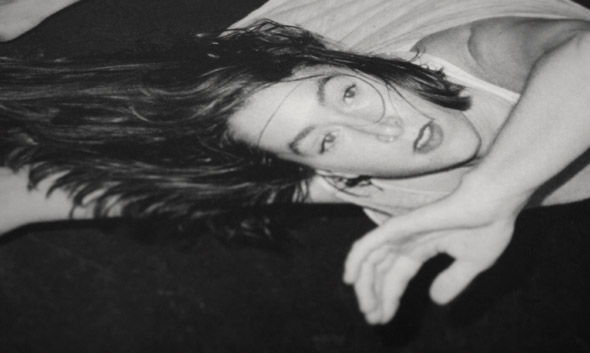 Kiran Sande's Blackest Ever Black imprint has been instrumental in the rejuvenation of the UK's brooding fascination with nebulous industrial music and the grey-scaled end of the dance spectrum. Within two years the label has solidified its own niche, one that's marked with post-rock revivalism but which is equally broadening the horizons of what is considered to be dance music; a perfect balance in the eyes of Karl O'Connor aka Regis, the legendary techno pioneer who has been closely affiliated to the imprint since day one.  But Sande's project goes far beyond the resurrection of the 1980s experimental scene and has only applied its catalytic tools as a means of unearthing an ulterior perspective on the cross-pollination between industrialism, social decadency and dance culture.
At the forefront of this captivating affair are Joe Andrews and Tom Halstead, otherwise known as Raime, a London duo who have audibly pursued their own agenda – an enthralling albeit disconcerting strand of dub-filtered noise delirium, which resonates so firmly with the freedom and experimentation that was present in the days of Throbbing Gristle, Coil and even Goldie's Metalheadz label.
Their three EPs have arguably been the highlights of BEB's first two years, with each one of them portraying the pair's talent for deconstructing samples or effects and reducing them to mere shreds of decomposing melodies.  More importantly, Raime's music sits on the very edge of the boundaries separating dance music from introverted sound excursions, allowing the listener to draw their own conclusions as to its most appropriate environment. Quarter Turns Over A Living Line is a prolongation of their elusive production techniques, but the tracks now converse with one another and work as one harmonious collection rather than a series of individual pieces to a puzzle.
The opener, "Passed Over Trail" is a spine-chilling whirlpool of aqueous drones which rise and fall to the commands of the effect-laden guitar feedback grinding down on its epicentre.  It's the perfect inception to a contemplative framework, one which excludes immediate gratification in favour of gradual progression. It's a feeling manifested in its fullest by "The Last Foundry", a reinterpretation of their previous "This Foundry", with this latest version dissolving those few existing elements even further into a tenebrous pile of insistent clicks and hissing effects.
Similarly, "Soil And Colts" is further proof of the infinite possibilities one can achieve through a sluggish tempo, its desolate kicks echoing into long, meandering chimes which rest unhinged within the sea of lamenting noises emanating from all angles.  What's most impressive is the way in which it sinks effortlessly into "Exist In The Repeat Of Practice", which to this writer's ears is a triumphant ode to the mid 90s UK rave scene, those familiar morsels masquerading as drums gaining their own momentum in the midst of a sonic cyclone.  A tangled beat pattern clashes furiously with jagged guitar riffs in what is probably the LP's most pivotal moment – a translation of Raime's influences onto a wholly different medium, one that has no desire for predictable kicks or synth lines but instead bases itself on purely textural formats.
"The Walker In Blast And Bottle" marks the start of an unsettling path towards the light, where the album's customary gloom is harnessed to brighter, less suffocating harmonics.  A comparatively amicable cowbell rings its way across most of the track, wailing inconsolably above the rugged contours scowling beneath it – a catastrophic sphere consisting of sunken drums and post-apocalyptic screams.  But it nevertheless allows a glimmer of hope to permeate through its thick fabric, and "Your Cast Will Tire" sees Andrews and Halstead demonstrate their second personality. While the main bulk of the track is ripe with melancholia, it offers an almost joyful alternative to an otherwise doomed and murky world: a lively cluster of pedal-drenched guitars squeeze their way across a plateau of slicing drums and an oddly hummable guitar riff which gives the track a, dare we say, pop vibe. It's strangely beautiful and crestfallen at the same time, something which exposes Raime's maturity in combining experimentation with musical sensibility.
The same goes for the final bout, "The Dimming Of Road And Rights", where a loose, utterly deranged beat layout expands and retracts against a faintly glowing watershed of spewing strings and trickling background drum shuffles.  It's a reincarnation of Raime's baleful world into an alternative context, one which travels beyond darkness and meets with a distant but perceptible flash of luminescence, adding the necessary ingredients for a complete work instead of a detached anthology of tracks.
Pietro Barbieri-h
Tracklisting:
1. Passed Over Trail
2. The Last Foundry
3. Soil And Colts
4. Exist In The Repeat Of Practice
5. The Walker In Blast And Bottle
6. Your Cast Will Tire
7. The Dimming Of Road And Rights