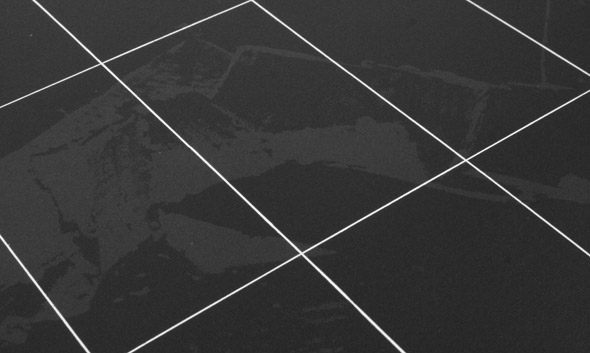 With a pedigree in constructing dusty, loose-limbed house tracks with a hip-hop sensibility for labels like Meakusma, Morphine and Workshop, Madteo has always stood out as having a unique style, but even by his standards, Noi No is a singular collection of tracks. Although it would be tempting to put it alongside the raft of muggy, fragmented, sketch-like releases producers that have surfaced in the past few years – those from Actress, Lukid, 1991, even Hype Williams spring to mind – this wouldn't feel right. While these producers (and many like them) seem to veer stylistically across single releases, Madteo hones in on one sound in Noi No and sticks to it. "Rut-A-Round" sets the tone with its droning bass and fizzy chords; deeply disjointed and unpredictable, the interplay between these elements happens seemingly at random, while vocals, birdsong, and fragments of melody remain tantalisingly out of range. These kind of textures are repeated throughout; "Ratskeller" puts you in a trance-like state with its gelatinous three chords, a soporific track painted in broad strokes of muddy browns that puts you in the mindstate of being drunk, lonely, confused – or all three at once.
Listening to Noi No, you get the feeling that the tracks had beats to them once, but somewhere along the line they got ripped out or suffocated. "Gory Glory" feels like a deep house track struggling to get going, "Il Capoline" has some forward momentum but feels like there are gaps where drums should be, and "Tanti, Maledetti E Sempre" constantly wrong-foots you with chords that drift out of time with its smothered beats. Without much to anchor his compositions, they seem to float in space as odd geometric shapes that interlock for a moment before drifting apart, providing a sense of intangibility to his music that other comparable producers lack. Nowhere is this more pronounced than "Vitruvian Nightmare", a stuttering piece of ethereal, beatless hip-hop that seems to skip between several different time signatures. It starts and stops at will; the sound of both eternal optimism and miserable failure all at once. Where most producers would simply use these tricks and come up with little more than contrived genre experiments, Madteo seems to achieve the rarest of things – the representation of the complexities of human emotion.
However, the sonics Madteo presents across Noi No really only feel like a basecoat for what the album is really about – the vocals. As anyone who will have read an interview with the producer or listened to his RA Exchange will know, he's a true personality, an Italian native living in New York who is constantly digging in dollar bins for the kind of records most would consider trash. Noi No's greatest strength is that Madteo isn't afraid to let his own personality shine through, and for the most part, his own voice is a constant feature across the album – not vocals exactly, but half-mumbled spoken word – chopped-up, repeated, mangled. So much vocal work in comparable music ends up functioning as textural window dressing, but Madteo's approach – in which raw emotion bleeds through, or key phrases are isolated and juggled to confuse meaning – puts you in an abstract version of his head, and it's not always a nice place to be.
In "Drop Dead (When I Saw You That Nite)", arguably the album's one concession to the dancefloor, his vocals sink to the bottom of a glutenous combination of acid, reverb and stop-start beats, as indecipherable as the stuporific ramblings of a street drunk. "Vox Your Nu Yr Resolution" is the most extreme example of his vocal manipulation; asking the question "What's your new year's resolution?" the response is "Stayin outta trouble" – albeit looped into an artificial stammer, a mantra that seems doomed to failure. In "Rugrats Don't Techno For An Answer" he puts his muffled syllables among a sample of Drake – the effect of which brings a moment of emotional stability to proceedings, a brief interlude of saccharine R&B which only highlights the disjointed nature of Madteo's own music. The end of "Il Capoline" meanwhile sees him interrupt the track's eternal flow with the confessional line "I just want to be able to keep my health, my attitude, and a record collection". On hearing the sarcastic response that follows – "Oh yeah, how original, what are you reading? The Wall Street Urinal?" –  it seems to makes as much sense to position Madteo in the same context as Allen Ginsberg as it does any producer of electronic music.
There aren't many producers who are willing to put their own voice into their music in such an unadulterated fashion. The simple fact is that most producers of electronic music aren't capable of conveying emotional honesty as successfully as conventional songwriters, but Madteo is obviously a rare exception to this – and even when his vocals are heavily treated, the darkest elements of his psyche shines through. This is because his voice itself – the intonation, the accent – is a powerful instrument in its own right. There's a moment during "Gory Glory" where he utters the line "wha' do I got to do?". It will strike anyone who's heard Boddika & Joy Orbison's "Dun Dun" – the second release on their Sunklo imprint – because in both cases it's Madteo uttering the same line. Its presence on Noi No yanked me right out of the album's isolated bubble because it was the one moment where it was possible for me to legitimately connect it to anything in the outside world – and that's no mean feat.
Scott Wilson
Tracklisting:
A1. Rut-A-Round
A2. Dead Drop (When I Saw You That Nite)
B1. Gory Glory
B2. Bugged In Gaza
B3. Vox Your Nu Yr Resolution
C1. Rugrats Dont Techno For An Answer
C2. Il Capolinea
D1. Tanti, Maledetti E Sempre
D2. Vitruvian Nightmare
D3. Ratskeller