If any one DJ, producer or artist was tailor made for the 5 Records feature, it's Mark Seven.
Based in Stockholm since the late 90s, Mark Seven commands a worthy reputation as the most respected of crate diggers. His work as a DJ and producer was tellingly influenced by witnessing house music from its late 80s birth, seeing it grow out of the 80s Balearic scene and morph into the acid house explosion at London club nights such as Shoom and Future. Head of operations at Jus Wax, Mark spends his days supplying house and disco DJs with all manner of rare, out of print records sourced from regular excursions to dusty basements and warehouse lots across the continents.
This access to the rarer gems led to Mark Seven being among the first people Claremont 56 boss Paul Mudd Murphy approached to curate an Originals compilation, while his DJing skills have been canonised perfectly in A Salute to the Men of Vauxhall. This limited 3xCD release was recorded live from Mark Seven's DJ set at Vauxhall institution Horse Meat Disco and has rightfully attained a cult status as well as spawning a sequel mix in Salute 2 – Reach Out & Touch Your Dream!
Production-wise, Mark Seven has been responsible for one of this writer's favourite 12″s from Endless Flight in the twinkling piano house gloss of Swept Away, a record that has seemingly remained snugly in the record box since its release back in 2010, while his discography reveals a late 90s period crafting Detroit influenced techno, releasing on Dave Angel's Rotation among others.
It is however Mark's more recent endeavours as head of the Parkway and Parkwest labels that urged us to include him in this feature. Launched late last year in impressive fashion with Working Girl, the Parkway Records imprint got everything right, capturing the freedom and energy of late 80s New York dancefloors across three differing mixes eminently suitable for contemporary consumption. Crucially it looked amazing too, with a distinctive zebra screen printed sleeve – you could tell this was the work of a collector, someone who understands that feeling of curiosity when coming across a record you have no idea about but are immediately drawn to thanks to the cover art.
This passion for doing things properly extends to how the Parkway releases have been promoted, eschewing the drab Fatdrop/Soundcloud route for an approach that brilliantly mirrors the period that references the music. Receiving a vinyl promo is rare these days, but when a second Parkway Records release arrives at your desk in white label format accompanied by an authentic looking record pool one sheet as well as a Parkway t-shirt you tend to take notice. A sister label entitled Parkwest launched earlier this year in similar fashion, aimed as a self styled riposte to the current climate of "cookie cut" deep house records, with Japanese artist Librah at the helm. Mark broke off recording sessions for the next Parkway release to discuss five tracks that span funk, disco, house and techno.
1. Vibrettes – Humpty Dump
This is an all time classic – does it remind of a particular time and place?
Yeah it's a classic for sure, it was massive on the rare groove scene. It brings back memories of dancing to Jasper the vinyl junkie and Norman Jay, probably '86, '87 and it was always one of the biggest tunes of the night, it's got that appeal. But that's not really why I picked it… I picked it cos it's the first record I can really remember thinking "I GOT TO HAVE THAT RECORD!" It's like the start of the bug for me! I was like 16, 17 just out of school and a little money in my pocket and I had to hunt that down. I mean I bought records before that of course but this was like "my life's not complete 'til I got that record" …the madness. In the end I bugged Bill Shannon so much he sold me one for a fiver.
Is this the kind of music that tempted you into Djing?
Yeah, that and hip-hop… and go-go to a lesser extent, that was the main sound but house was already creeping in. A year later it had taken over.
It's been sampled and covered so many times, it's hard to keep track of, any particular examples that stand out to you?
Actually I've never been that conscious of "breaks" as such… I mean I know people who collected thousands of records on the back of "this lp's got a 2sec Premier sample!" I dunno, I just never got into it that way. I'd struggle to remember who sampled this as it goes!
2. Pod – Northern Lights
I have to thank you for this one, as I'd never checked this Kenny Larkin side project, is it indicative of the kind of techno you got into post acid house?
Yep, that's it – It really takes me back to that time. There's a bunch of records from that time I could've picked but this is the ultimate. This has got it all for me. I mean all the records I picked kinda fit together in my mind but this is jazz, it's soul, it's boogie, it's techno… in my mind this is everything from slave ships to spaceships … it's the whole thing right there. Heavy, heavy tune. I mean it's funky as fuck too. The first few seconds always make the hairs stand up.
The artwork for this looks perfect too – really indicative of that Utopian futurism that's within
That was a really special time for techno wasn't it? It really felt like "this is exploring new futures and shit!" and there was so much creativity busting out of that.
I was massively surprised to receive a Parkway t-shirt and the whole record pool one sheet with that second Parkway record. A visual identity is clearly something that gets a lot of consideration with your own records right?
It comes from collecting I think. I mean sometimes you find something you think "I dunno WHAT this is, but look at that sleeve man, it's gotta be a killer". Often it's a turd but you get excited from the first look at it! That's probably where the motivation comes from with my stuff… I just want it all to look right.
Now you made techno yourself in this period and it seems to these ears that Larkin was a big influence on the Point Zero release in particular?
Yeah, absolutely. But I was just learning too, I wish I'd known how to mix and record back then. I can hear a spark in those tunes but I can't get past the failings in the actual recordings. But yep, records like this and Stasis, and Cost II… loads more, that was where I was trying to go.
Do you buy and play much contemporary techno?
Nah, not lots. I'll still play it if it's right but I don't keep up with the new releases.
3. Kleeer – Open Your Mind
I'm hoping you chose this song because the album it's from has some amazing art! Real early 1980s laser guided brilliance.
It's on a UK 12″ too… B-Side of "Winners." The artwork's something on that album, but I picked it because it's the kind of disco you can drop when a party's right and when the atmosphere's right and it'll just take off. It's become a bit of a yard stick for me when I'm playing. If I'm playing house, I'll ask myself if they can they handle the change, cos it's quite laidback in a way but deep too. If it goes off you know you're at the right spot!
"Open Your Mind" is a proper boogie standard right?
I can't say for sure cos I wasn't old enough but for sure it's the sort of tune labelled jazz-funk that was probably massive with the UK dancers but less so in the US. I mean it got a 12inch release here so… It's got that UK sound, like an Atmosphere or a Lonnie Liston Smith. But what a band though, right? Amazing.
Where were the good boogie nights to go to?
When this came out? I'm old but not that old brother! But there's such a rich history of black music culture in the UK but it's overlooked in favour of what happened in the States. I understand it cos it's the home of most of the music but I'd have liked to hear Robbie Vincent or Colin Curtis or Levine or someone back then.
While disco is said to have had something of a revival, this kind of boogie doesn't really get played by current DJs who claim to play disco does it? It's all watered down nu disco or shoddy edits…
Fffff… yeah you started something there!! Well, there's been so many 32bar looped intros and echo'd filters and shit that really isn't what you'd call disco. I mean my records often get lumped in that nu-disco genre but there's some pointless shit out there. If you're gonna sanitize everything so it sounds sonically fat enough and DJ mix friendly, and you put a kick from that sample CD in there, and you took out the bridge bit that wasn't cool, you're taking all the soul out of it. I understand people wanna try and create something when they first start with music, but please… there's just so much. The originals are there if you want them, they're just harder to mix! Still, on the positive there's good shit in there too but you gotta wade through.
4. Mood II Swing – Ooh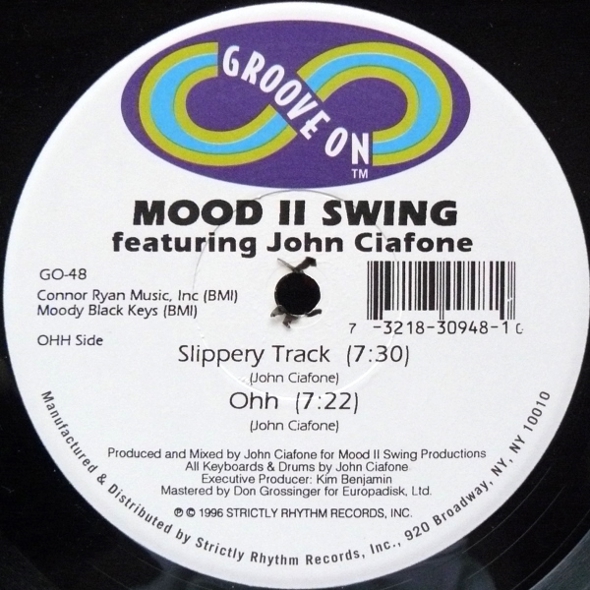 There's obviously an absolute shed load of Mood II Swing productions to choose from, so why this one in particular?
There's something about this one, same with the Kenny Larkin, that just gets me. I play this and something in the melancholy of it gets me close to tears!! I dunno, I'm just an emotional kind of fella I guess. I play it to other people sometimes and I'm like "listen to THAT, you feel that?" and they're like "meh" (laughs). It's simple but then most of the best music is, but it's just raw emotion. When that vocal stab drops in over the keys I just collapse, that right there sums up the experience I want on a dancefloor… moving my body physically and my heart emotionally to the point of breaking.
What was your entry point for NY/NJ house music?
I suppose it was the beginning of that scene, at least in what you'd call "House". I loved Russ Brown when that came out, and "Wax The Van", and then I bought Taravhonty and Dionne and K.A.T.O. and Metro and that stuff when it came out. They'd come into the shops in London side-by-side with the Chicago stuff. I don't think I really thought about what city it came from at the time.
When do you think it peaked?
Well, "peaked" you'd have to say mid 90's. Of course there's still amazing NY records, like Kerri and that… but as the 90's rolled out the dominant sound, like that Shelter sound, it became pretty bland to my ears. Loads of MAW remixes and what they call soulful house that got too pretty and too forgetable.
Is this the kind of original house vibe you are trying to capture with the Parkwest project?
You could say that yeah, I mean I'm just trying to get back to real house. To tunes that should work for you in 10 years time just like that Mood II Swing does now. Aim high huh?!
The press release for the Parkwest record touched on the current prevalence of "cookie cut deep house" do you think the number of new producers aping this sound  is healthy?
I mean I'm not gonna call anyone out but there's a lot of stuff right now that's pressed on coloured vinyl or hand stamped or numbered and that, and it's just like minimal deep! It sounds like you programmed the drums, added some percussion and a pad and a bunch of reverb and that shit's done! Don't get me wrong there's some killers too, but a lot of this stuff, I wonder how it'll sound next year, let alone next decade. I mean seriously, "Hum that shit, how does it go?" "Errrr…." Or you got the other side which is making that Smack sound, but hard and digital. And that's cool, I like those records too, but the fucking market is swamped with it, so do something different yeah!? The vinyl business is a tough racket these days so fair play to anyone who's releasing stuff and looking for an edge, but fuck, these days I'm surprised if I get something on black vinyl!
5. Are & Be – There is No Struggle
I'm sensing this record is one of your rarer finds given the lack of YouTube rips, what's the story behind it?
Well, I picked this record because it's a reminder of how there's always so much to learn. There's so much good shit from the past you never heard of, it's humbling. I went to see a fella in New York about three, four years back and he pulled this out and it just blew me away. I mean he wanted bucks for it, he knew it was rare but the point is how is a record this good so unknown? That a gem like this wasn't widely known… I couldn't get my head around it. It's such a heavy record too. I mean that's Frederick Douglas in there, the speech. He was an ex-slave who became a major figure in the abolitionist movement, and a public speaker and writer. He really blew apart that myth that the slave owners held, that slaves weren't smart enough to know better. There's a quote in that speech that hits me so hard to this day… it's something like, "See just how much a man will quietly put up with and you'll have the exact measure of how much injustice will be dealt upon him".
Do you know how many are in existence?
I've got no idea, I always ask myself that but who knows? They're as much an art collective as a band and it's a little private press. At a guess, 500.
The ensemble cast are clearly talented! Some of the records they've collectively got credits for, Headless Heroes of the Apocalypse, Ubiquity, albums by Shannon, Yoko Ono, George Benson and Laurie Anderson!
Yeah they got the bassist from BBQ, keys from Roy Ayers Ubiquity or something. They weren't playing around!
This might sound like sacrilege but do you play this record when you are DJing? As much I understand the collector's ethos personally I buy records that I'm going to play (given the chance)
Haha, you can play this! I mean it's a morning record,  or possibly early in the night but no… I hear you. I've played it on occasions but it's not what you'd call a staple in the box! It's just a fantastic record.
You obviously travel the world searching out records like this, has there been one particular record that you've been to some far flung destinations to secure?
These days I mostly dig for records in the US. And everything there's so far apart you can drive a day to hit the next spot. You know, driving through miles and miles of fields towards the next city. But there's tons of records I still never came up with. I try not to look too hard for the specifics because you overlook a lot of good stuff if you got that one record in mind. But I still need that Disco Kid promo on Casablanca if you got one!
Interview by Tony Poland
Header image by Ian Williams
Parkway / Parkwest Records on Soundcloud