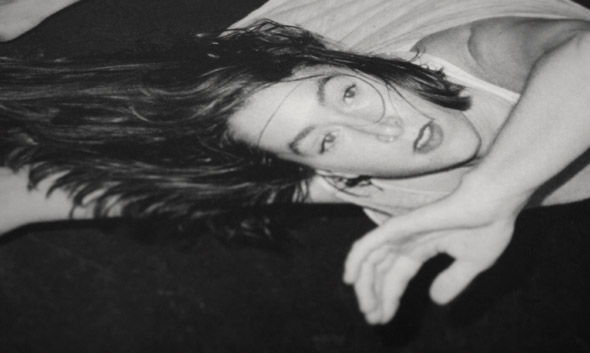 At the beginning of this week, we published an interview with Parassela which detailed the influence of The Analogue Cops on Blawan and Pariah's production work as Karenn, and we were subsequently granted a first hand display with the arrival of the fourth Sheworks release.
Heavyweight tackle in all respects, the six track double plate release is as heavy to hold in your hands as the music is uncompromising on your ears and really hammers home how much the duo are enjoying working with analogue gear. There's little regard for restraint shown anywhere and Blawan and Pariah have conjured up some wonderfully vivid track titles to accompany the deranged bluntness, with "Nicotine Window Netting" and "A Room Full Of Fuck All" particular office favourites.
In as much as this release is meant entirely for dark spaces surrounded by people looking to experience some ear piercing sonics late at night, the debut Raime album is perhaps best experienced alone in the dark with some quality headphones and an overactive imagination for company. Given that Joe Andrews and Tom Halstead inaugurated Blackest Ever Black some two years ago, it makes sense that the London duo should be responsible for the label's first artist album. Naturally Quarter Turns Over A Living Line is quite the immersive listening experience, with a change in recording approach not sacrificing their distinctly despondent sound which at times comes across as perfect soundtrack material for a spaghetti western set in Dante's Hell. Great cover art as well!
In more straight forward territory, there was a near onslaught of techno goodness to consider this week, with Carl Craig & Mike The Teacher Huckaby's takes on Delano Smith for Sushitech complemented by Mike Parker returning to his insect crawling best, a brilliant collaboration between Anthony Parasole and Phil Moffa on The Corner, the first full Xamiga release from Legowelt and Xosar, some more Detroit grit from The Oliverwho Factory for Dolly and the return of Bintus with more 303 grot.
Switching the focus to house music, Wild Oats continued an impressive run of rugged plates with Zug Island, Kyle Hall and Kero's musical statement on the harmful industrial vibrations of the titular toxic metal factory suitably powerful – read a full review here. Equally worthy was the surprise Warm Sounds debut of Mr G which pitched two original productions from the UK Deep House veteran at his best against some rough reinterpretations by EMG and quite appropriately The Raw Interpretor  A Dancemania classic from Drew Sky reissued on Chiwax, the Argot debut of Pittsburgh Track Authority with a double dose of productions you might not expect from the trio and another wonderful Boe Recordings 12″, this time from Soul 223, are some other suggested lines of enquiry.
Timothy J Fairplay's year of excellence continued apace, gracing Craig Bratley's Magic Feet imprint with another clutch of cinematic slow thudders under the title of How The Machine Was Built, while another chance to bask in Brassica's glacial futuristic two step discotheque classic  "Lydden Circuit" was afforded thanks to Civil Music including the track along with a raft of all new material on the Temple Fortune EP. Those seeking some horizontal solace to escape into will enjoy the self-titled album from Land Of Lights on ESP Institute with the label's prior warning that a willingness to unwind your mind is necessary to enjoy the six tracks fully justified. The weekly PAN mention goes once again to Lee Gamble and NHK'Koyxeи with the handsome looking vinyl editions of their previously digitally released albums attracting some flirtatious glances from the Juno Plus editorial team, while Tropic Of Cancer continued their label-hopping endeavours with morose aplomb, adding I Feel Nothing for Belgian label Sleeperhold Publications to a small but refined number of must have releases in 2012.
Over at Juno Download, we found ourselves succumbing to the charms of Holly Herdon's album for RVNG Intl. Herndon arrived on Matt Werth's NYC-based label after an interesting cassette-only debut release for Third Sex, and Movement saw her sound mould into a distinctive mixture of noise and synthesis experimentation. Another esoteric album of note came from a doyen of avant garde electronic music, Brian Eno, who returned to new home Warp Records with Lux, a delicate assortment of subtle harmonics and chimerical programming. The album was inspired – as with much of Eno's work – by a very specific concept, in this case the shimmering strands of sunlight that trickled through the producer's studio window.
Elsewhere, Argentinian duo DJs Pareja returned to Matias Aguayo's Cómeme stable with De La Cabeza, a four tracker bristling with excitable arpeggios and highly suggestive Latin flair. Pareja's Cómeme buddy Alejandro Paz popped up on Huntleys & Palmers with Callejero, an EP fuelled on a vibrant carnival spirit and the allure of early 90s tropes, dropping primal rave signifiers such as air horns over rip-roaring soca breaks. Other digital singles of note came from Autre Ne Veut, who debuted on Brooklyn's Software Records with a clamourous fusion of maniacal synth-pop backed by a Mykki Blanco remix; Young Echo affiliate Jabu, whose self-title missive for Astro:Dynamics was marked by fleeting moments of looped ideas that retained a haunting, often mournful quality, and Terrence Dixon, whose remarkable series of releases continued with Escape on Knotweed.
Finally, our pick of the CDs this week was Christopher Rau's Two. Throughout his short career, Rau has impressed by taking a sideways glance at deep house, delivering a mix of vivid electronic melodies, off-kilter rhythms and tactile synths. Two continued this approach, offering both floor-friendly deep house atmospherics and wonky, synth-laden beat-scapes (check the fluid swing of "Apple Snapple Tracking" and the decidedly tropical "Swag Lude"). The album's best moment, though, was "Weird Alps", a kind of bittersweet synth-pop/deep house fusion that dripped with melodic intent.