Stroboscopic Artefacts reveal details of Stellate 4
Berlin-based imprint Stroboscopic Artefacts has revealed details of the fourth instalment of its Stellate series, featuring tracks from L.B. Dub Corp, Dscrd, Sendai (pictured above) and James Ruskin.
The series of deluxe boxsets has seen producers such as Perc, Silent Servant, Xhin and Roll The Dice contribute tracks, with each artist moving outside their established musical comfort zones to deliver electronic tracks that although informed by the atmosphere of techno, aren't necessarily a slave to its conventions.
The final instalment sees four similarly celebrated names from the world of techno contributing; heading the list is Luke Slater, who returns to the L.B. Dub Corp alias, delivering the Native American referencing  "Choctaw Dub", and the more futuristic tones of "Indulgent Dub", while French five-piece Dscrd provide "Aedificare" and "Interitum", two pieces of similarly dark, pulsing electronics filled with minimal industrial textures. On the second 10″, Peter Van Hoesen and Yves De May's Sendai project provides "Without The Written Word" parts one and two, delivering more of the same kind of foreboding clicks, glitches and noise present on their recent album Geotope, while Blueprint head James Ruskin delivers "Cabin Fever", a more gentle piece of ambient drift, and "Cast Down", a particularly melodic composition that almost veers into classical territory.
As with previous volumes, the package will arrive featuring two clear 10 inch records contained in a metallic tin with download code, with a hand-numbered artwork inlay by SA's visual artists Oblivious Artefacts, while those who simply wish to purchase the music will be able to wait for a separate digital version.
Stroboscopic Artefacts will release Stellate 4 on December 6, 2012, as a 2×10″ boxset, while the digital version will follow on January 17, 2013.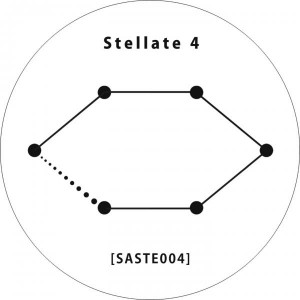 Tracklist:
A1. L.B. Dub Corp – Choctaw Dub
A2. L.B. Dub Corp – Indulgent Dub
B1. Dscrd – Aedificare
B2. Dscrd – Interitum
C1. Sendai – Without The Written Word (Part 1)
C2. Sendai – Without The Written Word (Part 2)
D1. James Ruskin – Cabin Fever
D2. James Ruskin – Cast Down