Andrés and Oliverwho Factory remix Recloose
It's an all Detroit affair on a forthcoming Rush Hour release which sees Andrés and Oliverwho Factory remix tracks from Recloose.
The celebrated producer came to the fore in the late 90s via numerous soul indebted outings on Planet E, Peacefrog and Sonar Kollektiv, and his more recent production renaissance has largely been conducted via the ever busy Rush Hour empire. Currently residing in New Zealand, it was Rush Hour's overview of Recloose's early output collated on the 2010 Early Works retrospective that coaxed the producer back into the studio, with numerous EPs following.  Last seen moonlighting on Delusions Of Grandeur, Recloose returns to Rush Hour with a forthcoming 12″ that sees the aforementioned Andrés and Oliverwho Factory rework tracks that featured on his last two 12″s for the label.
"Electric Sunshine" from last year's Saturday Night Manifesto gets the Andrés treatment, and it's a particularly intriguing one as the La Vida and Mahogani artist has been on top form this year, though he rarely demonstrates his studio prowess in remix form. Indeed, his wonderfully bumping take on "Electric Sunshine" is only the fourth remix Andrés has done and his first since a Chairman Kato commission some 12 months ago. The underrated Oliverwho Factory duo have previous form, dropping the Galactic Transit 12″ early last year and share Planet E links with Recloose. Those links are further strengthened with a booming techno remix of "Magic", a track which was previously edited by Carl Craig. Snuggled in between these two remixes is "Chamois", an all new Recloose production dominated by some unrelentingly cheerful disco filtering which can be heard below.
Expect Rush Hour to drop the Andrés/Oliverwho Factory Remixes of Recloose on a 12″ in late November.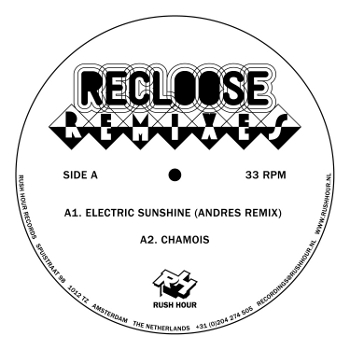 Tracklisting:
A1. Electric Sunshine (Andres Remix)
A2. Chamois
B1. Magic (The Oliverwho Factory Remix)