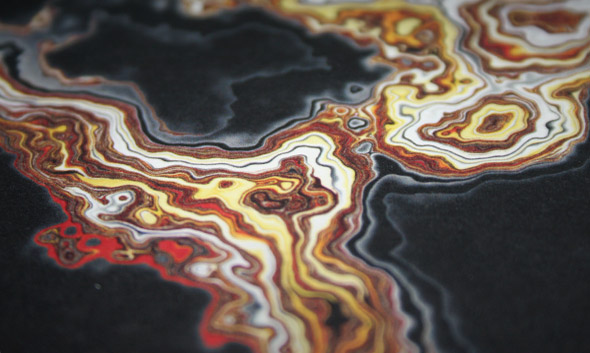 It seems like it has taken Pangaea – otherwise known as Kevin McAuley – a good few years to arrive at this point. While his production skill could never be called into question, it wasn't really until last year's jungle-inspired "Hex" that he seemed to arrive at a sound that was as distinctive and assured as that of his label mate Pearson Sound. McAuley's music has always seemed to pull in two different directions – early tracks like "You & I" and "Why" straddled a line between the deeper end of dubstep and techno and the ruder sound of jungle, but always seemed to dilute both. Both "Hex" and the earlier "Won't Hurt" however managed to get the quantities of both just right with their nauseous basslines and subtle dub techno techniques, and it's this mix that McAuley refines further on the eight track Release.
Release is the kind of record that could only have come from the UK; combining the memories of jungle mixes taped from pirate radio with contemporary techno, the tracks on Release are visceral things, inspiring visions of being in the centre of a flailing mass of bodies in a darkened, sweaty basement. Filled with lithe breaks, they feel simultaneously linear and yet chained to their thrashing basslines with elastic; "Majestic 12", arguably the most raucous cut, combines slamming 4/4 with chords that grate in the opposite direction, while "Time Bomb" sounds like the demented offspring of Roska's brand of UK Funky; dark, concise and percussively intricate, but so totally unhinged that you'd be wary of shaking yourself to pieces dancing to it.
There's no doubt that Release is wild, but what marks it out is not the amount of energy expended, but how in control of his creations McAuley seems to be. Anyone who has heard either his FACT or RA mixes will know that McAuley's tastes are wide; you're as likely to hear him playing deep techno from the likes of STL or Skudge as you are low-end infused, percussive UK productions from the likes of Pinch or Peverelist, and Release feels like the perfect mid-point between these two camps. The title track demonstrates the dichotomy in the most basic way, offering an extended intro of tense processed synth organ and shaking percussion that is quickly swept away at the halfway point by a weaponised bass. The earth-shuddering kicks and gnarled bass of "Middleman" are made to tear through a Funktion One, but they feel particularly considered. And although the low-end blasts of "Aware" are made to move bodies en masse, the alienating tones that hover underneath give the whole thing a sense of gravity that most of McAuley's peers are simply incapable of.
One thing struck me while listening to Release: why isn't everyone copying Pangaea's sound? His 130bpm fusion of techno, dubstep and jungle is exactly what you'd imagine "bass music" should be by now, but for some reason things took a wrong turn into a sleepy cul-de-sac of pitched down vocals and watered down synths. "Do your thing", says the Missy Elliot sample on "Game", an opener that serves as both a sonic tribute to the great dub tradition and a sly diss to the R&B edit brigade, "Just make sure you ahead of the game". By the time you reach the near ambient closer to Release however, the seven-minute "High", a mixture of soothing post-club comedown tones, abrasive time-stretched vocals and intentionally processed digital artefacts, it's obvious that Pangaea isn't ahead of the game – he's seemingly extricated himself from it entirely.
Scott Wilson 
Tracklisting:
1. Game
2. Release
3. Trouble
4. Majestic 12
5. Time Bomb
6. Middleman
7. Aware
8. High