Bullion and Elmore Judd team up for Petrol Laughs EP
Next month sees Honest Jon's release Petrol Laughs, a split release between Bullion and Elmore Judd.
Lead by Jesse Hackett, Elmore Judd are no strangers to Honest Jon's, having released Insect Funk, their second LP on the Ladbroke Grove based imprint back in 2007 as well as a raft of EPs. More recently involved with the Brownswood project Owiny Sigoma Band, Hackett returns to Elmore Judd for this charming release alongside the constantly inventive Bullion which sees the band deliver four tracks including a wonderful cover version of Snake Finger's "Golden Goat", while the former R&S and Young Turks producer offers two alternate versions that further demonstrate his refined style.
Bullion's own musical trajectory has been one of the more pleasantly surprising tales of recent years, with the producer (apparently a close neighbour of the Honest Jon's record shop) forgoing the sample based nature of his earliest release in favour of original song writing which showcases his insouciant singing voice. Debuting this direction with a killer R&S 10″, Bullion further explored it with Love Me Oh Please Love Me, a fine EP released earlier this year on his own Deek Records, which is also preparing to release Nautic, a collaborative project Bullion with Tic of Young Turks infamy and singer Laura Groves that leans heavily on the epic sax slow jams tip.
Honest Jon's will release Petrol Laughs by Elmore Judd and Bullion on November 12 – you can stream clips of the EP below.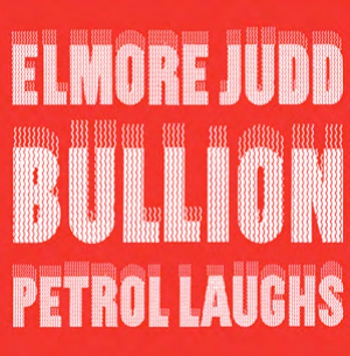 Tracklisting:
1. Elmore Judd – Petrol Laughs
2. Elmore Judd – DevoEsk (Bullion Version)
3. Elmore Judd – Golden Goat
4. Elmore Judd – Wires 2
5. Elmore Judd – Synth Grub
6. Elmore Judd – Synth Grub (Bullion Version)